Rural push accelerates Hero Honda sales to over 5 lakh units a month
The firm scales up capacity to meet demand of 6.15 mn units annually
Sanjeev Sharma
Tribune News Service
New Delhi, June 2
Hero Honda Motors, post the split with Honda of Japan, has posted record sales of over 5 lakh vehicles in each of the last three months. The rural markets have contributed strongly to sales, with the segment now comprising 45 per cent of total volumes.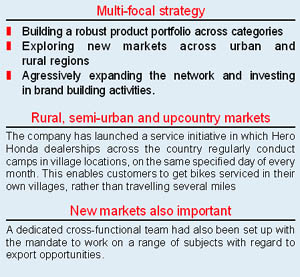 Anil Dua, senior vice-president, (marketing & sales), Hero Honda Motors Ltd (HHML) told The Tribune the company had crossed sales of a million units in the first two months of this fiscal (2011-12).
He said HHML was on course to meet the guidance of over six million unit sales this fiscal. To meet the expected market demand, it has now scaled up capacity at the three plants to 6.15 million units.
Dua said the strong sales performance had been driven by a multi-focal strategy which includes building a robust product portfolio across categories, exploring new markets across urban and rural regions, aggressively expanding the network and investing in brand building activities.
As part of this strategy, Hero Honda has been launching seven-eight new products every year, including completely new models.
In addition, while strengthening its presence in the urban markets, the company has also launched several initiatives to expand its presence in semi-urban, upcountry and rural markets. In 2007, it launched a dedicated rural vertical with the vision of "Har Gaaon Har Aangan" (Every Village Every Household).
Under the various rural initiatives, over 1 lakh villages have already been covered. All non-metro dealerships conduct opinion leader contact programs (OLCP), loan melas and exchange camps on a regular basis in up-country and rural markets.
All these initiatives have led to 45 per cent of the company's total sales coming from the rural markets, up from about 42-43 per cent about two years ago.
Since R&D will now be a challenge, Dua said R&D would be a focus area of sustained investment in the coming years. "We have plans for the long-term as we are moving fast to further enhance our in-house Research & Development capabilities by investing in equipment and facilities. We have also undertaken a recruitment drive to bring in new talent to further strengthen our in-house Research & Development team," he said.
He added that while enhancing its indigenous technologies, the company was also open to partner with international design houses and technology suppliers.
Dua said the company had also doubled the distribution network over the last four years, which now consists of more than 4,500 touch points (including authorized dealerships, service & spare parts outlets and authorised representatives of dealers).
By the end of this year, this will go up to 5,000 touch points.
On exploring new markets, Dua said while domestic market in India would continue to be the main focus, a dedicated cross-functional team had also been set up with the mandate to work on a range of subjects with regard to export opportunities.
Plans for furthering the businesses in existing overseas markets including brand migration was one focus area.
The other was to enter and establish footprints in new overseas markets, including Africa, Latin America and south-east Asia, he said.
Post the split, the company is innovating by building a new brand identity. Close on the heels of bringing on board the brand and innovation specialist Wolff Olins to work on the new brand identity.
It has also roped in a creative partner Law & Kenneth (L&K) to give shape to the communication for launching the new brand.
Under the rural programme, it has also launched a service initiative in which Hero Honda dealerships across the country regularly conduct camps in village locations, on the same specified day of every month.
This will enable customers to get bikes serviced in their own villages, rather than travelling several miles to nearby towns and cities for the same.
About 1,100 specially-designed Hero Honda motorcycles, fitted with customized boxes are currently deployed across the country for these camps.