Horse whisperers
Riding a stallion is every man's dream; but owning one? Well, it's a joy which only a select few have experienced
Every history book has a reference of these grand warriors. All battles ever won have been with the assistance of stallions--one of the most royal soldiers known to men. Although the age of battles is long gone, the presence of a horse is still considered synonymous with regal passion.
| | |
| --- | --- |
| Galloping away: Yadvinder Singh Pirzada | Horse Power: JS Toor |
Wide angle
In Chandigarh to promote his film Sahi Dhande Galat Bande, Praveen Dabbas shares his journey from facing the camera to moving behind it
As per the track record, which is now an established fact, director Mahesh Bhatt doesnít need a forum to talk. Yet, he latches on to the little birdie called Twitter to comment on every particle and atom on earth.
Praveen Dabbas ó Photo: Vinay malik
Rattan wants Mr Confident
She is bold, bindaas and a brilliant actress and now Ratan Rajput is on television with her Swayamvar on Imagine. Though the show has been dogged with controversies, Ratan emphasis that she is here to search for a life partner and not just be part of a reality show. Ratan knows her priorities and has her goals in life in mind and we wish her best of luck.
Asin not Ready to join rat race
Actress Asin Thottumkal, who is all excited about her upcoming film Ready, says she does not want to be part of the rat race and was comfortable about her place in the film industry.


Kainaz loves rain dance
Kainaz Motivala made her full-fledged debut with Ragini MMS. She was previously seen in small roles in Wake Up Sid! and Paathshala. She has also become a media favourite because of her sweet nature and down-to-earth personality. She talks about her plans for the future and her love for rains.


Dance drama: Kainaz Motivala
Born winner
Eccentric singer Lady Gaga has become the fifth female artiste of all time to pass the platinum mark in a week. Her album Born This Way debuted at No 1 on the Billboard 200 chart with 1,108,000 copies sold in its first week, according to Nielsen SoundScan.
Booked in Bollywood
Mahie Gill, the Dev D girl seems to have arrived in Bollywood. She was brilliant in Dev D and Gulaal. She did justice to her part in Dabangg. One of the biggest projects she is working on is Not a Love Story which is based on real life of Maria Susairaj and Neeraj Grover and is being directed by Ram Gopal Verma.


Learning about TV
Hollywood actress Halle Berry is all set to play a college professor in a new TV series, Higher Learning. The 44-year-old star has been linked to a show written by veteran TV movie actress Lee Rose and produced by Dreamworks TV, which is pitching to major US networks HBO and Showtime, reported a publication online. However, the brunette expressed doubts about her ability to play the role because of her lack of vocal talent.ĒI canít sing! If I could carry a tune, Iíd consider it. Someone should tell Aretha that I canít do her justice,Ē said Berry. The Academy Award-winning actress, who was recently cast in the movie adaptation of Cloud Atlas and is also starring in romantic comedy New Yearís Eve, would be making her return to TV after Knots Landing in 1991.
Calling it quits?
Hollywood couple Amanda Seyfried and Ryan Phillippe have called off their seven-month-long relationship. The on-off couple, who parted briefly in February, have both decided that itís time to end their relationship for good.


THE foodies
Food square
A delectable fusion of Indian, Chinese and Continental cuisines has made this eating joint popular despite it being located away from the usual geri routes of Ludhiana. The owner Sahil Kansal said the driving force behind the setting up of the hotel L-Square in an industrial area stemmed from the inconvenience of taking and entertaining short time business associates to the city far from the factory premises.
Food unlimited: Have your pick from an array of Chinese,Italian and Indian cuisines.
ó Photos: Himanshu Mahajan
master chef
Sweet note
Jaggery or popularly called gur is one sweet meat that all love to have. Low in calories, gur is used in various recipes. But this week we have chef Swatantra Gautam from Zazen in Page 3, Panchkula, making paratha. Yes you read in right, we have a recipe of Gur ka parantha for you.
the Ďiní side
Space out
If you have a very big living room and are at your witís end trying to figure out a way to fill up space, donít fret. You are actually one of the lucky ones to have so much open space. Here are a few tips to keep in mind while dealing with huge spaces:
Big solution: Create corners to break the monotony of a big room.
trend setter
Rough edge
Following trends sets the fashion and those who follow it become beacons of style, elegance and inspiration for others. For Anna Kler, a student of non-medical studies, fashion is all about experimentation.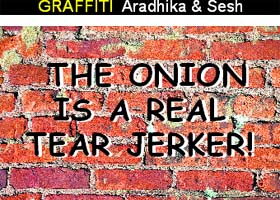 BOLLYWOOD GOSSIP