Man succumbs to stab injuries
New Delhi, June 3
The 28-year-old salesman with a hardware company who was stabbed by unknown persons in the Chirag Dilli area on May 30 succumbed to his injuries last night.Heera Nanda slipped into coma during the treatment and died last night. No arrest has been made so far.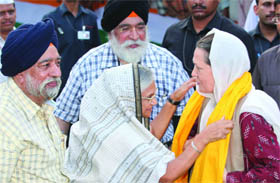 A delegation of Sikhs with Delhi Chief Minister Sheila Dikshit offers a saropa to UPA chairperson Sonia Gandhi to thank her for the omission of the names of 142 Sikhs from the blacklist, at her residence in New Delhi on Thursday evening. Tribune photo: Mukesh Aggarwal
Impersonator held at Jamia exam
New Delhi, June 3
The southeast district police has arrested a man named Sohail Ahmed Siddiq (20) for impersonating his friend's brother, Arsalan Khan, at the entrance test of social science group-I at Jamia Millia Islamia.
Boy shot dead by friends
Ghaziabad, June 3
An 18-year-old youth was shot dead allegedly by his friends in the Sahibabad area, near here, the police said today.Piyush, a student of Class X, was killed last evening by his friends who took him to the Vijay Nagar area where they gunned him down.
Minister booked for attempt to murder
Ghaziabad, June 3
UP minister Rajpal Tyagi and three others have been booked in connection with an attempt to murder case.Morta municipal councillor Braham Pal was shot at by soem men at his residence in Muradnagar here on Tuesday.
2 Nigerians held in cheating case
New Delhi, June 3
The police has held three men, including two Nigerians, for cheating people by sending fake SMSs or emails of winning prizes from some MNCsMohammad Sameer Khan, a resident of Bareilly, was also arrested . According to V Renganathan, ACP (west), the accused were arrested on the complaint of Paramjit Singh, a resident of Hari Nagar.
DU to provide disability certificates on June 6, 7
New Delhi, June 3
One of the main reasons that many applicants under the Physically Handicapped Category miss out on admissions at Delhi University (DU) is the lack of a disability certificate.
62,000 to take BTech entrance exam at GGSIPU today
New Delhi, June 3
An unprecedented 62,000 candidates are set to appear for an entrance test slated to be held tomorrow for about 5,500-odd seats for the combined BTech programmes at Guru Gobind Singh Indraprastha University.
Ramdev supporter paints a picture of corruption
New Delhi, June 3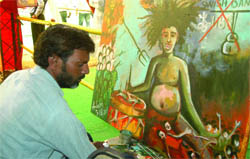 An artist from district Gaya in Bihar, Tabrez Alam is one of the attractions at Ramlila Grounds where thousands of people have come from all over the country to support Baba Ramdev's movement against corruption.Tabrez who has come from Gaya has painted a picture of a giant that depicts corruption. On the one side of the painting, Baba Ramdev is shown leading lakhs of people to eliminate corruption.

Bharat Swabhiman: An activist-cum-artist, Tabrez Alam makes a painting on corruption and black money at Ramlila Grounds in New Delhi on Friday. Tribune photo

ABVP backs fast
New Delhi, June 3
Supporting the cause of Baba Ramdev are the student political parties in Delhi. BJP's student wing, the Akhil Bhartiya Vidhyarthi Parishad had sometime ago launched a youth campaign called, "Youth against corruption".
Hot and humid days are back
New Delhi, June 3
After experiencing pleasant weather for the past two days, Delhiites had a tough day today as the mercury shot up to 39.4º C, with the weatherman predicting that the temperature would rise tomorrow.The maximum temperature was recorded at 39.4° C, one degree below normal, while the minimum settled at 24.5° C, three degrees below normal at this time of the season, the Met office said. The humidity levels ranged between 26 and 76 per cent. — PTI