Letter puts Ramdev on backfoot
Sibal says yoga guru had promised to call off indefinite fast;
It's a lie, claims Ramdev
Anita Katyal
Our Political Correspondent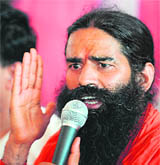 Ramdev Speak
n There are attempts to threaten me
n I will not attack first but I will not sit back if I am attacked
n Kapil Sibal will be responsible if there is violence in the country
n I am not agent of either the BJP or RSS... I am an agent of farmers and labourers
n There is a conspiracy to malign me
n I have been betrayed. I will never talk to Kapil Sibal in my lifetime
New Delhi, June 4
The government and Ramdev virtually declared war against each other today as the two traded charges, accused each other of betrayal and reneging on their agreement.
Despite the angry posturing and Ramdev's decision to continue with his fast, the government sent him a letter late tonight assuring him that it stands by its commitment to frame a law declaring black money as national property and that it was setting up a committee to frame such a legislation.
This dramatic turn-round came late this evening when Telecom Minister Kapil Sibal, who was a member of the delegation which talked to the yoga guru, said Ramdev had promised them that he would publicly announce his decision to go in for a "tap" or meditation till June 6 instead of the indefinite fast originally planned after the government gave him a written assurance that his demands would be met. The yoga guru, he charged, went back on his word.
Addressing a hurriedly-convened press conference this evening, Sibal even released copies of a letter - signed by Ramdev's close aide Acharya Balakrishna - which was highly appreciative of the government's response to their demands on black money, corruption and other issues and said since the Centre was sincere in its efforts, Ramdev would only sit on a three-day "tap."


Ramdev, who commenced his indefinite satyagraha today as originally planned, was quick to retaliate. Addressing the press at the Ramlila Grounds, he cried foul, accused Sibal of lying and charged that the government had forced his aide to write this letter which was meant only for the Prime Minister's consumption and was not meant to be made public.
He declared angrily that his fast would continue and even challenged the government to arrest him. Declaring that he would not speak to Sibal, he thundered, "I will expose the government at an opportune moment." At the same time, he kept a window open for a possible agreement, saying that he would reconsider his decision if the government gave him a written assurance that his demands would be met within a specified time frame.
Just before Sibal and Sahay settled in for the press conference, the Telecom Minister received a telephone from Ramdev who sought clarifications on his demands. Sibal, it is learnt, clarified that the government would bring a law to declare black money as national asset and that the yoga guru should announce his decision to end his fast failing which the government would release his letter to the press. Ramdev immediately declared victory told his followers that his demand had been accepted. However, the mood changed dramatically within the next ten minutes when Sibal went ahead and released Ramdev's letter.
The government's decision to go public with the details of their marathon negotiations was taken at a meeting at Finance Minister Pranab Mukherjee's residence this evening after Ramdev failed to make the promised announcement in his first address to his followers. Besides Sibal, Tourism Minister Subdoh Kant Sahay, who has also been part of the delegation because of his personal equation with Ramdev, and Home Minister P.Chidambaram, were present at this meeting where there was a general consensus that that his issue be dealt with firmly.
Having come in for all-round criticism for having succumbed to Ramdev's "blackmail tactics", the government, therefore, upped the ante against Ramdev. "If we can be accommodating, we can also be firm," Sibal underlined while rejecting the charge that the government was weak.