Tennis players complain of eve-teasing
Deepankar Sharda
Tribune News Service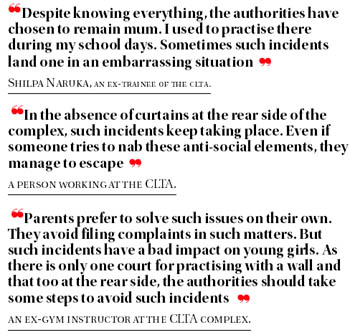 Chandigarh, June 6
Budding women tennis players at the Chandigarh Lawn Tennis Association in Sector 10 are a harried lot.
The players alleged that some eve-teasers harassed them while practising at the tennis courts of CLTA sports complex here.
They said while practising at the rear side of the complex some boys standing on the other side of the courts adjoining Leisure Valley made passes at them.
Not only these players, but their parents too have complained of the nuisance. They asserted that these boys disturbed their wards while playing at the rear side of the complex.
Eighteen-year-old Ikteesh Kaur, a CLTA trainee, said , "Even after complaining the matter to the authorities a number of times, nothing had been done so far."
"I did not want to tell all this to my parents, as I did not want to bother them, but when the authorities did not act, I was left with no other option," said Ikteesh
On other hand, the authorities maintained that only one incident had been brought to their notice in which an ex-servant of the complainant was involved. He was working in the complex's mess and was expelled after the incident.
Father of the girl had identified the accused, but later it was found that some other person was involved in the incident.
"In the first incident, my servant was involved, but in the second one, it was not him," said Raj Brinder Chahal. He added, "The authorities are just washing their hands off the matter. Despite paying huge sums as fee, they can't provide security to our children. Such incidents have been taking place for long. They have just turned a blind eye to our wards' problems," said Chahal
The authorities said such incidents had happened only once or twice and they had deployed security guards at the courts in order to avoid any untoward incident.
But when this correspondent asked the authorities why the rear courts were not covered with curtains like the ones on the front side of the complex, Megh Raj, CEO, CLTA sports complex stated, "We will forward this proposal to the UT administration,"said the CEO.