SC issues notice to govt on Ramdev's eviction
Centre told to explain circumstances that led to police action in the night
R Sedhuraman
Legal Correspondent
New Delhi, June 6
The Supreme Court today directed the Centre, the Delhi Government and the city police commissioner to provide all details relating to the forcible eviction of yoga guru Ramdev and his followers from the Ramlila Ground here.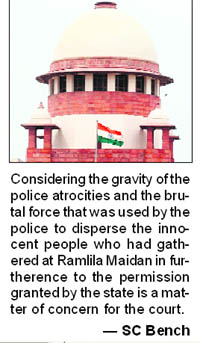 Taking suo motu congnisance of the midnight crackdown on the fasting yoga guru and his supporters yesterday, a vacation Bench of Justices BS Chauhan and Swatanter Kumar issued notices to the Union Home Secretary and the Chief Secretary of Delhi, besides the city police chief. The court directed them to file their response within two weeks.
"Considering the gravity of the police atrocities and the brutal force that was used by the police to disperse the innocent people who had gathered at Ramlila Maidan in furtherence to the permission granted by the state is a matter of concern for the court," the court said.
The court took note of articles and reports published in national dailies depicting the "sad state of affairs and brutality of the state in dealing with its innocent citizens".
"Thus, we, suo motu, issue notices to the Union Home Secretary, Chief Secretary, Delhi and the Police Commissioner of Delhi to show cause and file their personal affidavits within two weeks from today explaining the circumstances in which such power with brutality and atrocities was asserted against a large number of people who had gathered at Ramlila Maidan," the Bench said. The court listed the matter for the next hearing in the second week of July.
The Bench passed the order immediately after the court proceedings began in the morning. The court had agreed to hear an advocate-petitioner's plea on the issue. But when the advocate made a mention of his PIL, the Bench said it was not willing to hear his pleadings as the details of the petition had been leaked to the media before it was taken up by the court.
The petitioner had sought a white paper on the episode, providing all details of the negotiations between Ramdev and the government, the reported deal between them and the police action.