CUT to Punjabi history
In Chandigarh along with director Harjit Ricky, actor Arun Bakshi talks about their upcoming films on the second of the great massacres of the Sikhs - 'Wadda Ghallughara' and the 'Chhota Ghallughara'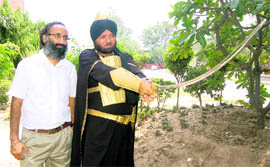 We bet you Bollywood fans know more about Shah Rukh Khan and Salman Khan than they themselves do! Now, here is a simple test — do you know who was Banda Bahadur or Sewa Singh? Here is a clue — they have nothing to do with Ajay Devgn or Sunny Deol! This is called an irony; the present-day generation would know nothing about any freedom fighter or any movement unless a 'known' actor portrays it on screen. Actor-singer Arun Bakshi seconds the opinion.
SUCCESS MANTRA


This too shall pass...
When 26-year-old Rajendra landed in Chandigarh in 1960, he had a dream to make it big as an industrialist. With little on him except his education, small family and determination, Saboo steadily rose not only as a businessman but also as a philanthropist.
High on Design
When the three-year learning is to be put together in an ensemble, there invariably needs to be an inspiration. Behind every fabric chosen, there needs to be a story. The annual design collection show, Suvyan '11, put together by Northern India Institute of Fashion Technology, had the students talking as much about their collections, as about their inspirations. Some stood out, others merged in; still some others added to the sheer quantity. The show fell in the same league and level, pretty much like the previous years.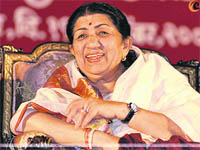 No stopping this Nightingale...
She is 81 and scoffs at any talk of retirement. After working for seven decades, recording songs for over 1,000 movies and singing in more than 36 regional Indian languages, Lata Mangeshkar, known as the Nightingale of India, is still raring to go.
MELODY QUEEN: Lata Mangeshkar
Zooming in on Salman and Asin
Salman Khan and Asin are all over the place promoting Ready. Here is an extract from an interview they did together for a popular entertainment television channel. The music of the film Ready is already a rage, especially Character Dheela Hai. Was it your idea?
I don't mind missing Bheja Fry 2: Milind Soman


Former supermodel and actor Milind Soman has no qualms about missing out on the sequel of hit comedy Bheja Fry and says that the film did not have a role for him. The 45-year-old played a love lorn music composer in the first film, but has no complaints against the filmmakers for not considering him for the second installment, which stars Vinay Pathak in the lead. "May be the director did not have a script for me. It's ok... I don't mind that," Soman said.
One face, several facets
Salman Khan is carrying his latest release Ready on his shoulders. His superstar appeal has clicked for the music. Here are some of his recent movies.
Bollywood music has lost its identity: Shamir Tandon
Music Director Shamir Tandon, whose compositions for the film Page 3 were much appreciated, thinks that Hindi film industry these days does not have its own identity, when it comes to music. "Bollywood does not have identity for its music. It has become more global with a pinch of pop, jazz and rock. In movies like Rock On, there was rock music, Jaane Tu Ya Jaane Na had this jazz feel," Tandon said.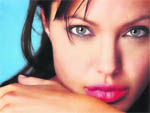 No fuss beauty
Hollywood star Angelina Jolie is regarded as one of the most beautiful women in the world, but she said she keeps her efforts to look good to a minimum. The 36-year-old actress raises six children with partner Brad Pitt and doesn't get enough time as looking after the brood takes it all, reported a publication.
Woody Allen surprised by Owen Wilson


Hollywood director Woody Allen was sceptical about the casting of Owen Wilson in his new movie Midnight In Paris, because the actor is nothing like his usual leading men. The 75-year-old director had to rewrite his script especially for Wilson after meeting the actor and realising he was perfect for the role of a romantic dreamer in the film, reported a website.
'Knot' so important
Hollywood actress Cameron Diaz who recently split from baseball star Alex Rodriguez after a year together has said that marriage was never important to her because it only limits "other possibilities". The 38-year-old actress, one of Hollywood's most successful and beautiful actresses, has openly spoken of her reluctance to settle down, reported a publication online.
It's HER story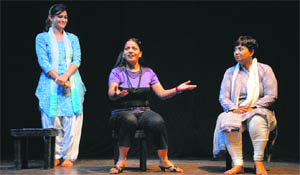 Mein Ta Ikk Saarangi Haa, acclaimed Punjabi play is making an appearance in Chandigarh after a gap of a decade. "There are two reasons that have made me bring the play to Chandigarh," shares Atamjit, writer and director of the play. "First is that lot of people came and requested me to stage it. Secondly, I wanted to test the psyche of society after a gap of 10 years. There sure have been changes in society in the last decade," says Atamjit.
Chiselled poetry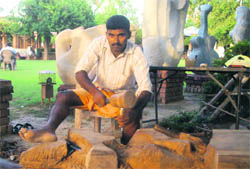 Working in two quiet corners of the Open Sculpture Park are two artists, a painter and another sculptor giving shape to their latest creations. Nawal Kishore, Delhi based artist, taken in by the beauty of the place around is busy capturing on the canvas. 'Umang' has a pair enjoying nature together. Done in bright hues, the painting is nature as the manifestation of God. "In my work, I try to bring out some aspect of spirituality, that's my endeavour here too," shares Nawal snatching a moment from his strokes.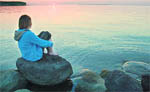 HEART talk
Take out time to heal
I am a 21-year-old girl living in a joint family. I have taken a liking for my elder cousin. I feel guilty about it. I don't know whether this is the right thing, but I like him a lot and I want to spend my life with him.
Select your putter with care Par Excellence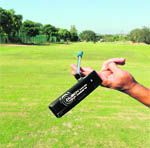 The 'art of putting' has its technical components and the right attitude and mindset. The technical process begins with the type of stroke a player uses and selecting the right putter to match this stroke. In a good putting stroke our endeavour is to get the ball rolling as soon as it leaves the putter face. The ball should not be airborne or skid but roll with a top spin immediately. The three main factors which influence the direction of the ball are


A 45 degree toe balanced putter
Billed to love
A new study has revealed that men rely on their wives or girlfriends to buy more than half of their clothes, while they purchase only 30 per cent of the items in their wardrobes themselves. According to the survey conducted by fashion brand Joe Browns, women spend an average of two hours per month, 24 hours each year or 40 days in a lifetime shopping for clothes for their husbands and boyfriends.
chatter box
Sanjeeda's chill pill
The beautiful Sanjeeda Sheikh who currently stars in Hi! Padosi…Kaun Hai Doshi reveals how she stays cool in the scorching heat this summer. Read on to find out what her summer fundas are.