COLUMNS



THIS ABOVE ALL

TELEPROMPT

GOOD MOTORING

LIFE'S LESSONS

LEXICON
FOR CHILDREN



CROSSWORD

RHYME TIME
Earlier Feature


TELEVISTA


AUDIO SCAN


The law of Mom-in-Law
As the televisionís obsession with saas-bahu sagas refuses to fade away, Nonika Singh takes a reality check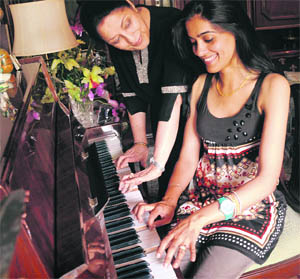 As the promotion on the car radio goes on and on about kaisa hoga Sasural Simar Ka, the woman at wheels, trying to meet the office deadline, navigating her way through the rush hour, fails to understand what is the fuss about in-laws? In the 21st century when women are racing ahead, when women empowerment is not a chimera but a pulsating reality, clearly in-laws should be the least of womenís problems.



Telly trials

Making music together: Jasmine with her mother-in-law Kay Nagra. She feels her mom-in-law has a valid reason for giving advice as she has seen more of life Photo: Pradeep Tewari

The birdhouse
Use old cartons to make a shelter, which will keep the winged creatures happily chirping away all summer long, says Gaurav
Hey children, summer is upon us and the temperatures are rising! Along with the fun of vacations, ice-cream and mangoes, the summer also makes us feel hot and thirsty most of the time! We can always have a refreshing drink to deal with the heat but what about our bird friends? There is usually a scarcity of water during the summer and many birds have to remain thirsty for long periods of time. So, here is an exciting project to help our bird friends, without whom the sky would not be half as pretty! Using old cartons and a few things lying around the house, letís make bird houses to keep the birds happily chirping away all summer long!
The underdog strikes back
Kobo drops cheaper-than-Kindle touch e-reader this June, writes Divyanshu Dutta Roy
Like pretty much everything else, I am quite excited about the Kobo Touch e-reader. And hereís why: the price tag. Not only is it a touch-based e-reader (ooh!) with e-ink display (which unlike LCDs, you can read under sunlight without squinting), but it also comes at $130. Yes, Kobo, the "perpetual e-reader underdog" as Techland calls it, trumps the de-facto e-reader Amazon Kindle (that gets a year old this summer) by $10 and offers a touch feature like Sonyís latest Reader Touch Edition, but at a cool $100 less than the Japanese giant.