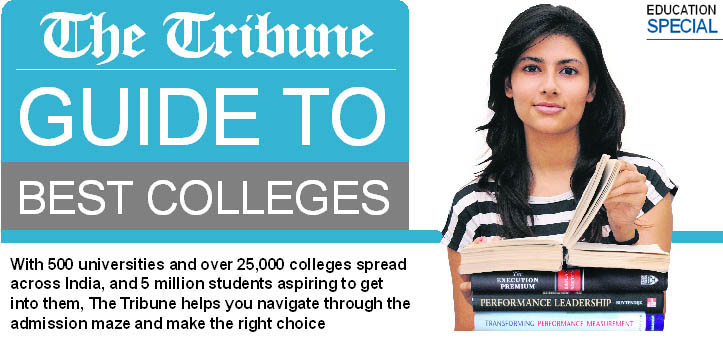 Choices to make ... and miles to scale
Aditi Tandon
With a host of universities and an army of colleges, India has one of the strongest education bases in the world. But with only one in every 10 arts graduates considered employable, undergraduate education remains a tough challenge. For the multitude of students queuing up for
admissions the path to a successful career is still not crystal clear
WE, as a nation, are never quite short of numbers. Talk population or colleges, we have a glut of both. The trouble arises only when we are required to translate that quantitative edge into quality. It's then that the challenge of output generation starts to baffle us, especially so when that challenge concerns our ever-expanding higher education sector.


The razzle and dazzle
Dr Rajiv Lochan
Choreography, fashion design, music, art, advertising, writing and photography are serious professions which require skills and management both, but, of a different kind. And they too are money spinners. Examples abound. Arundhati Roy, Kiran Desai, M F Husain, Shubha Mudgal, Nasiruddin Shah, A R Rahman and Prahlad Kakkar earned their enviable place in the world, not by clearing CAT
IF you like being with people. If you like observing people. If human behavior intrigues you. If you wonder about what makes for the humanity in human beings and why at certain times they behave in such inhuman ways with each other. Then humanities is the area of study for you.
The World At Your Feet
Vandana Shukla
A plethora of career options open for students who choose to pursue humanities stream, by offering extremely interesting and stimulating career options. In a globalised world, the scope of humanities has grown beyond bounds. From history, languages, literature, law, philosophy, religion, performing arts, anthropology, communication, sociology, psychology; any area of study that involves exploration of ideas and creativity opens new doors of opportunities and success in this stream.


Discover New worldS
Sumedha Sharma
Science still has its charm despite a flawed instructional approach at school level and low employability quotient. Even as there is need to rejuvenate science education, there are a variety of exciting course options available
FROM being a 'topper's choice' to 'the last resort' or 'left over option', pure sciences, which had ruled the priority charts of the meritorious students at undergraduate levels for almost three decades, have surely stepped aside to make way for their more 'worthy' and job-oriented hybrids like bio-technology, bio-informatics etc.
The Awesome Foursome
One ever-lasting impression that most youngsters carry in their minds is that science is for the cerebrally strong. And very true too. A well honed sense of logic, strong analytical mind and willingness to put in long hours of study are the essential skills for those jumping into the science stream. Apart from the 'pure' world of bio, physics and chemistry, there is now an exciting array of choices in courses and careers available for students opting for the science stream

Physics
Chemistry
Zoology
Botany
Top of the pops SCIENCE colleges


How To Scout For A College
DEARTH of good institutions for undergraduate study makes the decision even more difficult. With just a handful of top-quality institutions and limited seats, more often than not it is colleges that choose the students rather than the other way round.


Be a whIZ in biz
Vandana Shukla
Indian economy has been growing at 9 %, in a sustained manner. The study of commerce holds a special interest in a growing economy. It also ensures multiple job openings in the field. Before you opt for a course in commerce, make sure that you have the right aptitude
IF numbers excite you, and you enjoy reading and analysing numerical data, you can aspire to make a career in the financial and business world. Subjects like taxation, costing and accounting, statistics and business law will constitute your area of interest.
The New Money Bags
Deepak Bhardwaj
There are currently only 20 lakh Insurance Advisors and just about 70,000 Mutual Fund Advisors for a population of 1.2billion. The scope for growth in the financial sector is phenomenal. A commerce graduate is well-equipped to enter the great Indian financial sector.
Top of the pops Commerce colleges


Design, build, thrive
Vijay Gupta
Living in the times of technology-driven advancement, engineering is not so much a career as an expertise, which opens doors into a vast range of jobs; designing aircraft and submarines, building skyscrapers to maintaining a metro system, engineers touch every aspect of our life. No wonder, as a discipline, it has moved beyond obvious spheres like mechanical, chemical and electrical, opening new vistas
THE aspiring young engineers, who had worked hard for a number of years, are now faced with a bewildering range of options. There is a wide variety of courses and institutions, and an equally large number of league tables telling them the ranking of the various colleges.
Make An Informed Choice
WHAT do you look for: accreditation, recognition, placement history? The accreditation process that obtains in our country is very defective. Unlike what occurs all over the world, our accreditation is largely connected with inputs rather than the quality of education.
Top of the pops ENGINEERING colleges



Riding The Low Tide
Usha Albuquerque
Low percentage doesn't necessarily sink your dream of a gleaming career as there is a lot on your platter even without the a la carte 'course'. Here is how to break out from the blues
WITH Board marks reaching galactic heights it is not surprising that a vast number of students have begun to despair. And with limited seats in good colleges, there are many who are wondering if they can ever get themselves a university degree.


ready, set, go
Jyoti Rai
Colleges nowadays offer several job-oriented courses. A look at what is on Delhi University's itinerary
BA Journalism (Hons)
This three-year integrated course trains the students with all the nitty-gritties of the print media. Although there is no formal placements, passouts from different universities in the region like DU (journalism (hons) have up to 80 per cent hiring rate as many opt for higher studies later.


The Good Doctor
Dr Nitin Behl
The region is home to some of the best medical schools in the country offering a wide choice to students. The government as well as private institutions are evolving constantly by adding new specialisations and facilities for the docs of the next generation
Welcome to the world of doctors. Medicine is one of the most highly sought after professions among students mainly due to the fact that it offers prospects of a financially as well as a socially satisfying career.
Top of the pops MEDICAL colleges


Become A Legal Eagle...
...And An Argumentative Indian
Dr Virendra Kumar
The study of law has become more exciting with the requirement of specialised legal education in the areas of International Business, International Marketing, International Finance, International Trade Law, Corporate Law, Intellectual Property Rights, Cyber Law, and Environment Law, to name just a few
A career in law has increasingly become multi-dimensional. All the aspirants seeking a career in law, therefore, may be divided broadly into three categories. The first category comprises all those who wish to opt for a law career in order to become practicing lawyers and/or judges, including the new trend of becoming corporate lawyers as a matter of first choice.
Compiled and Edited by: Vandana Shukla and Geetu Vaid
Layout: Gaurav Sood and Vishal Prashar
Inputs by: Aditi Tandon, Ambika Sharma, Archit Watts, Bijendra Ahlawat, Deepkamal Kaur, Dharam Prakash Gupta, D.R. Vij, J.S. Paul, Jyoti Rai, Kusum Arora, Manish Sarhandi, Lalit Mohan, P.K Jaiswar, Pratibha Chahuan, Sumedha Sharma, Syed Kazmi.