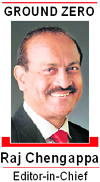 In Groundhog Day, a Hollywood blockbuster released in 1993, a weatherman finds himself getting up to the same day over and over again. He discovers that he is condemned to going over the same routine till eternity.
Comparisons with the movie and the talks that are being held today in Islamabad between Nirupama Rao and Salman Bashir, the foreign secretaries of India and Pakistan respectively, may seem odious. After all the Mohali spirit, that saw the Prime Ministers of the two countries have a cordial meeting on the sidelines of the World Cup cricket match in March, did promise a new beginning.
Those who have travelled on the roller-coaster ride, a phrase that best describes the relationship between the two countries, however, may regard it as déjà vu. "There is a 'have seen it, been there, done that' feeling. An incident here or there and we could be back to square one again," Ashraf Jehangir Qazi, director general, Pakistan's Institute of Strategic Studies, told me when I met him in Islamabad in April.
Qazi should know. He was Pakistan's High Commissioner to India during the outbreak of the Kargil war, the attack on India's Parliament and the tensions that followed. "We could either condemn ourselves to the past or India and Pakistan can be the story of the century as part of the developing or transforming world. So in our talks we need to be hardnosed but imaginative and methodically work towards desired outcomes," is his advice.
So what are the possibilities of these talks proving fruitful? I know it's safe to be cynical. There is little concrete that has been achieved in the talks between the secretaries of defence, commerce, home and water resources of the two countries that preceded the one being held today.
The elimination of Al-Qaida chief Osama Bin Laden in a daring raid of his hideout in May at Abbotabad by US Special Forces saw Pakistan's Big Lie being exposed. No more could the Pakistan government maintain that the state was unaware or not involved in fostering dangerous terror networks including the group that conducted the 26/11 Mumbai attacks in 2008.
Yet in my recent travels across Pakistan the one thing that I noticed was that much of civil society and even the Establishment was no more in a state of denial. It was not because of what India or the world was saying. But the series of deadly terror attacks in recent years had convinced many in Pakistan that the state itself was in grave danger of being overwhelmed by the very militants that they had fostered or backed. The feeling of insecurity and unease was palpable. I felt that Pakistanis were desperately looking for a way out of the quagmire.
I sensed that burning need when I visited the University of the Punjab and interacted with the faculty and students. Started in Lahore in 1882 (just a year after The Tribune was established in the same city) it is now among the oldest in the sub-continent and boasts of 70 departments, a 700-strong faculty and 586 colleges affiliated to it. It now has over 30,000 students and in a sign of the changing times the ratio between males and females is now almost equal - 52:48.
Yet even as the University does the country proud, Professor Dr Mujahid Kamran, its Vice-Chancellor, points out there are barely 2 million Pakistanis pursuing higher education or just one per cent of the population of 190 million. "If Pakistan has to develop like India or China then the only way is to have a vast educated workforce that can drive the economy," he says. Most academics and students are keen to visit India and even study in our Universities but as Kamran says, "We are just not able to get visas even for seminars what to talk of pursuing education in India."
Exchange of academics and students is something that Prime Minister Manmohan Singh should tell India's foreign secretary to push for when Rao meets her counterpart later today. Manmohan Singh, who was born in a village that is now in Pakistan, has consistently batted for good relations with Islamabad despite grave misgivings within his own party and in the Opposition.
I will stick my neck out and roundly endorse the Indian Prime Minister's decision to resume the structured dialogue between the two countries, which had been broken off after the Mumbai attacks. Despite the apparent lack of atmospherics, it is important that we engage Pakistan in talks. Even just talking to Pakistan gives us a first hand account of the internal churning that the country is experiencing and helps India calibrate its initiative.
There is a discernible strand among civil society in Pakistan especially the younger generation that wants their country to break free from the vicious cycle of violence, anger and despair. I sensed that when I visited Aitchison College in Lahore and was taken on a tour of its campus by Fakir Syed Aijazuddin, its suave and erudite principal. Among the oldest schools in the region it has maintained its character over the years and grooms its students for leadership roles in the country.
When I spoke to a gathering of senior school students one of them, Humza Yusuf, asked me, "How was India able to achieve such a fantastic economic growth and how can Pakistan do the same?" It was an excellent question, one that many in Pakistan asked me when I was there. India's economic growth is looked upon by them with much admiration and envy.
I told him that I believed that Pakistan was somewhat in the same position as India was 20 years ago. India's economy was in a shambles, there was internal strife and lack of national unity on almost everything. The then government had no other option but to go in for a radical economic reform process that essentially ended the Licence Raj and freed Indian entrepreneurship and investment.
A constellation of circumstances has now put Pakistan in a similar predicament. The choice was for it to make. India could help by engaging it in a dialogue. "We do need to take a leaf out of India's book and that of China's too if Pakistan wants to achieve transformational economic growth. We would like to be part of the BRIC (Brazil, Russia, India, China) grouping as being among the fastest growing economies in the world," says Qazi. Then with his characteristic humour he added, "If we did that we may have to start the acronym with P!"
Pakistan is beginning to realise that for that kind of economic growth it needs to seek a stable and self-respecting relationship with India. It is in India's vital interest to help Pakistan do so.