no more queer than others
As recently as February 2010, the Royal College of Psychiatrists had to issue a statement to clarify that 'homosexuality is not a psychiatric disorder'. The debate about what makes people gay has been raging for decades. Now scientists aim to settle it for good.
Jeremy Laurance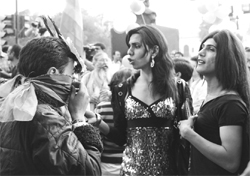 'Sexual orientation is not a matter of choice, it is primarily neurobiological at birth." So said Jerome Goldstein, director of the San Francisco Clinical Research Centre, addressing 3,000 neurologists from around the world at the 21st meeting of the European Neurological Society (ENS) in Lisbon last month.

In doing so he was attempting to settle a debate that has raged for decades: are gays born or made? It is a puzzle because homosexuality poses a biological conundrum. There is no obvious evolutionary advantage to same-sex relationships. So why are some people attracted to others of the same sex? Sexual attraction provides the drive to reproduction – sex is a means to an end not, in Darwinian terms, an end in itself. From an evolutionary perspective, same-sex relationships should be selected out.

Despite this, they are common in the animal kingdom. Birds do it, bees probably do it and fleas may do it, too. Among the many examples are penguins, who have been known to form lifelong same-sex bonds, dolphins and bonobos, which are fully bisexual apes. Various explanations have been advanced for the evolutionary advantage that such relationships might confer. For example, female Laysan albatrosses form same-sex pairs, which are more successful at rearing chicks than single females. Homosexuality may also help social bonding or ease conflict among males where there is a shortage of females. Gay couples will not preserve their own genes but they may help preserve those of the group to which they belong.

Animal kingdom

The existence of homosexuality in the animal kingdom has been cited to demonstrate that it is not a sin against nature. The American Psychiatric Association removed homosexuality from its list of recognised mental disorders almost 40 years ago in 1973 and the World Health Organisation followed suit in 1992. The UK Royal College of Psychiatrists does not produce its own list of disorders but tends to follow the WHO.

Yet as recently as February 2010, the college felt compelled to issue a statement to "clarify that homosexuality is not a psychiatric disorder," adding: "There is no sound scientific evidence that sexual orientation can be changed. Furthermore, so-called treatments of homosexuality create a setting in which prejudice and discrimination flourish."

The move was prompted by a survey of 1,400 psychiatrists and therapists, which found more than one in six had offered to help turn gays straight, or reduce their gay or lesbian feelings. Moreover, the cases were not concentrated in the past, but spread across the decades up to the present.

Professor Michael King, who led the study published in BMC Psychiatry, said at the time: "We didn't expect it to be happening at this rate and we are really rather concerned... It is distressing and harmful and there is absolutely no evidence it works."

One puzzle was that far fewer therapists said they would attempt to change someone's sexual orientation if asked to do so – one in 25 – than admitted having actually done so. They seemed uncomfortable with giving treatment, or admitting to it. Pressure from clients demanding help because of bullying or discrimination may have pushed the therapists into delivering it.

Professor King said: "If the therapist is not wise enough to say that there is nothing pathological about it, they may get seduced into trying to change them. Instead, the therapist should be saying that it is very unfortunate they are being bullied and that they can try to help them come to terms with their situation."

Genetic link

Research in neurobiology, cited by Jerome Goldstein in Lisbon last month, has served to reinforce this view. If it can be shown that the brains of gay people are physiologically different from heterosexual people, the idea that they are "aberrant" and may be changed is harder to sustain.

Twin studies have revealed a probable genetic link with sexual orientation and Dr Goldstone plans to examine the brains of identical twins using MRI scanners for differences.

Researchers from the Karolinska Institute, Stockholm, using MRI scanners measuring blood flow to the brain have already found differences in the size of the amygdala in the brain, which plays a key role in emotional responses. The brains of homosexual men resembled those of heterosexual women and those of homosexual women resembled those of heterosexual men.

The research builds on other studies of neurological differences between gay and straight men and women. A study led by Qazi Rahman at Queen Mary, University of London, found gay men and heterosexual women share a poor sense of direction and are more likely to navigate using landmarks or by asking someone. It is heterosexual men who stick stubbornly to the map.

The right-hand side of the brain dominates spatial capabilities, so may be slightly more developed in heterosexual men and lesbians. An earlier study found gay men and heterosexual women outperformed lesbians and heterosexual men in verbal fluency.

These studies hark back to those by Simon LeVay, a gay neuroscientist at the Salk Institute in San Diego, California, who claimed to have found structural differences in the brains of homosexual and heterosexual men. Post-mortems studied by LeVay revealed that a region of the brain called the interstitial nuclei of the anterior hypothalamus is two or three times bigger in heterosexual men than it is in women. In gay men, however, this region is about the same size as in women.

This supported the notion that the brains of gay men were in some ways a bit like women. But LeVay acknowledged that it was impossible to say whether this made people gay or whether the differences in their brains were a consequence of being gay. To make a compelling case, it would be necessary to show that the neurological differences existed early in life and that it was possible to predict future sexual orientation from them.

But he was captivated by the idea that, if gays were "born that way" it could undermine the morality of homosexual discrimination. He believed that a lifestyle based on an innate propensity rather than a conscious choice is far more difficult to condemn.

Jerome Goldstein agrees. "We must continue to bring forward data that show the differences or similarities between the brains of homosexuals, heterosexuals, bisexuals, and transgender persons." He added: "The neurobiology of sexual orientation and the gay brain, matched with other hormonal, genetic, and structural studies, has far-reaching consequences beyond sexual orientation."

'Curing' homosexuality

The idea that homosexuality can be cured has a long and dubious history. For most of the last century it was thought to be an aberration from the norm that could be "corrected", rather than a natural state. Everyone was thought to be basically heterosexual and homosexuality was regarded as a deviation, the result of "faulty learning" in childhood.

During the 1950s and 1960s, when belief in psychological behaviourism was at its height, aversion therapy was used to "cure" homosexuals. Male patients were given a slide show which included pictures of sexually attractive men and women and a lever that allowed them to change the slides. If they lingered too long over the pictures of the men, and did not move on swiftly enough to the pictures of the women, they received an electric shock. A variation of this treatment involved a drug that would make them vomit.

Aversion therapy, famously employed in Anthony Burgess's novel A Clockwork Orange to cure Alex of his obsession with violence, was used up to the 1980s, but has since been discredited.

Other treatments included advice to masturbate to a homosexual fantasy and then switch to a heterosexual one near orgasm. Covert sensitisation required patients to counter homosexual thoughts with shameful fantasies of arrest by the police or discovery by their family.

Although not uncommon, these treatments never became mainstream in Britain. In the US, however, the idea that homosexuality can be cured retains wide support.

UN REPORT BY DECEMBER

The UN Human Rights Council, known as Geneva Forum, adopted a resolution last week , declaring that there should be no discrimination or violence against people based on their sexual orientation. The controversial resolution marked the first time the UN Human Rights Council has recognised the equal rights of lesbian, gay, bisexual and transgender people. The text, presented by South Africa, was adopted by 23 countries in favour, 19 against with 3 abstentions and one delegation absent during voting. Russia, Pakistan and Bangladesh voted against the motion. China abstained during voting.

"All over the world, people face human rights abuses and violations because of their sexual orientation or gender identity, including torture, rape, criminal sanctions, and killing. The landmark resolution affirms that human rights are universal."

— Hillary Clinton

"The aim was for a dialogue on discrimination and violence meted out to those whose only crime seems to be their choice in life."

— Jerry Matthews Matjila, South African Ambassador

"This issue has nothing to do with human rights. What we find here is an attempt to change the natural right of a human being with an unnatural right. That is why we call upon all members to vote against it."

— Sheikh Ahmed Ould Zahaf, Mauritania's ambassador to the UN in Geneva

The resolution calls on the office of United Nations High Commissioner for Human Rights Navi Pillay to draw up the first U.N. report on challenges faced by gay people worldwide. Her report, due by December, should document discriminatory laws and practices and acts of violence against people based on their sexual orientation and gender identity.