Almost unnoticeably the ornate sophistication of Indian jewellery, expressed and evolved over centuries into an art of fine embellishment, is replaced by straight geometrical lines and functionality. Globally, jewellery design and production is turning into a technological feat, and lesser of an aesthetic statement
The timeless flaunt
George Jacob
When a German Company Niessing unveiled the first "Tension-Ring" in 1979, it was one of those moments when jewellery design had arrived to meet the 21st century head-on. This unique, simplistic looking engineering marvel of jewellery design was a timeless finger ring that held a gemstone under spring-loaded pressure, free of prongs, bezels or other conventional methods of setting. Exerting 12,000-50,000 pounds of pressure per square inch (psi) the alloy mixed gold and platinum rings held diamonds and sapphires as if suspended magically in mid-air. Winning multiple design awards around the world with its iterations, the ring made it into the permanent collections of prestigious institutions such as Grassimuseum in Leipzig, Kunstindustrimuseet in Oslo, Technical Museum in Vienna and the Museum of Art and Handicrafts in Hamburg in 2003.
After the end of World War II, jewellery designers started experimenting with new designs, thinking outside the box and seeking abstract expressions with wearable art adornments. A new palette of materials entered the arena of design; including plastics, aluminium, carbon-fibre, Precious Metal Clay (PMC), artificial gemstones like moissanite (a diamond substitute) and cultured pearls.
While the west has its waves of antique, vintage, retro and the eclectic styles, India has the depth and an unsurpassed vast richness of visual vivacity stretching back to the Indus Valley civilization, celebrating the longest continuous legacy of the body adorned through millennia.
Beauty Underlined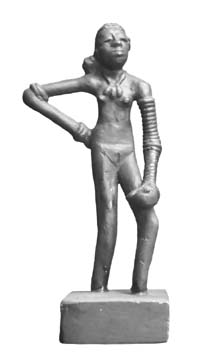 Ageless Ornamentation: The Dancing Girl of Mohenjo-daro, 2600 BC

From the adornments of temple dancers to the commissioned fineries of maharajas and their many queens, to the earthy richness of jewellery worn by tribals , India has given birth to countless forms of folk, classical, devotional and expressive styles of ornamental creativity transcending the boundaries of art and craftsmanship. Over the centuries, the solah shringars (16 adornments) have absorbed layers of international influences rendered through subtle improvisations drawing from the Greek, Macedonia, Portuguese, Dutch, Chinese and other European sensibilities while retaining the guild of the classical traditionalist. Polki, kundan keshri, lac, pearl, minakari, navratna, pachchikam, jadau, thalikootam, and others offer variations in ornamentation for birth, marriage, festivals, rituals, ceremonies, occult, illness, ill-effects of astrological star positions, offerings, with variations in anklets, amulets, bangles, necklaces, turban crests, rings, talismans, bracelets, scabbards, shields etc., extending into weapons and allied embellishments. Indian traditions have often extolled the virtues of the inherent power of the materials that make up the jewellery. The Vedic traditions ascribe purity to gold and channelling of energies through the medium of gems.
A statement by machines
Jewellery making uses different production techniques, including stamping, casting, engraving and laser etching. The last two decades have seen the deployment of computers in object recognition, 3D Scans, CAD-CAM (computer aided design/modelling) systems and rapid prototyping using biocompatible resin, titanium and stellite processing and craftsmanship, creating new collections and new possibilities of complex designs. Current CAD/CAM software systems are capable of not only providing 3D solid and surface models, but aid changing of textures, settings and 360 rotation allowing designers to produce precise tooling grade patterns ready for casting or mould-making.
The late 20th century saw the blending of European design with oriental techniques such as mokume-gane (mixed metal laminate with distinctive patterns originally used by Japanese in forging samurai swords back in 17th century), hydraulic die forming, anti-clastic raising, fold-forming, reactive metal anodizing, shell forms and photo-etching, as artisan jewellery continues to grow both as a hobby and a profession.
Rhino 3D is another computer-aided tool customized to aid jewellery design to produce visually stunning precision surfaces on a small scale with its ability to produce exceptionally realistic renderings using Brazil, Flamingo, V-Ray, or Maxwell, and is used extensively by the Indian designers. Rhino's STL (stereo-lithography) read/write capability with tools, for making the STL solid definition absolutely water tight makes it valuable to wax printing technologies such as those from Solid Scape. For a lay person, what it does is to create a mesh-like exterior ensuring poly-surface connectivity over joints and surface couplings.
Also popular with Jewellers are desktop CNC Milling Machines from Roland DG, which have developed interfaces with Rhino. For other desktop milling machines, the G-codes that drive them can be created with RhinoCAM enhanced with added plug-ins. Stereo-lithography and hard model technologies are the future of the jewellery industry.
Display dazzle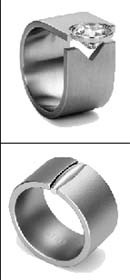 Poetry in geometry: A narrow incision in the ring - and an engineering marvel to hold a solitaire with 30,000 pounds of pressure per square
inch (PSI)
Designed to dazzle, jewellery stores around the world have taken the power of glitter beyond the brand. Attracting customers and drawing them into the romance of remembrance has become a highly evolved exercise in sensual psychology and subtle signals. Apart from the mechanics of managing the functional requirements of viewability through UV coated glass, case lighting that does not distort the colour of the stones and pressure and laser guided security triggers, the stores are increasingly focused on the art of sparkle. From mannequins, light-boxes, art, sculpture, carpets, rich wood, textured leatherite, slat-wall panels, colour, graphics, mirrors to mood music, there has been a continued experimentation to enhance the shopping experience and to promote loosening of purse strings, stay mesmerized and perhaps return for yet another addictive buying experience that entices the senses. Even when there is no direct sale, the visual presence of a memorable brand continues to reinforce the primal magical mystery of the sparkle.
Future Trends
While globalisation and mobility of Indians travelling abroad has increased exponentially, changing the socio-economic outlook in fashion chic, the fashion jewellery industry is influenced more by the shortage in supply of raw materials and a steep hike in the prices leading to a cut-throat competition among the countries hosting polishing. This has led to a shortage in the supply of polished semi-precious stone creating a shortage for manufacturers of finished custom and retail jewellery and resulted in a noticeable shift of the industry to countries offering low labour-cost on production and polishing.
Changing fashion trends towards different designs, work-place etiquette in acceptable accessories, domestic needs and college-going student population guided by western influences and branding are changing the demand equation for what is cool and passé in each seasonal quadrant. The retail sector has also been affected due to competition from other luxury jewellery and accessories with semi-precious and precious stones and metals making their mark on pendants, belts, sun-glasses, cuff-links, key-chains, shoe-buckles, hand-bags, gift-pens, watches and tie-pins, largely in the developed economies where consumer sophistication is growing steadily.
(The author is a renowned museum planner and designer whose museum assignments span 11 countries.)

The commerce of gild
A recent 'Vision 2015' KPMG report released by the Gems and Jewellery Export Promotion Council(GJPC) of India indicates that global jewellery sales are expected to grow annually at 4.6 percent surpassing $185 billion in 2010 and hitting $230 billion in 2015. Palladium is expected to establish itself as an alternative metal for jewellery fabrication, while gold and diamond jewellery will continue to dominate the market together, accounting for about 82 percent of the market-share. Diamond jewellery would be the slowest growing segment at a Cumulative Annual Growth Rate (CAGR) of 3.3 percent, bracing the industry to focus on the growing demand for jewellery as a category and strengthen industry-wide supply-chain. While the United States continues to be the world's largest market for jewellery accounting for an estimated 31 percent of world jewellery sales, India and China are the emerging centres of jewellery consumption and have seen a spurt in the last decade from 8.3 per cent to 8.9 percent. Despite the changing fashion trends, the domestic Indian market is booming, given the growth in the economy and the expanding middle-class. If one looks at the numbers associated with weddings alone, the figures are staggering. There are over 1 million weddings held every year in India splurging a whopping Rs.1,35,000 crores on arrangements and allied extravaganza, out of which a mind-numbing Rs.60,000 crores is spent on traditional jewellery on an average. Retailers are struggling to cope up with the demands, seeking IPOs and unconventional sources of funding.
The gold-obsessed south-Indian market shows no signs of slowing down with jewellers holding the best real estate, shopping plazas, bill-boards and prime-time TV Commercials with exquisite merchandise that has taken traditional jewellery designs to dizzying heights of excess even as the world around gravitates to minimalist aesthetics with costume jewellery sales jumping to $60 billion last year. — GJ