For the first time in India, the government has gone ahead to ensure a truly cashless delivery for pregnant women accessing public health facilities. The new initiative entails zero cost, and seeks to multiply India's efforts to reduce the high maternal and infant mortality rates, as pledged under the Millennium Development Goals
Putting the mother and child first
Anuradha Gupta
The Janani Shishu Suraksha Karyakram, launched from Mewat district in Haryana on June 1, unmistakably signals a huge leap forward in the quest to make "health for all" a reality.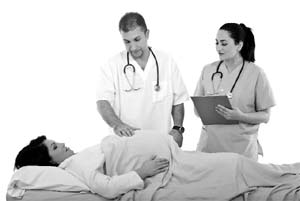 It invokes a new approach to healthcare, placing, for the first time, utmost emphasis on entitlements and elimination of out-of-pocket expenses for both pregnant women and sick neonates. The initiative entitles all pregnant women delivering in public health institutions to absolutely free and no-expense delivery, including caesarean section.
It spells out that all expenses related to delivery in a public institution would be borne entirely by the government and no user charges would be levied. Under this initiative, a pregnant woman would be entitled to free transport from home to the government health facility, between facilities, in case she is referred on account of complications, and also drop-back home after delivery.
Entitlements
The good thing is — entitlements would include free drugs and consumables, free diagnostics, free blood wherever required, and free diet for the duration of a woman's stay in the facility, expected to be three days in case of a normal delivery and seven in case of a caesarean section.
Similar entitlements have been put in place for all sick newborns accessing public health institutions for healthcare till 30 days after birth. They would also be entitled to free treatment besides free transport, both ways and between facilities in case of a referral.
Out of the 9 lakh newborns who die within four weeks of birth, about seven lakh i.e. 75 per cent die within the first week. Most of these deaths are preventable through timely and proper healthcare.
Another issue is out-of-pocket payments, which are, without doubt, a major barrier for pregnant women and children so far as access to institutional healthcare is concerned. The impoverishing effect of healthcare payments on Indian households is well established. Out-of-pocket spending in government institutions is both common and substantial, partly because of a weak supply chain management of drugs and other logistics and partly because of malpractices, which include a flourishing nexus between doctors, chemists and diagnostic labs.
Prescriptions by doctors, even in government settings, can be unnecessarily expensive and may include not just medicines but consumables such as surgical gloves, syringes, IV (intravenous) sets, and canulas.
It is paradoxical that some states levy user charges for deliveries at the time when efforts are being made nationally to address factors impeding institutional deliveries and to give incentives to women to approach government institutions for childbirth through schemes such as the Janani Suraksha Yojana. Hence, notwithstanding substantial investments by the Central Government to improve provisioning for maternal and child healthcare, the burden of out-of-pocket expenses for pregnant women and children has persisted in the public health system across most states. The fact that entitlements were not explicitly articulated and were vague left much scope to deny the service delivery that national programmes, including the National Rural Health Mission and its precursors, have consistently strived for.
Highest maternal deaths
It is important to recapitulate that maternal and child health have been the focus of attention in India for more than two decades now. Globally, in absolute numbers, India accounts for the highest number of maternal deaths as well as deaths of children under five years. The Bhore Committee report of 1946 estimated the maternal mortality ratio (MMR) in the country to be around 2000 deaths per 100,000 live births, which is approximately 10 times higher than the estimated MMR today.
Other subsequent estimates put India's MMR at 495 deaths per 100,000 live births in 1992. The National Child Survival and Safe Motherhood Programme, which was rolled out in 1992 by the Government of India, was the first attempt at integrating maternal and child health. Though health is a state subject, the programme provided assistance to the states for the training of the traditional birth attendants (TBAs) and strengthening of facilities, particularly at the CHC (community health centre) level, for emergency obstetric care, safe motherhood and neonatal care.
the past schemes
The International Conference on Population and Development in 1994 led to a reorientation of mother and child health strategies. A new programme called the Reproductive and Child Health - I (RCH-I) was launched in 1997, which further integrated vertical schemes and substantially scaled up interventions related to maternal and child health. It sought to inter alia expand skilled attendance at birth and provided funding to states for round-the-clock maternal health services, emergency obstetric care and promotion of institutional deliveries.
Besides funding the states for augmenting human resources, including specialists and staff nurses, it also provided funds to local governing bodies to provide emergency transport. Ensuring availability of drugs, consumables, safe blood, equipments and trained service providers was a key focus for which states were given financial support. Also, financial incentives were provided to the staff for attending to deliveries after working hours. Reproductive and Child Health - Phase II ( RCH-II), launched in 2005 under the umbrella of the NRHM, was committed to substantially augmenting the funding to the states with a greater willingness to factor in state-specific needs and contexts through a flexible funding pool.
Subsequently, the National Rural Health Mission strengthened state endeavours to reduce both the Maternal Mortality Ratio as well as the Infant Mortality Rate by providing additional flexible and need-based funding for strengthening health systems.
Rs 75,000 crore to states
By the end of 2011-12, the NRHM would have provided over Rs 75000 crore to the states to address supply-side constraints and improve public health institutional capacities to render comprehensive quality healthcare, with an overwhelming focus on pregnant women and children.
Funds have been provided to the states for ambulance networks, including transport for pregnant women, drugs, and supplies, equipment, additional human resources, including nurses, doctors and specialists, large-scale capacity building of service providers, physical infrastructure, performance-based incentives and everything else that is needed to ensure service guarantees that the NRHM Framework for Implementation seeks to put in place for pregnant women as well as children.
A large number of human resources have also been added for augmenting the service delivery. These comprise 61574 ANMs, 35329 staff nurses, 11931 doctors, and 7238 specialists. Clearly, the ground is well laid for strengthening the supply side and moving towards guaranteeing service delivery in public health institutions through clearly articulated entitlements.
That's where the new initiative comes in. It hinges on wide publicity, by the states, of the entitlements envisaged to enhance public awareness. States have also been urged to display prominently the entitlements in every government facility and put in place robust mechanisms for feedback and grievance redressal. Armed with information and knowledge of entitlements, people are bound to demand greater accountability on the part of both institutions and service providers who may be under pressure, more than ever before, to deliver on commitments.
What is heartening is the consensus that has emerged across states, recognising the need to entitle pregnant women and newborns to truly free, no-expense healthcare in public health institutions.

Merits of maternity initiative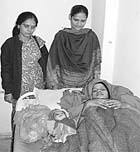 The Janani Shishu Suraksha Karyakram, it is estimated, would benefit more than 1 crore pregnant women and sick newborns at present accessing the public health system every year. It would further trigger enhanced demand for care in public health institutions on the part of over 70 lakh women, who still choose to deliver at home and make healthcare accessible to those sick newborns, who are unable to get timely and appropriate healthcare because of high out-of-pocket expenses on both transport and treatment. As a result of this enhanced demand for services created in the most vulnerable, marginalised and underserved sections of the population, India can hope to bring down the 67000 maternal deaths and 9 lakh neonatal deaths that take place in the country every year.
Care at childbirth
In 2011-12 alone, more than Rs 1135 crore have been provided till date, to the states for drugs, supplies and ambulance/ transport systems through programme implementation plans (PIPs) under the NRHM. Over 2637 First Referral Units (FRUs) and 9269 Primary Health Centres (PHCs) are now functioning round the clock for providing comprehensive maternal and child health services. To prevent untimely neonatal deaths, over 263 well-equipped special newborn care units (SNCUs) have been established at district hospitals, 1120 newborn stabilisation units at the sub-district level and 6403 newborn baby care corners have been set up.
The writer is Joint Secretary, Reproductive and Child Health, Ministry of Health & Family Welfare, Government of India