The 12th round of talks with Pakistan on the Siachen issue is over and should be set aside with panache and poetic flourish. Unlike T.S. Eliot's protagonist, we have this time around, not stooped to folly in the unremitting waste land of India-Pakistan relationships. Instead we have politely agreed to disagree; accepting the Pakistani non-paper laconically; emphasising that our positions held on the Saltoro Ridge be accepted and plotted on maps as a prelude to their vacation, as well as firmly rejecting the brazen Pakistani suggestion that China be co-opted, being a concerned party.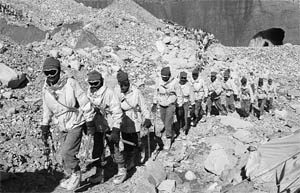 Indian troops train at the Siachen Battle School prior to induction in to the battle zone. Based upon intelligence inputs that Pakistan was planning to occupy Siachen, the Indian army moved into the glacier in 1984 and with continuous deployment since then, built up a number of permanent posts and helipads on what is known as the world's highest battlefield
The key to understanding the Siachen conundrum lies in a clinical understanding of its terrain and layout and its geo-strategic significance for the protagonists.
The 76 km long Siachen Glacier is sourced at Indira Col (5,753m) in the eastern Karakorams. It is sandwiched between the Saltoro Ridge to its west, and the main Karakoram Range to its east. The Pakistani positions are west of the Saltoro Ridge and have no direct observation of the glacier. The only way they can access it is by crossing the Saltoro Ridge through five passes: Sia La (7,300m), Bilafond La (6,160m), Gyong La (5,640m), Yarma La (6,100m) and Chulung La (5,800m), all held by India. The key Bilafond La (Pass of the Butterflies) is on the ancient Silk Route linking undivided India and China. Domination of these strategic passes is a key to the control of the surrounding areas. The glacier, at its snout (3,620m), converts into the Nubra River.
The average annual snowfall on the Saltoro is 10 mts, with temperatures ranging from minus 30 to minus 80 degrees centigrade. The important terrain deduction is that the 110 km long Actual Ground Position Line (AGPL), which the Indian Army occupies on the Saltoro Ridge, is reachable only after a vertical climb and then a suicidal frontal assault. India thus holds the commanding heights while Pakistan is at a severe military disadvantage.
Operation Meghdoot
For tracking how this military feat was achieved, one has to go back in time. Finding in Alpine climbing circles that Pakistan was claiming the area, Col Narendra "Bull" Kumar volunteered and was permitted to lead a fact-finding mission.
Post his path-breaking expedition in 1978 (he trekked along the Siachen from snout to source and climbed the Sia Kangri) and confirmation of Pakistani presence, Army HQ was alerted. With clinching evidence of Pakistani Special Services Group (SSG) presence detected by India's Ladakh Scouts in 1983, the Army launched Operation Meghdoot on April 13, 1984, inducting 4 Kumaon by using the knowledge base provided by Col Kumar. IAF helicopters dropped the doughty Kumaonis at Bilafond La. Simultaneously, 4 Kumaon secured the two major passes — the Sia La and Gyong La — on foot, establishing posts that put India in command of Siachen Glacier. Today the Siachen Battalion HQ at 4,880m is named Kumar Base in honour of Col Kumar.
India, since 1984, has lost 720 soldiers, with 60 per cent falling to General Glacier. Many more have been evacuated due to the effects of serving in super high altitude. In cost terms, analysts estimate that it costs India Rs 1,200 to 1,500 crore annually to maintain its 7,000-plus manpower in the Siachen area. Our strategic interests and national pride demand that we accept this cost.
The Battle for Quaid Post
How desperately Pakistan tried to occupy the Saltoro Ridge as a mandatory prelude to capture of the Siachen Glacier is evident in their bold, surreptitious 1986 occupation by a JCO-led SSG team, of a dominating feature south of Bilafond La. The Pakistanis justifiably called it Quaid Post and the Indians, the Left Shoulder. This post, protected by a 1,500 foot high vertical foot snow wall, overlooked most Indian posts. On April 18, 1987, withering machinegun fire from it mowed down five soldiers of 5 Bihar located at the air-maintained Sonam Post. Amar, Ashok and U-Cut posts, all helicopter maintained, also became untenable. Capturing Quaid thus became very critical for the Indian Army.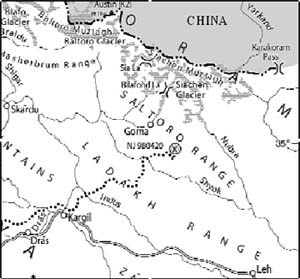 Pakistani occupation of Siachen would be near impossible to evict, given their easier access to Saltoro from POK. Also, if we pull out, Pakistan would be able to have access to Aksai Chin. The reality is that complete withdrawal of the army and air force will not be possible. Indian military establishments in that area are important is not only from the strategic point of view, but are also the lifeline for civilians
The relieving battalion, 8 J&K LI, undertook this challenge. On May 29, the Commanding Officer, Col A.P. Rai, sent a ten-man patrol under 2/Lt Rajiv Pande to fix ropes for ascending Quaid. Unfortunately, the activity of rope fixing was detected and most of the patrol including Rajiv was shot. A specially selected task force of two officers, four JCO's and 58 men under Maj (later Brig) Varinder Singh was created to capture Quaid and huge air effort expended to bring this force to area Saddle, 1000 metres away. Maj Varinder launched Operation Rajiv on June 23 and after masterminding three days and nights of superhuman effort, without food and water, constant shelling and losses of men, he located the ropes laid by Pande. Nearing the top, he launched Naib Subedar Bana Singh, the last of his four braveheart JCO's to finish the capture of the depleted Quaid Post. Starting at 12.11 PM, on June 26, Bana and his four men finished off the job by 2 PM, shooting the last two defendants dead and launching the Indian Tricolor at 21,153 feet. Maj Varinder, though seriously wounded, followed and took charge. Quaid became Bana Post, with Bana being awarded the Param Vir Chakra.
What do India & Pak want?
Tim McGirk and Aravind Adiga in a May 4, 2005 article in Time magazine (War at the top of the world) correctly write that while India wants Pakistan to authenticate the AGPL both on the maps as well as on the ground, the latter insists on maintaining the pre—1972 troop position as agreed in the Simla Agreement. That way, say the Indians, if Pakistan does try to seize the Indian positions after a withdrawal, it would attract international condemnation. Analysts feel that Siachen should be linked to the Kashmir solution and that India demand a quid pro quo on Kashmir. The realist school opines that in case of a Pakistani occupation of Siachen, they would be near impossible to evict the, given their easier access to Saltoro from Pakistan Occupied Kashmir. An equally valid argument is that in case we pull out, Pakistan would be able to have access to Aksai Chin.
Finally, the reality is that complete withdrawal of the Army and the IAF will not be possible. Thoise (not a real name but an acronym: Transit Holding Of Indian Soldiers Establishment) is a military airfield and small village in Shyok Valley. It enables a quick inflow of men and material from the Indian mainland to Siachen. "Its importance is not only from the strategic point of view, but also as a lifeline to the civilians," says the IAF. They are right.
Pakistan, on its part, shies away from AGPL validation, ostensibly because that would "legitimise" India's "intrusion" into Siachen. They insist that India has broken the 1972 Shimla covenant, both arguments being contrived. Pakistan's "China card" opines that the northern part of the glacier abuts the Shaksham valley which is under Chinese control. Hence the need to have Beijing on board. The reality is that Shaksham valley, a 5,800 sq km area located just north of the Karakoram Pass, was part of the state of Jammu and Kashmir and was illegally ceded by Pakistan to China in 1959. The Tribune editorial (The Siachen question: Playing China Card won't help Pakistan, June 2, 2011) that Pakistan invariably brings up China when driven to a wall is spot on. The Indian positions on the Saltoro overlook Shaksgam Valley, and given the recent frenetic Sino-Pak collusion in this area, there is no reason for us to give up this strategic advantage. The specious argument that demilitarization is needed to stop global warming – the glacier is receding 10.5m annually – does not amuse India as her strategic considerations override global warming.
Siachen is not, as Tim McGirk and Aravind Adiga have written, the "low-hanging fruit" of the India-Pakistan peace process, in that it is easier to resolve than Kashmir. India and Pakistan must, on the contrary, see its resolution as a break from their current "trust deficit" relationship, and use its resolution for further peace-making. The ball is clearly in Pakistan's court.
The writer is a defence analyst