The 13th Finance Commission made a historic budget allocation to state governments for the restoration of their heritage. With an allocation of ` 100 crore, can Punjab restore the glory of Quila Mubarak, with its notorious history of bureaucratic solutions for matters related to culture and conservation?
Loss of Inheritance
Amita Baig
It's only in the last few years the Government of India has finally woken up to the realisation that post independence the heritage of India has been gravely neglected. While the Archaeological Survey of India had its budget substantially increased in 2002, thus ensuring that the national heritage would never lack funds; state government budgets for culture remain pitiful, its limited resources largely allocated to paying salaries of administration and staff. Last year the 13th Finance Commission made a historic budget allocation to state governments for the restoration of their heritage. Ranging from Rs 175 crore to Madhya Pradesh, 10 crore to Tripura, and Rs 100 crore assigned to Punjab; these allocations were made against rapidly cobbled together ill conceived estimates. One only has to consider that the entire State of Jammu and Kashmir has an allocation of Rs 50 crore for just one site, Mubarak Mandi in Jammu.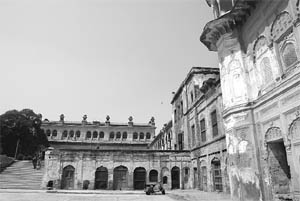 The withering testimony of a lost grandeur — Entrance to the Durbar Hall.
Missing: Money, manpower
While this significant injection of funds for heritage must be welcomed and it's not a minute too soon; the tragedy facing cultural institutions in India is that apart from meagre budget allocations, there has been absolutely no human resource development in the last decades. Systems established in the colonial era still prevail and recruitment policies are fossilised in the 19th century. Institutions, monuments and sites are in danger, not just for want of money but simply because there has been no investment in developing manpower to protect them. With no emphasis on skills upgrading or professionalisation, our culture and heritage remain at risk.
The heritage sites at the state level are most critically endangered as they face a total vacuum in professional manpower. The lack of emphasis in the development of expertise, the predominance of bureaucrats in making technical decisions and the absence of commitment to build a cadre of professional and technical skills in culture and heritage management is a crisis we face across the country. Funds are languishing, or worse, misused in the absence of suitable skills. The conservation and preservation of our heritage is a highly professional task and we need to recognise this gap. Visiting protected sites in various states one cannot help but be profoundly disturbed by the awareness of local people about not only the misuse of funds, but more critically, the damage caused by unimaginative use of funds for the monuments. Ironically, departments of culture remain unable or unwilling to grasp the gravity of the damage being inflicted as vast swathes of original fabric are replaced.


DECAYING FRESCOS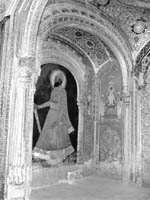 Inside Quila Andaroon
Built in 1763, Quila Mubarak, the rare and outstanding example of Sikh palace architecture is in a dilapidated state. World Monument Fund listed the Quila in the " list of 100 most endangered monuments" in 2004. Since then INTACH( Indian National Trust for Arts and Cultural Heritage) and ASI ( Archaeological Survey of India) with the help of Punjab State Government and the Central Government, have taken up several restoration projects with funding from World Heritage Watch and other agencies, but the Quila continues to lose its heritage value due to decay and bureaucratic delays.
Quick fix conservation
So, back to the 13th Finance Commission; what will become of these resources? Will local caretakers turn into conservationists so that heritage sites not merely languish, but get further damaged as ad- hoc repairs, shortcuts and kickbacks vitiate the windfall of funding? In the rush to spend the money before it "lapses", will cement replace lime mortar as a quick and easy option, and will the finely crafted pillars be substituted with crass machine cut stones? Are we always going to get it wrong?
While privatisation is the mantra of the time and public- private partnership the call to arms, there is one thing we need to be clear on: the cultural heritage of the nation or the state is the custodial responsibility of the government. Their mandate is to safeguard the heritage for future generations. And, in today's climate of public information, governments can and must be called to account on its ability to safeguard our heritage for future generations.
Even the Archaeological Survey of India with its hugely increased budget has been unable or unwilling to restructure and upgrade its systems, update professional skills and invest in management. In this scenario can the states transform their approach? In the crossed wires which define Indian administration, and as fiats against recruitment prevail, the culture sector epitomises diminishing standards and failure to deliver; an area where the responsibility of the government is non negotiable. It is essential that structural reform in the culture sector must be undertaken at every level.
The precarious Quila
The problems are manifold. Quila Mubarak or the Sheesh Mahal in Patiala are alarming examples of the failure of government to recognise the magnitude of damage done through neglect and paucity of competent decision making. Over the last 20 years I have watched many initiatives to preserve Quila Mubarak flounder. This iconic heritage of Punjab was acquired by the state as "our" heritage and efforts to preserve it have continuously been vitiated by political compulsions or a bureaucracy mired in mediocrity. In the years that I have followed its fate, many reports have been generated, the only difference being that each condition assessment has further highlighted the gravity facing the building; funds have been allocated and lapsed, more than once. About ten years ago under immense pressure from conservationists, government offices were removed from the complex. Lying vacant and uncared for ever since, the building today is in a desperate state of decay.
Now under the 13th Finance Commission perhaps it will receive some funding, probably wholly inadequate to its needs. But what is far worse and must give us cause for concern, is, that Punjab's finest heritage will be restored at the lowest tender bidding.
Today with this huge amount of money being injected we need to stop and consider very carefully how best to minimise waste, or indeed optimise the opportunity. Given the manpower void, professional consultants must step up and fill the gap until state departments get their act together and divert a significant amount of money towards developing technical training institutions and augment their capacities. The need of the hour clearly is setting up institutes for cultural resource training and management which will serve existing institutions, transforming not just how we preserve, but also nurture and manage our cultural resources. Perhaps, states should join forces and collaborate on technical training and thus manage their heritage in a more collaborative way. Until then government must have the humility to acknowledge that professional skills in India require to be engaged and that they are the most competent in the present scenario to undertake this task.
A live-in with heritage
States such as Punjab which are being guided by agencies like Infrastructure Leasing Finance& Services, the Asian Development Bank and a battery of consultants are attempting to moderate a paradigm shift to manage the often competing objectives of development and preservation. Here preservation is finally on the table with infrastructure and development and this is a huge transformation in perception. In planning documents and as a one- off for execution, this would appear to be a perfect model for others to emulate. A simultaneous thrust in education, training and building skills is critical, without which it cannot work. In realistic terms serious reform will mean restructuring state archaeology departments; changing recruitment rules and battling the many vested interests and turf wars to establish more result oriented organisations.
Equally, in the long term, the preservation of sites like Quila Mubarak will best be realised if we can give it a role and relevance in society. Will Quila Mubarak house a Cultural Resource Training Institute - an opportunity to study and work in a historic site? With this tranche of funding can we imbue these sites with energy and capture the imagination of generation next? Clearly the opportunity given to the states is rich with challenge to evaluate and restructure how we mediate the future of our heritage. We must have the courage to step out of the box and debate new solutions. While the Punjab Government has seen the merit of investing in a cultural policy document which should in due course address these lacunae and provide a balanced and professional foundation for the future of Punjab's heritage, what will happen in the interim? It must have the vision and the integrity to shift the decision making process to professional advisors who will assess the work, guide decisions, monitor implementation and ensure that funds are optimally utilised not just for the finance commission, but for the future of our heritage.
Author of Forts and Palaces of India, Amita Baig is Heritage Management Consultant to the World Monuments Fund in India.