Protesters celebrate departure of Saleh
Yemen Prez in Saudi Arabia for treatment z Saudis broker ceasefire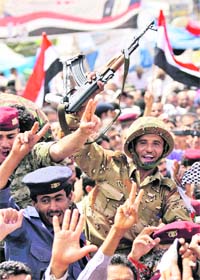 A Yemeni soldier along with anti-government protesters celebrate Saleh's departure, in Sanaa on Sunday. — AP/PTI
Sanaa, June 5
Protesters danced, sang and slaughtered cows in the central square of Yemen's capital today to celebrate the departure of the country's authoritarian leader for medical treatment after he was wounded in a rocket attack on his compound.
Yemeni ruling party official Tareq al-Shami said Saleh would return to the country within days, but uncertainty about whether he would be able to maintain his grip after months of protests meant the risk of further turmoil remained high.
Some Yemenis celebrated what they hoped would be Saleh's permanent departure, but the jubilation was mixed with firefights and explosions in Sanaa, and gunbattles broke out in the city of Taiz, about 200 km south of the capital.
"People are worried about what will happen after Saleh's departure. They're most worried about a military coup or struggles for power within the army," Farouq Abdel Salam, a resident in the southern port city of Aden, said.
There was no official announcement on who was acting as head of state. But under Yemen's constitution, the Vice-President takes over for up to 60 days when the head of state is absent. Vice-President Abed Rabbo Mansour Hadi met today with the US ambassador, the strongest indication yet that he is in charge.
Worries are mounting that Yemen, already on the brink of financial ruin and home to Al-Qaida militants, could become a failed state that poses a threat to the world's top oil exporting region and to global security.
Saleh has exasperated his former US and Saudi allies, who once saw him as a key partner in efforts to combat Yemen-based Al-Qaida in the Arabian Peninsula, by repeatedly reneging on a Gulf-brokered deal for him to quit in return for immunity.
US President Barack Obama's top counter-terrorism aide spoke on Saturday to the Yemeni Vice-President, the White House said, giving no details. Washington has called on Saleh to quit. "I think this is just about the end of his match," Khalid al-Dakhil, a Saudi political analyst, said. "The Saudis are not going to bargain with him."
Saudi Arabia, which shares a 1,500-km border with Yemen, has led efforts to negotiate a peaceful handover to fractious opposition groups. But a Saudi-brokered ceasefire between rival clans and political elites appeared to break down on Sunday as heavy gunfire and explosions rang out in the capital Sanaa. — Agencies