While disasters and degradation seem to be great levellers, a reality check shows that the impact of environmental degradation hits women, particularly the rural and urban poor, far more than it hits men. It impacts negatively their health, income-generating options, education and even domestic life. And yet, women are not at the forefront of policies that will safeguard their environment and their well-being
Gender tilt to environmental degradation
Annam Suresh
Sabita smokes 20 cigarettes a day-and not on the sly. She has one square meal spread over three days. She does a half marathon every day, part of it carrying weights as heavy as 10 kg. She looks much younger than her years.
We are not talking about a Size-0 anorexic gym-hitting model who every third urban teen is waiting to emulate.
Sabita, in fact, is just eleven years old -but looks younger than nine. While most of her upper middle class counterparts are close to attaining puberty, Sabita still sports the body of a child that is a long way from adolescence.
Never heard of her? That's because she is not famous.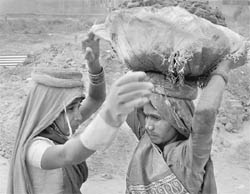 Sabita is every other girl in the most backward areas, who has been denied schooling so she can help her mother. Her weightlifting and marathon are the increasingly lengthening treks to fetch fuel and water. Her 'smoking' comes from the long hours cooking over a smokey chulha for the family. She gets to eat if and when there is something left over after the menfolk have eaten. And these are privileges when the going is good. Drought, floods, famine, epidemics, pollution of soil, water or air - all these make the going even tougher. Her lifestyle ensures that undernourishment keeps her looking smaller than her years as milestones like puberty are delayed. The same circumstances, coupled with the burden of several pregnancies will ensure that she looks and feels far older than her years a decade later - if her environment lets her live that long. She is not confined to the rural hinterlands. A Sabita is as easily found in the growing number of urban slums and new settlements that mushroom around new developmental activities - upcoming buildings, highways, metro-rails and flyovers that invariably spawn new urban clusters of migrant labourers and their families.
Women's lives, particularly in the Third World, are so intimately interwoven in innumerable ways with their environment that changes and degradation have immediate as well as far-reaching impact on their lives directly and indirectly. Since they play a critical role in income-generating and community sustaining activities like cooking, gathering fuel and fodder, looking after children and the elderly, farming, fishing and selling the produce, every environmental change or crisis comes bundled with class-gender effects. These include an increase in the workload, poorer access to resources, deteriorating health and deprivations along with an unfair decrease in return and benefits. Hence, sustainable development demands the recognition and incorporation of these in any programme or policy that purports to address issues of environment and grassroots development.
Harsh reality
While the metrosexual man is occasionally seen cooking, cleaning and tending to baby with a smile in urbane commercials and soaps, the reality for a large majority of women is completely different. As one descends the economy ladder, the gender divide in chores becomes more marked. Urban signs of convenience — like refrigerators, gas stoves, electricity — begin to disappear lower down the economic scale, and so does the man's share in 'domestic chores'. In fact, the woman's presence begins to increase not only in running the house and caretaking activities, but in sharing the breadwinning, irrespective of her age, health and the additional demand of other responsibilities.
Since ensuring there is food on the plate is a woman's job, all associated activities too become her responsibility - from procuring the grains, meat and farm produce, getting fuel, and water and ensuring that the whole exercise is done in time, no matter what it costs her. Development activities that include creating structures and destroying vegetation makes her domestic chores more time-consuming as she trudges through longer and more difficult terrain or procedures to collect fuel - whether she is using twigs, wood, or kerosene. It could mean hours gathering twigs, preparing and making use of cowdung or in harder times, dry leaves and vegetable and farm waste. Or waiting endlessly for her share of kerosene. It could mean unending treks for water, more exhausting hours of cooking and cleaning and dragging out her daughters from school to help her do all this.
Since receding forest cover and spreading urbanisation directly impacts the quantity, quality and nearness to water, fuel and fodder the energy left for direct agricultural or income-generating activity reduces steadily. This often forces girls to leave school to help at home or even find work. The whole scene leads to harder work, poorer economic returns and steadily worsening nutrition and health. A vicious circle that pushes women deeper into poverty.
It is not surprising that women pay a greater price when environmental degradation takes place. Deforestation, water scarcity, soil degradation, building and urbanising activities, exposure to agricultural and industrial chemicals and organic pollutants. They all affect women's workloads, productivity, nutrition, health, development and overall well-being.
A family's health suffers when fuel shortages force families to consume raw or partially cooked foods, as these can often be toxic, especially if these are from animal sources. Women and girls suffer the most since in most places they eat last and the least.
Women are more exposed to the hazards of polluted water than men. They are not only the primary carriers of water, but they wash clothes and utensils, bathe the children and cattle, mostly with polluted water.
Moreover, since childcare is primarily the woman's responsibility, when children get infected, women are more likely to catch the disease.
When firewood is scarce, people switch from using logs to little twigs and branches, then they move to crop residues, cow dung and even dry leaves. This reduces the dung available for manure. Those that can afford, switch to chemical pesticides - leading to a whole new batch of problems for man and beast from exposure to pesticides. Women's unique biology renders them and the children they breastfeed more vulnerable to the poisonous effects of pesticides.
Exposure to certain agricultural and industrial chemicals and organic pollutants, especially as a result of shifting to chemical fertilisers and pesticides from conventional options like cow dung and dry leaves (which are increasingly used as fuel to save time and effort spent in travelling long distances to gather wood) increases women's vulnerability in pregnancy and childbirth as well as to diseases and delayed growth among adolescent girls.
Broken homes
As food becomes scarce during extreme conditions like drought, men migrate to towns, but the women are left behind with the children and the old. Very often men find new partners and abandon the women they have left behind.
Households where women are the sole bread earners tend to be poorer. This is a worldwide phenomenon and one of the factors why 70 per cent of the world's poor are women. In India, a fourth of all poor families have women as primary breadwinners.
The consequences on children raises numerous questions about the schooling programmes needed in areas suffering from an ecological damage. Most rural schools show low female enrollment and high female dropout - particularly in those seasons when the cumulative burden of work at home and in the fields is very high. Merely providing schools even within easy reach, even with sops like free meals and uniform, is not enough since a heavy workload on the mother means the daughter is denied education even if there is a school nearby.
While protecting the environment, making food, fuel, water and fodder easily available is an important political agenda as a long-term mission to improve the lot of women and raise literacy levels. Equally important, in the immediate future, is the schooling format to keep with the local agro-labour calendar giving children time to help their mothers, rather than have girls pulled out, especially during peak labour season.
Policy-making role
The gender tilt of these consequences stems from traditional gender inequalities in the division of labour and in the distribution of subsistence resources, access to assets, income-earning opportunities and participation in public decision-making forums.
Women's active participation in forest protection and wasteland development schemes ensures success and promotes gender equity, increases women's participation in public decision-making bodies, enhances women's bargaining power within and outside the household, and contributes to their overall empowerment.
Women's absence from policy-making bodies limits their influence over governance. Worldwide, women hold less than 20 per cent of seats in government. And though women are keenly affected by environmental degradation, they are rarely involved in policy decisions at the local and national levels. This limited participation means their perspectives; vulnerabilities, risks, needs, knowledge and best solutions are often ignored.
"Beasts" of burden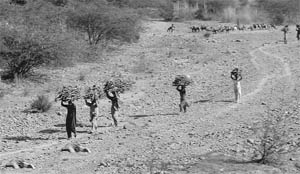 Studies have shown that in most rural areas, females on an average spend more than seven times as many hours in wood and water collection as males. A WHO estimate says that the energy used to carry water may consume over one-third of a woman's daily calorie intake. Coupled with poor access to sufficient food, malnourishment is an inevitability. Cooking on chulhas or cheap kerosene stoves which consume too much fuel and emit hazardous smoke affects women and children in particular. Indoor air pollution kills more women in developing countries than does atmospheric pollution. A fireplace operating burning 4 kg of wood for an hour generates 4,300 times more carcinogenic particles than 30 cigarettes. A chulha is 500 times more polluting than an oil burner and 1000 times more than heating with gas! Cooking on a chulha calls for burning one kg wood per person. Every kg emits 129 mg of carbon monoxide while a cigarette emits only 58.8mg (so that's where Sabita's smoking comes from). One of the reasons biomass energy has received so little attention in national energy planning is that it is seen as 'women's fuel'.
The Kolkata-based commentator on social issues is a Sir Ratan Tata Trust Fellow