EO, sanitary inspector dismissed
Fatehgarh Sahib, June 15
The executive officer (EO) of the Sirhind municipal council and sanitary inspector of Zirakpur have been dismissed from service following their conviction in a nine-year-old corruption case.
Contractors booked for negligence
Mohali, June 15
Negligence on part of contractors engaged by the municipal corporation for carrying out development work in Phase XI here hadclaimed the life of a lawyer, Kultar Singh, on May 26 after his motorcycle skidded on a road where some construction material had been kept by the contractors.
With fatter paychecks, PU teachers fly abroad
Chandigarh, June 15
After receiving substantial salary hikes and payment of huge arrears on account of implementation of the sixth pay panel recommendations, more than a three dozen odd Panjab University teachers have gone abroad with their families for the summer holidays. The offices of the PU registrar and vice chancellor received 50 applications from teachers seeking permission to travel overseas.
GMADA bid to make land pooling lucrative
Mohali, June 15
To make the land-pooling scheme attractive for the farmers, whose land is acquired for different development projects in Mohali, the Punjab Government has decided to offer a bigger commercial site to the evacuees. There will be, however, no change in the size of the residential plot (930 sq yard) offered to the landowners under the land-pooling policy.
Lunar eclipse: Bad news for politicians, saints
Chandigarh, June 15
As you read this, many of you would have witnessed the rarest and the most spectacular celestial phenomena of the century's longest total lunar eclipse (100 minutes). Anything of similar nature will now only happen in 2141.
Mercury dips as rain lashes city, vicinity
Chandigarh, June 15
If you thought the rains that lashed the city this morning were pre-monsoon showers indicating pleasant days of overcast skies and cooler nights ahead, you will be disappointed as this change in weather is again being attributed to westerly disturbance. However, the weatherman predicts that monsoon will hit the city by June 29, a week earlier than the preceding year.



A portion of a road that caved in due to rain; and (middle) an uprooted tree after squall in Sector 42 in Chandigarh on Wednesday. A woman crosses a road during showers in Chandigarh on Wednesday. Tribune photos: Parvesh Chauan & Manoj Mahajan
Rain, storm leave Zirakpur, kharar powerless
Zirakpur, June 15
Power supply has been badly hit in the town during the past four days due to intermittent rain and thunderstorm lashing the region.
MC sleeps as rainwater floods roads
Zirakpur, June 15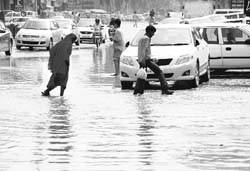 The local municipal council is still not prepared to tackle the monsoon flooding if pools of rainwater accumulated on the Zirakpur-Patiala highway are any indicator. The Wednesday-morning rain exposed the ill-preparedness of the council in tackling the monsoon downpour, which is round the corner.


In troubled waters Pedestrians and vehicles struggle to negotiage a flooded Patiala highway following rain at Zirakpur on Wednesday. Tribune photo: Nitin Mittal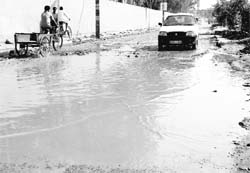 Situation no better in Panchkula
Panchkula, June 15
Even as rain brought some respite to residents from the sweltering heat, waterlogging at some places put the administration under a cloud.





Cesspool Rainwater accumulated on a link road near the level crossing in Sector 19, Panchkula. Tribune photo: Nitin Mittal
Officials hold talks on admn's Green Action Plan
Chandigarh, June 15
The Parliamentary Committee on Subordinate Legislation, which is on a study visit to Chandigarh and Himachal Pradesh, today held a discussion with the department of environment and forest officials of the Chandigarh administration.
Congress gears up for MC elections
Chandigarh, June 15
The ruling Congress in the Municipal Corporation of Chandigarh (MCC) is in the election mode.
Thalassaemic society flays medical board
Chandigarh, June 15
The decision of the medical board at Delhi to declare Sukhsohit Singh, who passed the Civil Services examination of 2008, as medically unfit has come in for criticism from the Thalassaemic Children Welfare Society of Chandigarh (TCWA) as well from those suffering from this rare genetic disorder in the tricity.
Complaint against Baba Ramdev
Chandigarh, June 15
City-based human rights organisation Lawyers for Humanity today filed a criminal complaint against yoga guru Baba Ramdev in connection with his recent statement about forming a force of 11,000 men and women.
GMADA to provide road link to pvt housing projects
Mohali, June 15
In a major relief to those who have invested their heard-earned money in upcoming housing projects launched by private builders in the outer sectoral grid of Mohali, the Greater Mohali Area Development Authority (GMADA) has initiated the process of providing road links that will ultimately connect these areas with the developed part of the town.
SP (City) proposal hits another roadblock
Chandigarh, June 15
The creation of the post of SP (City) has hit another roadblock with the UT Administration asking the police to explain as to what would be the duties of the officer who will assume the new posting.
Country-made liquor sale sites fail to find takers
Chandigarh, June 15
The UT Excise and Taxation Department has filed to find any takers for its 16 sites of country-made liquor vends earmarked across the city.


Students, parents a harassed lot
Chandigarh, June 15
Despite of having ordered 16,000 admission prospectuses, the UT higher education department has been able to get only 2,000 prospectus printed so far, leaving hundreds of parents and students hassled even on the second day of the sale of admission forms at the two Post Graduate Government Colleges (PGGC) in Sector 11, PGGC in Sectors 42 and 46, along with the Regional Institute of Education in Sector 32 and Sector 42-based Government College of Commerce and Business Administration.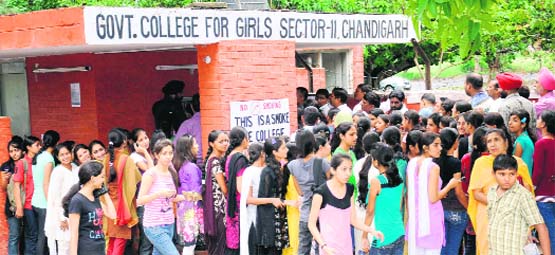 Long queues of girls for prospectus at the Government College for Girls in Sector 11, Chandigarh, on Wednesday. Tribune photo: Manoj Mahajan
class XI admissions
14,000 forms sell for 11,000 seats
Chandigarh, June 15
A total of 14,000 admission forms were already sold for 11,000 Class XI seats in government schools.
Govt school grounds in a mess
Chandigarh, June 15
Even after six months of the Central Board of Secondary Education (CBSE) directive to all affiliated schools throughout the country for making sports an integral part of curriculum, a majority of city government schools have yet to give it a thought.



In need of attention Wild growth and a broken swing dot a playground at Government Model Senior Secondary School, Sector 10, Chandigarh. The school has two director physical education (DPE) teachers. (left) Poor upkeep Broken sitting stands at Government Model Senior Secondary School, Sector 45. There are three teachers, including a PTI a DPE and a lecturer, in the school; (middle) and (right) situation is no better at the playground of Government Model Senior Secondary School, Sector 18, which, too, is in a state of neglect. The department has appointed three teachers, including a lecturer, a DPE and a physical training instructor (PTI), in the school. tribune photos: Manoj Mahajan