Not in politics for personal gains, says Kanda
Sirsa, June 15
Haryana Minister of State for Home and Urban Local Bodies Gopal Kanda said today that he was not in politics for any ministerial post, office or the benefits associated with such posts.

IGP's death accidental, says Gurgaon police
…but facts seem to belie claim
Gurgaon, June 15
After remaining tightlipped for several days over the circumstances leading to the death of IGP MS Ahlawat, the Gurgaon police has finally broken its silence.
Minor boy saved from wedlock
Sirsa, June 15
Timely intervention by Child Marriage Prohibition Officer Sadhana Mittal helped avert the marriage of a minor boy at Chak Sahiba village in this district today. The boy, Jaswant (19), was to marry Saoja Bai of Tibbi village of Rajasthan on June 17. However, some unidentified person tipped off Mittal about this.
Three youths killed in road mishap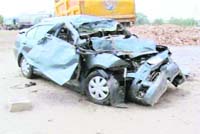 Gurgaon, June 15
Three youths, including two students, were killed and another injured when their car hit a stationary dumper on the Delhi-Jaipur National Highway No. 8 near Rajiv Chowk here this morning.

The mangled remains of a car that met with an accident in Gurgaon on Wednesday. A Tribune photograph
Brother booked on charge of killing retired cop
Rohtak, June 15
A retired policeman was killed while his wife was injured when the former cop's younger brother allegedly attacked the couple with a farm implement while they were asleep in their house at Aasan village in the district last night.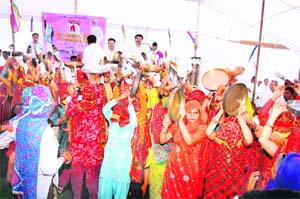 WELCOMING the gIrlchild

: Women beat utensils to celebrate the birth of a girl at Mitathal village in Bhiwani district on Wednesday. Photo: Manoj Dhaka
RTI activist alleges threat to life
Kaithal, June 15
RTI activist and whistleblower Baljeet Singh Nayak of Kalayat has allegedly received threats to his life from some persons who are allegedly in illegal occupation of municipal land and common land worth crores.
Protest against delay in nabbing murder accused
Jind, June 15
Members of the Balmiki community staged a demonstration here today in protest against the alleged failure of the police to arrest all those involved in the murder of Virender, head of the local auto-rickshaw operators' union, here about a fortnight ago. The protesters submitted a memorandum to the district administration and started an indefinite dharna near the mini-secretariat here to seek appropriate police action in the case.
1,556 units of blood collected in Sirsa
Sirsa, June 15
To mark World Blood Donors Day, the district authorities organised eight blood donation camps in the district where 1,556 units of blood were collected. DC Yudhbir Singh Khyalia, who is also president of the Indian Society of Blood Transfusion and Immunohaematology, visited seven camps.
Pensioners block national highway
Kaithal, June 15
Old-age pensioners today blocked the Hisar-Chandigarh national highway in Kalayat town, 25 km from here, for more than an hour in protest against the delay in distribution of pension. They expressed resentment over the delay in distribution of pension for the past three months.
Everester discriminated against: INLD
Rewari, June 15
INLD legislator Rao Bahadur Singh (Nangal Chaudhary) and district unit chief Sunil Chaudhary have taken exception to the Chief Minister's alleged discrimination against Mount Everest climber Sunita Singh Gujjar hailing from Rewari district.