Drunk driving: Another five imprisoned till 'rising of court'
Chandigarh, June 21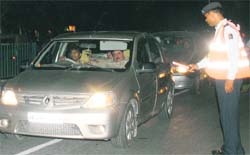 Continuing with the drive to tighten its grip around those found drunk while driving, a special court imprisoned another such five persons till the "rising of court" today. Yesterday, too, six persons were confined in court for the day and let off only in the evening after paying a heavy fine.


A traffic policeman signals a car to stop for checking. A file photograph
500 drugs to be given free at 2 hospital OPDs
Chandigarh, June 21
If all goes well, all patients visiting out patient departments (OPDs) of Government Medical College and Hospital, Sector 32, and Government Multi-speciality Hospital, Sector 16, will be getting a large number of medicines free of cost.
Suman case: 2 GMSH docs surrender
Chandigarh, June 21
The police on Tuesday arrested two doctors involved in the case in which a 28-year-old patient, Suman Devi, was administered wrong blood resulting in the death of her foetus and damage to her kidneys last year.
Commuters bear the brunt as MC sleeps
Chandigarh, June 21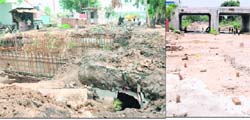 Turning a blind eye to public inconvenience, the Chandigarh Municipal Corporation (MC) is working at a snail's pace in completing repair work of roads and bridges in the city.
Official apathy Incomplete work on an overbridge at Mani Majra, which started six months ago; and (right) the work of laying a concrete road at Industrial Area, Phase I, Chandigarh, yet to be completed. Tribune Photos: Manoj Mahajan
PU violence: Recommendations made by panel not implemented
Chandigarh, June 21
Crucial recommendations made by a 21-member high-powered committee, formed 14 months ago to check violence on the Panjab University campus, have not been implemented.
UT to issue PDS smart cards
Chandigarh, June 21
Chandigarh is on its way of becoming the first city in country to issue smart cards to the beneficiaries of the public distribution system (PDS).
Sector 44 residents get muddy water
Chandigarh, June 21
Residents of Sector 44 are forced to consume muddy water for the past five days.
Over 100 families suffer due to sewer blockage
Mohali, June 21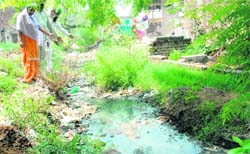 Tension is prevailing in Kumbra village here as more than 100 families are affected following the blockage of the flow of sewer water. The drain, which was got opened by government officials earlier, was once again blocked yesterday causing a lot of resentment among people who got adversely affected. As no proper outlet for sewer water is available in a part of the village, unhygienic conditions prevail in this area. Dirty water even flows into the houses of some people.
Villagers show the choked sewerage at Kumbran village in Mohali on Tuesday. Tribune photo: Vicky Gharu
Fly menace takes toll on residents' health
Panchkula, June 21
With the beginning of the monsoons, the largest poultry farm in Barwala block of the district, has started taking its toll on the health of residents.
'84 riot victims protest eviction notice
Mohali, June 21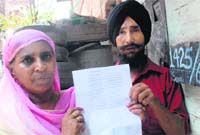 Families of 35 riot victims residing in LIG housing in Phase XI today protested against the eviction notices issued by the Greater Mohali Area Development Authority (GMADA). They lamented that despite living in the houses for the past 20 years, they were being thrown out without being provided any shelter.

An aggrieved family shows a notice, issued by GMADA, at their house in Phase XI, Mohali, on Tuesday. Tribune photo: Vicky Gharu
Foundation stone of Army dwelling units laid
Chandigarh, June 21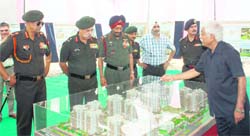 The foundation stone of 1,048 dwelling units under the Army Welfare Housing Organisation (AWHO) scheme was laid at Sector 114 in Mohali by Lt Gen SR Ghosh General Officer Commanding-in-Chief, Western Command, and Lt Gen Mukesh Sabharwal, Adjutant General, Army Headquarters, today.
Lt Gen S R Ghosh, GOC-in-C, Western Command (left) along with Lt Gen Mukesh Sabharwal, Adjutant General at Army HQ (second from left) and other senior officers look at the AWHO project model in Mohali on Tuesday. A Tribune photograph
Police administration course to be introduced in 2 city colleges
Chandigarh, June 21
With girls keen on studying police administration as an elective subject in humanities, the same will be introduced in two city colleges from the forthcoming academic session 2011-2012.
Syndicate okays hike in salary
Patiala, June 21
The Syndicate of Punjabi University yesterday decided that pay packages of contractual employees would be increased and they would be regularised. The Vice-Chancellor suggested that contractual employees having minimum of three years of service should be appointed on an ad hoc basis. A screening committee will be constituted to determine the eligibility, other conditions and modalities for the purpose.

Sale of coolers takes a dip
Chandigarh, June 21
With the showers plummeting the mercury, a downward trend has been noticed in the sale of coolers. Coolers manufactured in North India are supplied to neighbouring states of Punjab and Haryana. Low investment and high profit have attracted a number of small-time businessmen, but many of them may end up suffering losses this year.
'Conviction has set an example'
With the Chandigarh Police tightening its noose around drunk drivers, escaping the clutches of law will not be easy now. In an endeavour to deter drunk driving, six drivers were convicted by the court yesterday and another five today under the Motor Vehicle Act. Deepankar Sharda talks to a cross-section of people to know their views on the issue.
Chandigarg scan
Mohali scan
Panchkula scan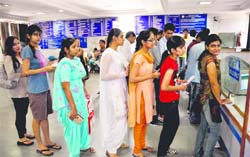 Multiple-course options at PU
Chandigarh, June 21
With the rising popularity of about half a dozen courses introduced by Panjab University, students now have multiple options.



Girls line up to deposit fee at a counter of the State Bank of India in Panjab University, Chandigarh, on Tuesday. Tribune photo: Parvesh chauhan
Submit forms by July 4
Chandigarh, June 21
All candidates, who appeared in O-CET-2011 entrance test, must submit their admission forms in departments concerned/ regional centres by July 4, 2011, irrespective of the declaration of the result of the test. The information was provided by the Controller of Examinations, Panjab University, today