Now, Admn OK with shopping on Sunday
Chandigarh, June 23
You can shop till you drop on Sunday in Chandigarh. In partial modification of the earlier stand against seven-day shopping, the UT Administration is ready to accede to traders' demand of Sunday shopping provided one off day on any weekday is given to the shop workers.
Student groups clash again in PU, 1 hurt
Chandigarh, June 23
Within 24 hours after a clash between supporters of the Students Organization of Panjab University (SOPU) and its Panjab University Students Union (PUSU) in Sector 45 at midnight on Wednesday, members of the two rival bodies were again involved in a violent skirmish on the campus, leaving a PUSU member injured.


Annoying for some, amusing for others



(left) Canadian tourist Robin expresses dismay at a boy riding a creation at the Rock Garden. and (right) Parents click photographs of their children enjoying a ride. Tribune photos: Pradeep Tewari
14 agenda items passed without discussion
Chandigarh, June 23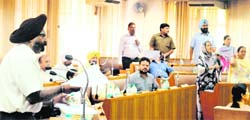 Passing of 14 agenda items amounting to Rs 7.32 crore by the ruling Congress, allegedly in violation of the Punjab Municipal Act, earned the ire of the 13 Opposition and nominated councillors during the House meeting of the Municipal Corporation of Chandigarh (MCC) here today.
Brig Kuldeep Singh Chandpuri raises a question over ex-servicemen's appointments to the MC during a meeting of the civic body on Thursday. Tribune photo: Pradeep Tewari
MC shirking from fixing responsibility: Babla
Chandigarh, June 23
The Chandigarh Municipal Corporation, it seems, will not fix the responsibility of any official in case of laying of cables in the city without permission of the authorities, alleged Congress councillor Devinder Singh Babla in the House meeting today.
Minor fire on first floor of MC building

Chandigarh, June 23
A minor fire broke out on the first floor of the Municipal Corporation (MC) building, a day after it was pointed out at the fire committee meeting that there were no fire alarms in the corporation building.



An electricity wing employee fixes lose wires in the MC building, Sector 17, Chandigarh, on Thursday. Tribune photo: Pardeep Tewari
Chemist shop at PGI indicted
Chandigarh, June 23
An inquiry committee of the PGI here has indicted a chemist for selling a used drainage cannula, a plastic pipe used in cardio-thoracic surgery.
I-T officials wary of shifting to new building
Chandigarh, June 23
An anxiety stricken Income Tax department today went on an overdrive to set things right in its newly constructed office complex, Aayakar Bhawan, Sector 17, where false ceilings collapsed in several rooms spread across the multi-storeyed building on Tuesday.
Authorities blind to wild growth in Mohali
Mohali, June 23
Congress grass and other wild growth continues to spread in various parts of the town much to the annoyance and discomfort of residents as the Greater Mohali Area Development Authority (GMADA) and the Municipal Corporation have failed to launch a concerted campaign in this regard.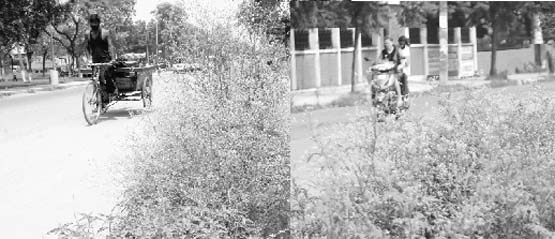 (Left) Wild growth of congress grass at the Industrial Area of Phase III; and (right) at Phase VII in Mohali. Tribune photos: Vicky Gharu
Sec 144 imposed near rivers in Panchkula district
Panchkula, June 23
The district administration has prohibited taking bath in rivers or entry for collection of coins, coconut and other materials for any purpose in the Ghaggar, Kaushalya and Tangri rivers in the district here today.
School for slum kids
Panchkula, June 23
Slum-dwellers who have been allotted Ashiana flats have another reason to cheer. The Haryana Urban Development Authority (HUDA) is likely to set up a small market and a school near the apartments.
Botanical institute to make Sukhna Lake weed-free
Chandigarh, June 23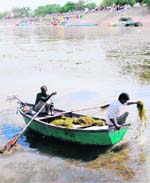 A special team of the National Botanical Research Institute, Lucknow, has found that the Sukhna Lake was choked with four different kinds of weeds, including potamatogeton, vallisenria and Hydrilla. During a visit to the lake today, the team accompanied by UT engineers collected water samples for a detailed study of the BOD and COD composition of the water. Sources said the weed samples have also been collected for chemical analysis. Details of the report will be revealed later.


Manual clearing of weeds in progress in the Sukhna Lake on Thursday. Tribune photo: Manoj Mahajan
Zirakpur residents suffer as power supply hit
Zirakpur, June 23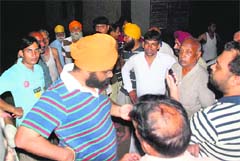 Life was derailed as there was a blackout in various parts of Zirakpur today. Though powermen maintained that they were trying to rectify the fault, the problem prevailed till late at night.




A Powercom official listens to residents at Zirakpur on Thursday night. Tribune photo: Nitin Mittal
Tricity scan
Chandigarh scan Dharna staged Members of the coordination committee of government and MC employees and workers staged a dharna in front of the Deputy Commissioner's office and submitted a memorandum in regard to their long pending demands. Convener Rakesh Kumar said, "The list of demands included grant of central pay scale and conditions of service to UT employees; regularisation of daily wagers; filling up of vacant posts and implementation of pension scheme for Chandigarh Housing Board.


PU authorities yet to take decision
Chandigarh, June 23
Clearing the status of admissions to BEd course this year in the city colleges and Panjab University (PU), Vice-Chancellor RC Sobti today said the university authorities have not taken any decision on the matter yet.
Online BCom-I admission causes confusion
Chandigarh, June 23
With the introduction of a fully online centralised admission system for BCom-I by Panjab University (PU) this year, confusion prevails among applicants, who are continually enquiring the status of application and subsequent procedure of procuring admission to the college of their choice.
Counselling for special BEd course
Chandigarh, June 23
The counselling for admission to BEd (special education with specialisation in learning disability) in the department of community education and disability studies would be held on July 11.
Teachers stopped from entering UT, stage dharna
Mohali, June 23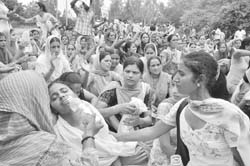 Members of the Inclusive Education Volunteer Association, who marched from Ludhiana and reached here today, staged a dharna near the YPS Chowk after they were stopped from entering Chandigarh by the UT police.




A protester falls unconscious due to hot weather at road separating Sectors 51-52 in Chandigarh on Thursday. Tribune photo: Vicky Gharu.