M A I N N E W S
Freed sailors thank Burney, flay Indian Govt
While freed sailors, who reached India on Friday after being released by pirates, were ecstatic on reuniting with their families, they were unhappy with the Indian Government's handling of the entire episode. They were all praise for Pak rights activist Burney
Pratibha Chauhan/TNS
Shimla, June 24
Although local lad Prashant Chauhan (23) is a free man now, the fact that the Indian Government, in sharp contrast to Pakistani initiatives, did practically nothing to get them released has left him with a sense of betrayal.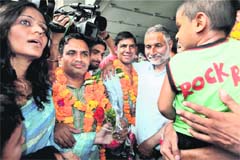 Released sailors NK Sharma (L) and Prashant Chauhan (2nd from right) arrive at the Indira Gandhi International Airport in New Delhi on Friday. — PTI
"I am really happy to be back home, but the fact that the Indian authorities did not take much interest in ensuring our release makes me very sad. On the other hand, our Pakistani colleagues take pride in the efforts made by their government for ensuring release of us all," he says in a feeble voice over telephone while travelling on his way from Delhi to Shimla.
He is all praise for the pains taken by Pakistani social activist Ansar Burney in holding negotiations with Somalian pirates in whose custody the 22 hostages had been since August 2 last year.
In fact, his mother considers Burney an angel, who ensured the release of the 22 hostages, including six Indians, 11 Egyptians, four Pakistanis and one
Sri Lankan.
Prashant, who was working as a chef on the ship, says they went through a lot of physical torture and mental ordeal during the captivity. "He looks very weak and traumatised but at least he is back home safe with us and it is Burney alone whom we can thank for his safe return," says Amar Singh Chauhan, father of Prashant.
The family that relentlessly urged various ministries to negotiate with pirates and the shipping company feel the Indian Government certainly needs to be more sensitive towards the security of its nationals in future.

Father won't let him go again
Attar Singh/TNS
Ambala, June 24
Satnam Singh, 23, a resident of Sham Nagar who was among the six Indian sailors to have been released by Somalian pirates, was accorded a warm welcome on his arrival here from New Delhi this evening.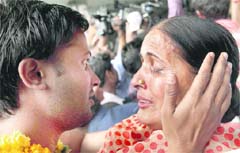 Satnam Singh with his mother Surinder Kaur in New Delhi. Tribune photo: Manas Ranjan Bhui
Satnam Singh, a BCom dropout, reached his residence along with his parents who escorted him from the Delhi airport to the beat of drums and was warmly hugged by his relatives who were moved to see him back home.
He said they had to go through an ordeal in the captivity of pirates. They were fed on substandard food and it was a staple diet of potatoes almost daily. "Ansar Burney, the governor and Ahmed Chinoy helped us. I have no words to express my feelings for the Pakistani people," he added.
Shamsher Singh, an ex-serviceman and father of Satnam Singh, said he had lost hope of his son's return. He was seeing his son after around a year and would never send him abroad again, he said.

It's a second life for him
Bijendra Ahlawat/TNS
Jhajjar/Rohtak, June 24
Emotions took over as soon as Ravinder Singh stepped down from the vehicle at his paternal home at Laadpur village today. A large number of local residents joined family members in welcoming Ravinder. "I will not join the merchant navy again in my life," declared Ravinder as soon as he reached his home at Rohtak.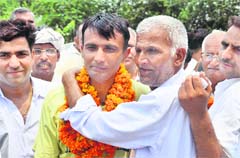 Ravinder Singh being welcomed by his father at Laadpur village in Haryana.
"The hope of our safe return had almost run out and it's virtually second life for me," said Ravinder who joined his family after more than 10-month ordeal.
"The captivity had been like an imprisonment devoid of human values. No body should be a victim of such conditions," he said.
Ravinder praised Pakistani human right activist Ansar Burney for his efforts in getting them released. However, resentment was quite visible on the faces of Ravinder and his wife Shampa regarding the role of the Indian Government in the entire episode.

It's Diwali for the Sharmas
Ravi Krishnan Khajuria/TNS
Jammu, June 24
Finally, after a 10-month ordeal, NK Sharma, one among six Indian crew members released by the pirates, reunited with his family at New Delhi. He will reach home at Bari-Brahmana here tomorrow.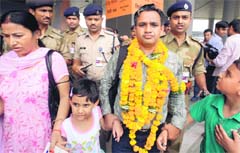 NK Sharma with his wife and children in New Delhi. Tribune photo: Manas Ranjan Bhui
"The entire family is on cloud nine. NK Sharma's wife Madhu Sharma, his brothers, Khushal and Mulkhraj, along with his two minor children, Nandika and Nikhil, had left for New Delhi on June 22 and this morning they received him at the Delhi airport," Gitanjali, NK Sharma's sister-in-law told The Tribune.
Sharma's mother Shanti Devi also talked to her son on the phone soon after he landed at the Delhi airport around 9.36 am, Gitanjali said. In fact, the entire family had talked to him on the phone, she added. "It's Diwali for us," she said.
Praising Ansar Burney of Pakistan, Gitanjali expressed regrets that the Indian Government did little to get the sailors released.