Nalagarh BJP MLA dies of liver cancer
Ambika Sharma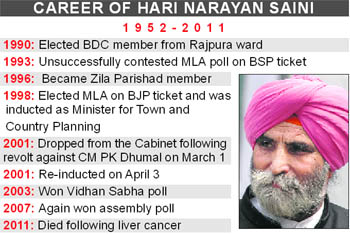 Nalagarh, June 24
Barely a week after declaring his wife Gurnam Kaur as his political heir, Nalagarh MLA Hari Narayan Saini died at a private hospital in Panchkula late last night following liver cancer and other serious ailments.
A pall of gloom descended on the constituency as people heard the news of his demise. His body will be brought here tomorrow morning and he will be cremated at his native village Rajpura at 11 am tomorrow, revealed family sources.
Born on January 18, 1952, to Ram Saran at Rajpura village in Nalagarh, Saini was known for his audacious, assertive style and simplicity. Eldest of the five brothers, Saini hailed from a rural agrarian background and was committed to the development of his constituency. He had designed and fabricated a drilling machine to solve the problem of irrigation.
Saini, however, died a sad man as his differences with the Chief Minister, after the latter refused to induct him in the Cabinet, had left an indelible imprint of sadness in his mind. What upset him more was the slow pace of works in his constituency. Despite his illness, he pursued the progress of various works. Barely a week ago, he publicly announced that he had no personal differences with the CM and it was the slow pace of work which had irked him.
He contested his first election for the post of pradhan and BDC member from the Rajpura ward but surrendered the former after winning both posts in 1990. He contested his first Vidhan Sabha poll in 1993 on a BSP ticket. Later, he joined the BJP and won three consecutive MLA polls from Nalagarh in 1998, 2003 and 2007.
Though he was inducted as a Minister for Town and Country Planning in 1998, he was dropped following a revolt against the CM on March 1, 2001. He was later re-inducted on April 3.
Saini was moved by lack of facilities in the five panchayats of Malaun Pargana where unavailability of roads, hospitals and schools had made life troublesome for the people in the 1990s. In order to improve their lot, Saini spent lakhs from his pocket and got a bailey bridge constructed which linked this underdeveloped area to the rest of Nalagarh.
He procured some funds from the development schemes while contributed the rest from his pocket. This was named "Hari Jhoola" and it was inaugurated by BJP senior leader Shanta Kumar.
Various senior leaders, including Chief Minister PK Dhumal, Virbhardra Singh, Vidya Stokes, PCC president Kaul Singh Thakur, Health and Ayurveda Minister Rajiv Bindal, president, BJP Solan constituency, Ravinder Parihaar, vice-president Pawan Gupta, expressed condolence over his death. The BJP leaders said his death had created a void in the BJP and it was a big loss to the party.