Encroachers to face FIR
State admits 9,600 cases of encroachment involving 1,850
hectares of forest land
Rakesh Lohumi
Tribune News Service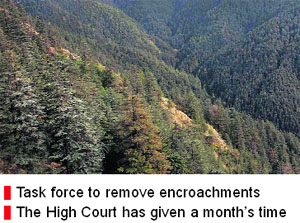 Shimla, June 16
The Forest Department has decided to register FIRs in all cases of encroachment on the forest land involving an area of more than 10 bighas, protected wildlife area, tempering with boundary pillars and raising of permanent structure.
It has also decided to set up a task force from the state level to the divisional level for ensuring coordinated action for the removal of encroachments.
The decision has come after the high court, which had been monitoring action in cases of encroachment, directed the department to remove unauthorised occupants in a time-bound manner. The court has given a month's time for the registration of FIRs.
The successive governments have been avoiding taking action against encroachers due to lack of political will and with the high court intervening in the matter, there was no optionbut to act for the government.
At present, there are over 9,600 cases of encroachment involving 1,850 hectares of forest land. The figures refuse to come down despite evictions as fresh cases crop up.
Eviction orders have been passed in 5,600 cases involving 1,125 hectares and about 2,800 encroachers have been removed to free 570 hectares of forest land. In the last quarter alone, 150 new cases were detected against 200 evictions.
The decision to set up a task force may help in bringing down the number of pending cases as it will ensure accountability of the field staff. The state-level task force will hold video conferences to monitor the progress of the drive against encroachments.
The task force will be headed by the Additional Chief Secretary, Forests, and have the Principal Secretary, Revenue, the Principal Secretary, Home, the Principal Chief Conservator of Forests and all conservators of forests. The district-level task force will comprise the DC, the SP and the conservator of forest and at the divisional level, the DFO, the DSP and the tehsildar.
The number encroachments on government land rose dramatically after which the then BJP government came out with a policy to regularise unauthorised occupations in 2002. Though the policy was stayed by the court, it sent a wrong signal to law-enforcing agencies and encouraged encroachers. Ultimately, the high court intervention had forced the government to act in the right direction.