Pakistan army chief is 'fighting to survive'
Washington, June 16
Pakistan army chief Gen Ashfaq Parvez Kayani, under pressure from his colleagues to "reduce" ties with the US following the unilateral American raid that killed Osama bin Laden, is said to be "fighting to survive" and a colonels' coup, while unlikely, cannot be ruled out.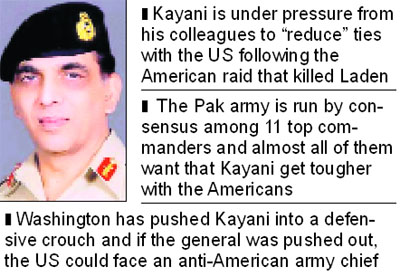 Kayani, who has led the army since 2007, "faces such intense discontent over what is seen as his cozy relationship with the United States that a colonels' coup, while unlikely, was not out of the question," The New York Times said today, quoting a "well-informed" Pakistani, who has seen the General in recent weeks, as well as an American military official involved with Pakistan for many years.
Another newspaper The Washington Post quoted unnamed US officials as saying Kayani "is fighting to survive. His corps commanders are very strongly anti-US right now, so he has to appease them." The Times quoting unidentified Pakistanis who follow the army closely said the Pakistani army is essentially run by consensus among 11 top commanders, known as the Corps Commanders, and almost all of them, if not all, were demanding that Kayani get much tougher with the Americans, even edging toward a break.
Washington, with its own hard line against Pakistan, had pushed Kayani into a defensive crouch, along with his troops, and if the general was pushed out, the US would face a more uncompromising anti-American army chief, the Pakistani said.
To repair the reputation of the army, and to ensure his own survival, Kayani made an extraordinary tour of more than a dozen garrisons, mess halls and other institutions in the six weeks since the May 2 raid that killed bin Laden.
His goal was to rally support among his rank-and-file troops, who are almost uniformly anti-American, according to participants and people briefed on the sessions, the daily reported.
During a long session in late May at the National Defence University, the premier academy in Islamabad, one officer got up after Kayani's address and challenged his policy of cooperation with the United States.
The officer asked, "If they don't trust us, how can we trust them?" according to Shaukaut Qadri, a retired army brigadier who was briefed on the session.
Gen Kayani essentially responded, "We can't," Qadri said.
The daily said discipline has become a worry, as has an open rebellion in the middle ranks of officers, particularly as rumours circulate that some enlisted men have questioned whether Gen Kayani and his partner, ISI chief Lt Gen Ahmed Shuja Pasha, should remain in their jobs. — PTI