Triple whammy for China
Floods, drought & quake
12 provinces inundated, 52 killed, over 40 lakh hit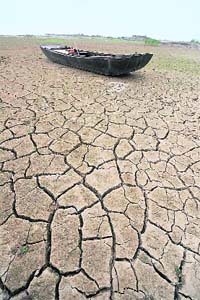 A fishing boat lies on the cracked bed of Chaohu lake, the fifth largest freshwater lake in China. — AP/PTI/AFP
Beijing, June 8
Heavy rain drenched a drought-ravaged swathe of southern and eastern China, killing 52 persons and forcing more than 100,000 to evacuate. The floods inundated vast areas in 12 provinces in central and southern China over the past week, affecting 40.8 lakh people, Shu Qingpeng, deputy head of the Office of State Flood Control and Drought Relief Headquarters, told the media today.
The deaths have been concentrated in the poor southern province of Guizhou, where tens of thousands have left their homes to escape the rising waters over the past few days, the official Xinhua news agency said.
Another 32 persons were missing, the report added, suggesting the death toll could rise. Almost 8,000 houses have been destroyed by the floods and thousands of hectares (acres) of farmland inundated, it said.
The other deaths have been reported in the eastern seaboard province of Jiangsu, Xinhua added, though other parts of that province remain parched. Guizhou will be hit by more rain over the coming few days, and the government has already sent a relief team to the hardest hit areas, it said.
The drought has damaged crops and exacerbated a power shortage by cutting power generation from dams, adding a slight bump to near three-year high consumer inflation.
The rains will add to farmers' hopes that they will be able to plant mid-year rice crops after early-season plantings suffered during the drought. The drought has affected millions of hectares of farmland, mainly in the five provinces of Hunan, Hubei, Jiangxi, Anhui and Jiangsu along the middle and lower reaches of the Yangtze. — Agencies
Trembler hits Xinjiang province
Beijing: A moderate 5.3-magnitude earthquake on Wednesday hit a remote county in China's northwestern Xinjiang Uygur Autonomous Region, causing a car pileup in which five persons were injured. The quake, which disrupted train and bus services, jolted Toksun County of Turpan Prefecture at 9:53 a.m. (local time), according to the China Earthquake Network Center. Toksun County is about 160 km from Urumqi, the regional capital. The trembler caused several big rocks to roll down a mountain in the neighbouring Dabancheng district and onto a road forcing a driver to slam brakes of his car leading to a 17-car pileup, said Zhang Qirui, an official with the district's road bureau. Five people were hurt in the collision, among whom two were severely injured, he said. The epicentre of the quake was 43.0 degrees north latitude and 88.3 degrees east longitude with a depth of about 5 km, the centre said. — PTI