PE investments gain amid weak capital markets
New Delhi, June 26
Sluggish stock markets have helped increase private equity investments significantly in India as several companies that were looking to raise funds from public are now trading the PE route.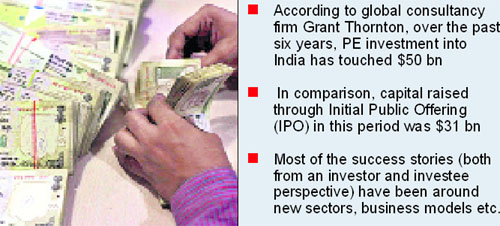 "Sluggish stock markets have in a way helped the PE investment activity — a number of companies which had filed for IPOs or were looking to raise money on public markets are now actively looking to raise money from PE," Ernst & Young Partner Private Equity Mayank Rastogi said.
Overall, PE investments in India have been growing in the past few years. According to global consultancy firm Grant Thornton, over the past six years (2005-2011), they have touched $50 billion. In comparison, capital raised through Initial Public Offering (IPO) in this period was $31 billion.
Avinash Gupta Leader Financial Advisory, Deloitte in India said, "Whenever public markets go soft, PE has a good time because they have money. Besides, in India, corporate growth is driven on the basis of getting equity and possibly by leveraging it further. So they tap PE."
He added, however, that most of the PE firms raised money before the crisis and still have not been able to invest all of it. Though there is lot of positiveness in the PE scene, this has not been translated into real numbers.
The fall in the market has not been entirely translated into the rise in PE, Gupta said adding that 'one factor is that PE takes longer to happen'.
He said that looking ahead the trend of corporates tapping PE route will catch up provided the value and other parameters add up. Meanwhile, Nainesh Jaisingh MD Standard Chartered Private Equity Advisory was quoted in a recent Grant Thornton report as saying,
"Private Equity in India needs to operate in the space where public markets are unable to calibrate/map or price a business."
Jaisingh said most of the success stories (both from an investor and investee perspective) have been around new sectors, business models or entrepreneurs themselves.
"It is also important to recognise that extraordinary returns will only come from solving difficult problems for such companies/ businessmen. The era of riding the wave of rising markets is well behind us," he added.— PTI