Standing tall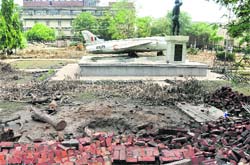 The statue of Param Vir Chakra awardee, Nirmaljit Singh Sekhon, amid the rubble that will make way for a multi-storeyed parking near the mini-secretariat in Ludhiana.
Tribune photo Himanshu Mahajan
Health minister, police chief try to mend fences
Ludhiana, June 28
After Punjab Health Minister Satpal Gosain said he was "under pressure from various quarters" to patch up with city police commissioner Ishwar Singh whose transfer he had reportedly sought, the latter extended a friendly gesture by visiting the minister's house on Monday night and spent nearly half an hour with him, apparently to "bury the hatchet".
SDM's report on liquor vend 'inaccurate'
Ludhiana, June 28
The Sub-divisional Magistrate's (SDM) report on the liquor vend in Sunet village that it was on panchayat land, has come under a scanner with the Municipal Corporation (MC) clearly stating that it was on a piece of land meant for a park.
It pays to be a Chief Minister's horse!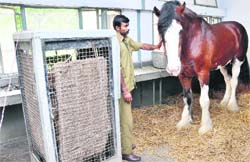 Ludhiana, June 28
It pays to be a Chief Minister's horse if the VIP treatment meted out to Chief Minister Parkash Singh Badal's Irish horse undergoing treatment at Guru Angad Dev Veterinary and Animal Sciences University (GADVASU) is any indication.

The horse belonging to Chief Minister Parkash Singh Badal getting special treatment at GADVASU Hospital in Ludhiana on Tuesday. Tribune photo Himanshu Mahajan
Family of Indian teen killed in Canada devastated
Ludhiana, June 28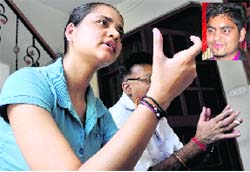 "We sent our son to foreign shores with hopes for a better future, but little did we know then our beloved child would be brutally murdered in an alien country and we'd never get to see his dead body. The tragedy has shattered our whole life into pieces, leaving a void that'll never be filled," said Narsingh Khanna, grandfather of Nitish Khanna, a 19-year-old Indian who was killed with a golf club by five assailants outside a restaurant in Mississauga, Ontario in the Greater Toronto area on June 20.
Rachna, cousin of the deceased, talks to media in Ludhiana on Tuesday ( Nitish Khanna inset). Tribune photo: Himanshu Mahajan
Woman shot dead in public view
Ludhiana, June 28
A 35-year-old woman was shot dead in full public view in Kakka village at Meharban area here today. The incident took place this morning when the victim, identified as Rani, appeared before the village panchayat to resolve a land dispute with Jagjit Singh.


Is city ready for Metro rail project?
Ludhiana, June 28
Is the city ready for witnessing heavy construction activity for the much-hyped Metro project?
| | | |
| --- | --- | --- |
| The deadline for the completion of work on the Lakkar Bridge project was June, which has now been extended to December. Photo: Inderjeet Verma | Started in 2008, the six-laning project of NH-I was to be completed in November this year. But now the company has fixed a new deadline for March 2012. | A file photo of the indoor stadium under construction on Pakhowal road in Ludhiana. |
Contemporary agriculture facing challenges: Experts
Ludhiana, June 28
A regional training course on "Conservation agriculture: Nurturing sustainable production systems in South Asia" was organised at the PAU under the Cereal Systems Initiatives in South Asia (CSISA) here today.
MC officials seek police protection
Ludhiana, June 28
The issue of construction of Kidwai Nagar storm sewer seems to be getting murkier, with the Ludhiana Municipal Corporation officials demanding police protection to resume sewerage work at Kidwai Nagar, where the MC has proposed dumping well.
Cong terms SAD-BJP claims as poll stunts
Ludhiana, June 28
Tall claims of SAD-BJP government in Punjab on development are nothing but election stunts aimed at befooling the people as majority of the projects are confined to papers only with no provisions for funding them, said Ramesh Joshi, chairman of urban development cell of the Punjab Pradesh Congress Committee.
BSP protest against price hike
Ludhiana, June 28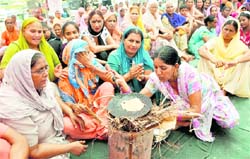 Activists of the Bahujan Samaj Party (BSP) held a demonstration against the rising prices and the recent hike in the prices of diesel, cooking gas and kerosene at the mini-secretariat and submitted a memorandum to the government through the Deputy Commissioner here today.
Women workers of the BSP light a 'chulha' to make 'chappatis' to protest against the recent hike in the prices of LPG and kerosene in Ludhiana on Tuesday. Tribune photo: Himanshu Mahajan
Girls reject free cycles with CM's photo
Mandi Ahmedgarh, June 28
Girl students of government schools of the region have announced to reject the government's offer to provide free bicycles, in case they are forced to display photo of the Chief Minister or any other dignitary.
Victim had full faith in PGI doctors: Wife
Doraha, June 28
"Had I not listened to Ghinder when he insisted on getting treatment from the PGI a month back, I would not have been shattered today," said wailing Narinder Kaur, wife of Ghinder Singh, a 55-year-old patient who was reportedly burnt alive on a stretcher in the PGI's Emergency recovery room on Monday night.
'Charitable' hospitals liable to pay house tax: Mayor
Ludhiana, June 28
Taking a tough stand against private run "charitable" hospitals, Mayor Hakam Singh Giaspura has said that all such hospitals, who were doing charity work only on paper, should pay house tax.
GADVASU interns jittery over job prospects
Ludhiana, June 28
Interns at the city's Guru Angad Dev Veterinary & Animal Sciences University (GADVASU) are up in the arms against officials of the varsity's placement cell for failing to "provide job security" to veterinarians. The interns claimed the cell did not bother to invite private firms for placement of varsity graduates but was entirely dependent on the state government for recruiting them.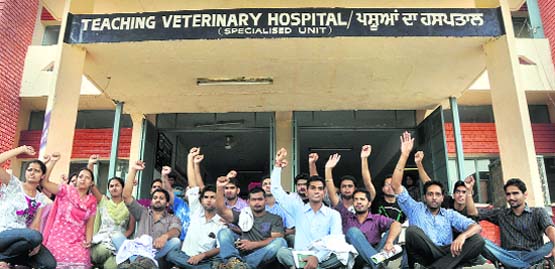 Students of GADVASU stage a protest against the placement cell of the university in Ludhiana on Tuesday. Tribune photo: Himanshu Mahajan
50 examined at de-addiction camp
Ludhiana, June 28
The department of psychiatry at Dayanand Medical College and Hospital (DMCH) held a de-addiction awareness camp in Samrala to mark the "International Day against Drug Abuse and Illicit Drug Trafficking" under the guidance of professor and head of psychiatry Dr Ranjive Mahajan.

Girls belonging to poor families bag top positions
Ludhiana, June 28
Belonging to a poor family and dedicated to fulfil her father's dream, Mishika Arora from Government College for Women (GCW) here has topped in district in BA III examinations, the results of which were declared by Panjab University, Chandigarh, today. She scored 1970 marks out of total 2400 marks (82.08 per cent).
Mishika Arora, district topper.
Arts, science students can join MCom Business Innovations
Ludhiana, June 28
Keeping in view the craze among students to join M.Com Business Innovations programme, it has been clarified that the arts and science graduates are also eligible to join the professional programme of the University Grants Commission (UGC) at SCD Government College here.
ATM catches fire, one hurt
Ludhiana, June 28
A labourer sustained electrical shocks and a newly constructed ATM caught fire after a blast in the overhead high- tension wires in Haibowal here today.


Murder: Police launches hunt to arrest accused
Mandi Ahmedgarh, June 29
The Dehlon police has launched a hunt to nab a migrant labourer who had allegedly strangulated a 12-year-old son of another migrant family staying at a brick-kiln situated on the outskirts of Dulley village near here.