Chatter box
Anchors in demand
We've seen them act, but off late these stars have proved their skills as anchors. We take a look at some who have made a name as hosts of various shows.

Jennifer Winget
We know her from days of Kasauti Zindagi Kay in which she played the cute and adorable daughter of Anurag and Prerna. She proved her acting skills in this show. She then anchored a few shows and was a hit because of her ability to connect with the audience. She has anchored Laughter Ke Phatke, Zara Nach Ke Dikha 2, Perfect Bride, and Comedy Ka Maha Muqabala.
She is loved for her style and also the way she presents herself in front of the audiences which is most important for any anchor. For the season 2 of Zara Nachke Dikha, she replaced Sanaya Irani and Mohit Sehgal.
Ronit Roy
He is a well-known television actor, who has done versatile roles. He has numerous fans and showcased his anchoring skills while hosting Kitchen Champion. He is best suited for this cookery based show as he himself has knowledge about different dishes which is very important to carry forward the show.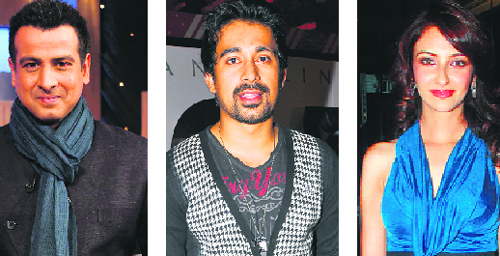 champion Cook

: Ronit Roy;

adventure man

: Ranvijay and

step up

: Soumya Tandon
Ranvijay Singh
Ludhiana's Rannvijay Singh won the first season of MTV's reality show Roadies in 2003 and went on to become a popular host. He has anchored MTV Roadies season 2 to Season 8.He is perfect host for two reasons, he being the first winner of Roadies and he knows how to handle the contestants and represents youth well.
Soumya Tandon
She came into the limelight when she played the role of Roop, Geet's sister in the hit movie Jab We Met and offers have been flowing in ever since. She loves anchoring and she has anchored Zor Ka Jhatka, Total Wipeout, Dance India Dance and Comedy Circus ke Tansen. She has the talent of hosting all types of shows whether it's a dance based or comedy show.
Rajeev Khandelwal
Rajeev Khandelwal was cool and dynamic while anchoring Sach ka Saamna. He is a hit with fans and is looking forward to the second season of the show. He is known for his anchoring skills and he is very fluent in Hindi. He can connect with the audiences.




Personal Touch

:Mona Singh
Mona Singh
She made her TV debut by playing Jassi in Jassi Jaisi Koi Nahi in 2003. She is a very happy go lucky and vivacious person.
That comes across when she hosts a show and she is truly an entertainer. Audiences love her personality and they feel as if it's their Jassi only who is interacting with them.




reality star

: Hussain
Hussain
He knows his work well and connects well with the audience, which is more important. Hussain has the charisma to host shows. He is well-versed in Hindi and that connect him and audience. In his career he has hosted 9 reality shows which shows how much fans have loved him.
Not only this he has also replaced Aman Verma in Khulja Sim Sim and he also replaced Eijaz Khan in Dance Premier League.
Shake a leg
Delly Belly stars Imran Khan, Vir Das and Kunaal Roy Kapoor will be the special guests to join judges Farah Khan and Anu Malik in Entertainment Ke Liye Kuch Bhi Karega on Sony. Imran who is all set to change his boy next door image with this film, will show everyone his daring side on the show. He will join two contestants as they perform dangerous stunts.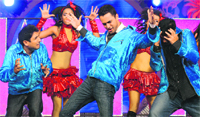 TWO TO TANGO

: Imran Khan & Vir Das perform on Entertainment Ke Liye Kuch Bhi Karega
A source reveals "In the first stunt, a magician will cover Imran's head with a headgear and then will rotate his head thrice. In the next stunt Imran will be made to sit on a platform, which a contestant will pull with the strength of his hair. Both these acts left the judges and audiences equally astonished."
This is not all Imran will also entertain viewers by shaking a leg to the hit number Switty Switty. The most entertaining part is sure to be Imran's attempt at belly dancing, which he will try to learn from a participant on the show.
Catch Imran at his entertaining best in Entertainment Ke Liye Kuch Bhi Karega in the next episode.
The year ahead
Madan Gupta Spatu
If your birthday is June 29...
Your birthday, June 29 reflects idealism in your nature. You are imaginative and creative. Ruled by the Moon, the number 2 makes you peace-lover, gentle, considerate, and sensitive. Business: Reschedule the day-to-day tasks. Don't overlook the casual options. Career: You'll have loads of imagination and by developing new projects, you will gain respect and trust of your superiors. Education: Students may do well and the ability to concentrate and grasp knowledge will increase. You do not need to be out in the playing field in order to score big points. Family: Apathy can cost you if you are feeling rebellious or defiant. Clashes with spouse are possible, especially if you are paired to Leo, Virgo or Libra. Finance: In career, you'll however gain some reputation. Friendship: Find balance from Scorpio, Taurus, Aquarius and Sagittarius. Health: You'll feel weak. Health may slightly trouble you. Slight headaches, distaste for foods etc. could make you suffer. Love: August and September increase your chances of connecting with someone new. Travel: Chances of theft in travels. Be careful and insured. State of Mind: Emotional. Compatible Signs: Sagittarius, Aquarius. Lucky Colors: Hot Pink, Lemon. Lucky Days: Wednesday and Sunday. Lucky Numbers: 4, 9, 16, 22, 24.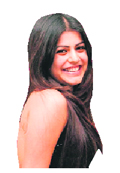 Shenaz Treasurywala (June 29 ,1981) - model, travel writer and actress. Started acting debut in the 2003 in film Ishq Vishk, which earned Shenaz a nomination for the best supporting actress award by the Filmfare Film Awards. With her love for travel, she has written travel articles for various fashion magazines. Shenaz currently resides in Mumbai and is the host of Culture Shock on the Travel Channel. One of her ambitions is to host a travel show. Having prime number 2 in her date of birth which represents fast moving Moon, known to travel from one sign to other in 24 hours, Shenaz's stars too indicate that her career is related to travel rather than in films in future.
Beat it
Dj Bhanu
http://youtu.be/QeWBS0JBNzQ
Track : Edge Of Glory
Artist : Lady GAGA
Genre: Club
The Edge of Glory is an upbeat song of dance-pop and electro-pop tendencies. It is notable for the use of synthesizers executed in a manner highly influenced by smooth jazz, as well as the inclusion of a saxophone solo by Clarence Clemons. This is a track that one must listen to, and dance to.
(As told to Jasmine Singh)
Astro turf
P Khurrana
ARIES: A financial matter that has been delayed should be forwarded now. Social activities will not be worth attending. You could be discontent in love. If at logger-heads with your parents over your life's direction, still listen to what they have to say. Tarot Message: Don't take hasty decisions. Lucky colour: Deep Red. Magic Number: 41
TAURUS: This day will be marked only by the lack of activity. Business will tick over smoothly enough. You should finally feel your self esteem rising. Use this day to consider the pros and cons, perhaps with family input.
Tarot Message: lack of caution can leave you in losses. Lucky colour: Forest Green. Magic Number: 43
GEMINI: Discussion and debates can be very interesting. You will actually enjoy having your ideas tested by an intelligent person. If an old friend needs your support, get together for coffee or lunch and listen to their doubts and worries. Tarot Message: Do not expect too much from others. Lucky colour: White. Magic Number: 52.
CANCER: Your mate may feel that you have been devoting more time to outside interests. Spiritual issues can lead to deep thinking. You might run into a friend who sparks your interest in the area of life. Tarot Message: Do not swing away from the course you have charted so far. Lucky colour: Sea Green. Magic Number: 26.
LEO: You might have some difficulty controlling your emotions. Memories from your childhood may surface. Learn how to deal with these memories and emotions in a positive fashion. You will then sleep well tonight. Tarot Message: Take one step at a time and avoid being hurried and over anxious. Lucky colour: Purple. Magic Number: 55.
VIRGO: This is not time for grabbing centre stage. Try to improve your overall financial situation. An argument with a friend can leave you high and dry. Consider your situation before you go off on your own. Tarot Message: Make compromises outside and come to terms within yourself. Lucky colour: Golden Yellow. Magic Number: 46
LIBRA: Improvement will continue in general financial picture. Business matters are fairly well under control. Social affairs will be exciting. A former friend might turn up on your doorstep and have some exciting stories to tell. Tarot Message: Don't do anything at the cost of health.Lucky colour: Jade. Magic Number: 29
SCORPIO: No need to make any important move. Conditions are too weak at the moment to contemplate fresh operations. Relationship with your family members should be good even if strained earlier in the year. Your efforts will produce a positive move. Tarot Message: Don't reveal your plan of action to anyone. Lucky colour: Peach. Magic Number: 27
SAGITTARIUS: The affairs of close companion are favoured today. An accident could occur if you don't keep your mind on the job. Be careful when using electricalmachinery. A change of home or job is possible. Tarot Message: Avoids trouble by taking timely action. Lucky colour: Deep Red. Magic Number: 35.
CAPRICORN: Do not give into lethargy. Emotional people may change their mind. Deception from opposite sex is on the cards. Monitor your credit card debt. You may already be having trouble making your monthly payments! Tarot Message: Don't reveal your plans to your competitors. Lucky colour: Ebony. Magic Number: 27.
AQUARIUS: An early morning disturbance could get up a lot sooner than usual, which will give you a chance to catch up some housework. Love life suffers because of your hectic schedule. Tarot Message: You will receive a useful tip at the stock exchange. Lucky colour: Yellow. Magic Number: 44
PISCES: The day is going to be rather slow. Take advantage of other people's experience. Family will be much better company than friends. If you prefer to hide away indoors, travel to escape the commonplace. Tarot Message: Dare to accomplish tasks which take up a lot of time. Lucky colour: Bottle Green. Magic Number: 32