Trends
Space debris risks colliding with orbital station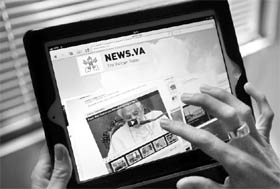 A woman checking the new Vatican portal on an iPad device in Rome. The site is a news information portal that aggregates the Vatican's various media into a one-stop site for all things papal. — Reuters photo
MOSCOW: Six astronauts were forced to take refuge aboard the International Space Station's "lifeboat" crafts on Tuesday, bracing for the threat of a collision with floating space debris, the Russian space agency said. "A situation arose linked to unidentified 'space trash' passing very close to the space station. The crew was told to take their places aboard the Soyuz spacecraft," Roskomos said in a statement.
E.coli seen spawning bio-fuel in five years
ASPEN, Colorado: The bacteria behind food poisoning worldwide, the mighty E.coli, could be turned into a commercially available bio-fuel in five years, a U.S. scientist told technology industry and government leaders on Tuesday. Several companies are working on the technology, which has been proven in laboratories but is not yet yielding enough fuel to be commercially viable, scientist Jay Keasling told the Aspen Ideas Festival on Tuesday.
NASA clears last space shuttle for blast-off
CAPE CANAVERAL, Florida: NASA managers cleared space shuttle Atlantis on Tuesday for a July 8 launch, approving it for a cargo run to the International Space Station and the final flight in the 30-year-old shuttle program. Lift-off of the shuttle manned by a minimal crew of four astronauts is set for 11:26 a.m. EDT from the Kennedy Space Center in Florida.
Near-Earth asteroid passes over Atlantic Ocean
LOS ANGELES: An asteroid with an estimated girth as large as a garbage truck soared within 7,500 miles of the Earth on Monday as it passed harmlessly over the Atlantic Ocean, according to NASA's Jet Propulsion Laboratory. The space rock, measuring 5 to 20 meters in diameter, followed the same near-Earth path that scientists had earlier predicted, looping around the planet in a boomerang-shaped trajectory, JPL spokesman D.C. Agle said.
Benefit of mammograms even greater than thought
CHICAGO: The longest-running breast cancer screening study ever conducted has shown that regular mammograms prevent deaths from breast cancer, and the number of lives saved increases over time, an international research team said on Tuesday. The study of 130,000 women in two communities in Sweden showed 30 percent fewer women in the screening group died of breast cancer and that this effect persisted year after year.
Gene machines may help save Tasmanian devil
CHICAGO: Scientists are using high-tech gene sequencing machines in a desperate attempt to save the Tasmanian devil from an infectious cancer called devil facial tumour disease that is threatening to wipe out the species. "The disease is like nothing we know in humans or in virtually any other animal. It acts like a virus but it actually is spread by a whole cancerous cell that arose in one individual several decades ago," Penn State University's Stephan Schuster, who is working on the project, said in a statement. — Reuters