8 injured in group clash, 11 booked
Lalru, July 5
Eight persons were injured in a clash over a piece of land at Dehar village near Lalru last evening.
Car rams into shop, man killed
Kalka, July 5
A recklessly driven car today claimed life of a 55-year-old man. According to information available, the incident took place at around 8am in Madhanwala village of Pinjore Block.


14 lawyers get time till Sept 20 to file reply
Chandigarh, July 5
Fourteen lawyers, in contempt loop in the district courts violence case, were today given time till September 20 to file their reply.
HC multi-level car parking gets going
Chandigarh, July 5
Parking blues in the Punjab and Haryana High Court are a thing of the past — at least for the time being. Putting to halt the inconvenience caused to lawyers, litigants and visitors to the court, the city's second multi-level parking became operational here today. The only other operational multi-level parking is in the PGIMER.


SD College students attack ex-pupil
Mohali, July 5
A former student of SD College, Jatinder Pal Singh (20), was injured after being attacked by a group of armed students of the college in the Phase-VII market here late this evening.
Jewellery worth ~ 4 lakh stolen
Panchkula, July 5
Thieves decamped with gold jewellery worth Rs 4 lakh from the owner of a jewellery shop when she boarded the bus for Nawanshahar from the Sector 5 inter-state bus terminus (ISBT) to attend a marriage of her younger sister.
Youth found dead near railway underpass
Panchkula, July 5
Prem Pal (27), a resident of New Indira Colony, who was missing since yesterday morning was found dead near the railway underpass in the Mansa Devi Complex area here this afternoon.
Two home guard jawans beaten up, 2 booked
Panchkula, July 5
The Panchkula police arrested two persons for beating two home guard jawans when the latter stopped them from entering the Mansa Devi Temple from the VVIP gate on Tuesday afternoon.
Denied permission for school trip, boy commits suicide
Panchkula, July 5
Depressed over the denial by parents to join a school trip to Manali on June 26, Prateek Kumar, a student of Class X, possibly led him to commit suicide.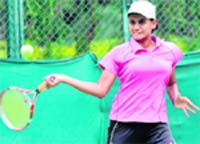 Chandigarh, July 5
Fatehdeep Singh of DAV Public School, Sector 15, defeated Aman Rawat of Delhi in the boy's (u-16) category of the ongoing CLTA-AITA National Series Tennis Tournament for Boys and Girls (U-14 and U-16) at the CLTA complex, here today.

Power play Tanushree Vele of Tamil Nadu plays a shot during the CLTA-AITA Tennis Tournament in Chandigarh on Tuesday. She beat Salim Saleema 6-3, 6-1. Tribune photo: Manoj Mahajan

'Home' crowd roots for players from sidelines
Chandigarh, July 5
Players might sweat it out to win a competition on-field, but off-field it's their parents, who support them, to ensure their 'win'.

Divya pockets billiards title
Chandigarh, July 5
Divya Sharma defeated veteran player Anil Sharma to lift the title in the 25th Haryana State Senior Billiards Championship here today.

PCA releases sports calendar
Chandigarh, July 5
The Punjab Cricket Association (PCA) has announced its annual sports calendar.