M A I N N E W S
Supreme Court okay with impeaching Dinakaran
R Sedhuraman
Legal Correspondent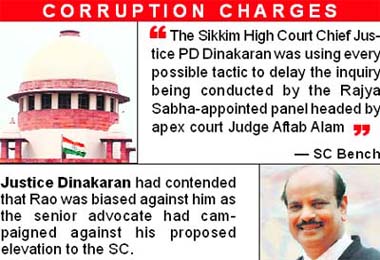 New Delhi, July 5
The Supreme Court today lifted the stay on the impeachment proceedings against Sikkim High Court Chief Justice PD Dinakaran on the charges of corruption and land grab, observing that that the CJ was using "every possible tactic to delay" the inquiry being conducted by the Rajya Sabha-appointed panel headed by apex court Judge Aftab Alam.
A Bench comprising Justices GS Singhvi and CK Prasad, however, allowed Justice Dinakaran's plea against the inclusion of senior advocate PP Rao in the three-member inquiry panel. Karnataka HC Chief Justice JS Khehar is the other member of the probe committee.
Justice Dinakaran had contended that Rao was biased against him as the senior advocate had campaigned against his proposed elevation to the SC. The CJ's apprehension of likelihood of bias against Rao "is reasonable and not fanciful, though, in fact, he may not be biased," the Bench noted.
The apex court, however, pointed out that Rao was included in the committee on January 15, 2010, but Justice Dinakaran did not raise any objection till April 2011. The belated objection "appears to be a calculated move" of Justice Dinakaran.
"This court or, for that reason, no court can render assistance to the petitioner in a petition filed with the sole object of delaying finalisation of the inquiry," the Bench said.
Nevertheless, the Supreme Court requested Rajya Sabha Chairman Hamid Ansari to nominate another distinguished jurist in place of Rao. Since the proceedings against Justice Dinakaran had progressed only to the stage of framing of charges and the committee was yet to record its findings on the charges, the nomination of another jurist "will not hamper the proceedings of the Committee," the Bench clarified.
"The reconstituted committee shall be entitled to proceed on the charges already framed against the petitioner," the Bench ruled while dismissing Justice Dinakaran's petition.
The SC had stayed the committee's proceedings on April 29 after Justice Dinakaran had filed the petition.