FLIRTING with change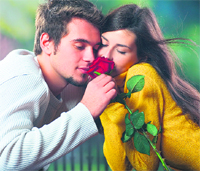 Ever since, it has been the privilege of men - to say whatever they thought about a woman's eyes, hair, smile… to express their feelings, to put their emotions into words…men always had the right to take the initiative…in short, to flirt.Our cinema has also reflected this — three married men out to impress girls (Masti, No Entry and Thank You are some of the movies on these themes). But then nothing is forever and so the rules of flirting have also changed. First things first, in the 21st century flirting is not an indecent practice. It is the stepping stone to building a relationship. It's no more about a few cheeky lines.
ROCK solid
Whosoever says Chandigarh does not have a rock culture, members of Them Clones, Delhi-based rock band with almost all national competitions to their credit, do not agree.
Pun'jab' Sandeep Joshi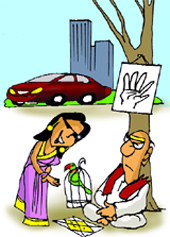 CURIOUS CAT

: I have no personal problem. I just want to know whether Aishwarya Rai will deliver a baby boy or a baby girl?
Playing baddie!
With the entire industry focused on positive characters, there are very few who actually plan on making it big playing shades of gray! One such 28-year-old is Kartaar Cheema. Ready to play the bad boy in Yaar Anmule, he is excited about his rich, handsome and good-looking role in the Punjabi flick.
Why is Farah Khan nervous?
Farah Khan has done it all! She started as a choreographer, shot to the top, became a film director to reckon with, and has two blockbusters under her name. The mother-of-three has judged reality shows and even done cameos in films. Now, she has her first leading role opposite Boman Irani in Bela Sehgal's Shirin-Farhad. She shares her views and feelings on the same.
Children's cinematic tour
Chillar Party releases this week. Sadly, a good film about, of, and for children comes along rarely in Bollywood. We evaluate some recent releases and tell you the films you could watch.
Keep personal and professional lives apart
Bollywood actress Preeti Jhangiani, who donned the producer's hat for her husband Parvin Dabbas's directorial debut Sahi Dhandhe Galat Bande, says they never took their personal life to the sets.
Zoya: Hrithik is my favourite actor
The critical success of Zoya Akhtar's debut venture, Luck By Chance was unprecedented.
Aamir's philanthropic dream
When Aamir Khan is not busy acting. producing, directing, or promoting his movies, he devotes his time to socially relevant causes.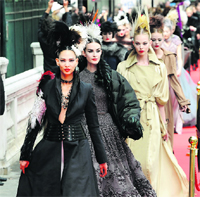 Gaultier creates a fashion spectacle
Jean-Paul Gaultier turned models into movie stars on Tuesday in a theatrical display for his fall-winter haute couture collection, proving he has lostnone of his taste for fun since the sale of his brand.Fashionistas packed the benches at Gaultier's Right Bank headquarters to see if the irreverent French designer had altered his approach since May, when Hermes sold a controlling stake in his brand to Spanish fashion group Puig.


Models for designer Jean-Paul Gaultier walk outside on a red carpet after his Haute Couture Fall-Winter 2011/2012 fashion show in Paris. —Photo: Reuters

Winsome twosome
Madhav and Tanayaa are not just another brother-sister duo. They believe in pursuing their passion. They recently bagged a gold medal in a Latin dance competition organised by the All-India Dance Sports Federation.
Master Chef
Apricot avatar
The fragrant apricot has an orange hued flesh and can be used in many culinary avatars. They are perfect to make jams, chutneys, crumbles, cheesecakes, salads and in grilled dishes. They make a very brief appearance on the shelves, so make the best of the luscious, juicy fruit! Apricots are lovely, eaten fresh. For such apricot lovers, here is a sweetened avatar that is guaranteed to delight!
The 'in' side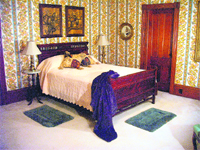 Paper, paper on my wall!
Wallpapers are back and better than ever! Wallpaper is highly decorative and useful to cover any blemish on the walls. It creates an interesting environment and its patterns and variety cannot be matched by paint. Wallpaper is a quick decorating element that creates a visual interest and prevents a space from looking monotonous.While selecting wallpaper keep in mind that it does not clash with the furniture or the colours used. The textural and colour equilibrium must not be violated.
GET PHYSICAL
Twist of health
Ardha Matsyendrasana (The half spinal twist) is one of the best twisting postures. The entire spine gets rotated around its axis. Moreover, the entire length of the spine receives a lateral twist in both directions-first to the left and then to the right.
Monsoon platter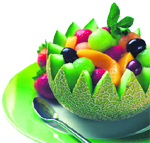 Cool monsoon breeze may bring a welcome respite from the heat but it may also lower our immune system and expose us to various diseases. The reasons are food and water. It's time to take precautions to make our body disease resistant."Monsoon foods are sweeter and more citric than normal and packed with a lot of essential nutrients that provide comfort and relief. During this time vegetables too can be consumed raw against the belief that they should be cooked. Raw or lightly cooked vegetables bring out the actual taste and are good for health.
The weaves of India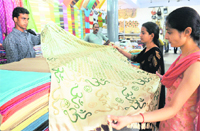 An exhibition of handloom fabric going on at Lajpat Rai Bhawan has brought the works of master craftsmen directly to the consumers. NGO Rashtriya Sanskriti Samaj Avom Sabhayata, New Delhi, has provided a platform to the poor artisans through the exhibition.Printed fabric, cotton and silk-Saganeri, Bagru, Dabu, Gamthi, Gujari, Bagh, Kalamkari, Batik, Ajarks etc are up for grabs here.Weaved fabric in cotton and silks like Bhagalpur, Champa, Banarsi, Baluchari, Chanderi, Maheshwari, Chirala, Kota Doriya, Mangalgiri, Pochampally, Ikkat, Puna, Tangail fabrics are also the main attraction.