Not A Minor Issue - II
Charitable organisations 'party' to increase in child marriages
Mass-marriage programmes end up attracting underage couples, poor families
Geetanjali Gayatri
Tribune News Service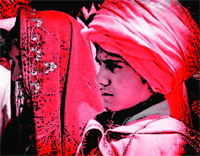 Chandigarh, July 8
If "anxious" parents are heralding the return of child marriages for a number of reasons, including skewed sex ratio and the rise of inter-caste marriages, charitable organisations too, albeit unknowingly, seem to be partners in the crime.
Their mass-marriage programmes, invariably, end up attracting underage couples and poor families looking for support in marrying off their children. With hardly any verification plan in place during the registration of needy couples, most such "noble causes" end up doing what they should not - solemnising child marriages.
In Panipat, protection officer Rajni Gupta "busted" one such mass marriage programme in March, forcing the organisers to abandon their plan of solemnising 42 marriages in a day. Of the total couples registered with them, only 10 of them, with requisite age proof, "qualified" while the marriages of 32 other couples had to be called off after they were found to be underage following a medical examination.
"Three days before the ceremony, we had warned the organisation to provide us the documents pertaining to the age of the couples. They kept putting it off till the day the mass marriages were scheduled. Finally, we had to assert ourselves and insisted on a medical examination of the couples to arrive at their tentative age. Of the 42 couples, 32 were found to be underage. However, the organisers not only humiliated us for our action but even challenged my authority for asking for the records," Gupta recalls.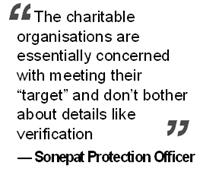 In a similar programme in Sonepat where three charitable organisations had scheduled 23 marriages, seven couples were found to be below the marriageable age. Here, too, the organisation had gone ahead and registered the couples without verifying their age and a medical examination was necessitated to establish their age.
"The charitable organisations are essentially concerned with meeting their "target" and don't bother with details like verification. On the other hand, the families of the couples are usually interested in pocketing the items given away by the organisations at such functions," explains Bhanu Gaur, PO, Sonepat.
Meanwhile, charitable organisations have realised that they could be on the wrong side of law for promoting such marriages and have introduced an age verification clause.
"We try our best to ensure that only the "right" couples get selected. A few marriages were called off last time because the couples were underage. We have learnt our lesson and will insist on a medical certificate from the Civil Hospital if no other proof is available," says Navrattan Chopra, who manages the Ram Sharnam Trust in Sonepat.
Running the Samaj Sewak Samiti, Praladh Goyal says, "We spend nearly Rs 50,000 on a marriage. We don't want to be doing anything illegal. After the last experience, where all couples had to be put through a medical test before their marriages could be solemnised, we have decided to insist on a school certificate of Class V from the couples now onwards."
According to the data available with the Women and Child Department, while Panipat has the maximum cases of 34 child marriages this year, 26 marriages have been detected in Sirsa, 24 in Hisar, 15 in Sonepat and 10 in Karnal.
Against 47 detected marriages in 2009, 111 marriages were detected in 2010, while the total number has already increased to 195 in six months.
(Concluded)