M A I N N E W S
Tendulkar added variety to my bowling: Bhajji
The offie became the 11th bowler to take 400 wickets during 3rd Test in Dominica, West Indies, on Thursday
Roseau (Dominica), July 8
Indian off-spinner Harbhajan Singh, who has become the 11th bowler to pick up 400 wickets in Tests, says it was batting legend Sachin Tendulkar who helped him to add variation to his deliveries.
Harbahajan said it was Tendulkar who taught him how to bowl the slider, a different type of outswinger.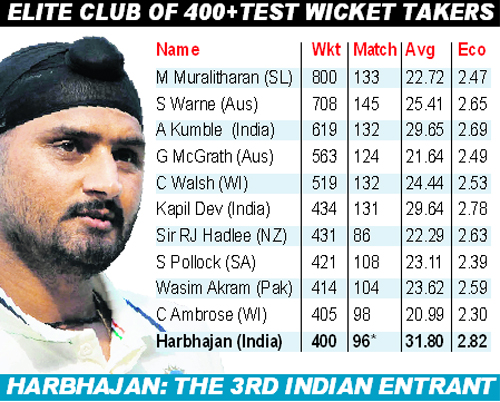 "Whenever I bowl to Sachin in the nets, I ask him what I should be doing. When I tour Australia or New Zealand, I take his advice. He showed me how to bowl a slider, a kind of outswinger, which I have used in ODIs and even taken wickets in Tests. But a slider can only be bowled with a new ball," said Harbhajan.
Harbhajan also thanked his former captains and the close-in fielders, who always supported him.
"My first captain was (Mohammed) Azharuddin. Then I played a couple of games under Sachin. When Sourav (Ganguly) became captain, he gave me a lot of confidence. I took a lot of wickets under him. He supported me all the way. (Mahendra Singh) Dhoni has been great with Team India. I just hope he continues doing what he is doing. Under each captain, I know I have given my 100 per cent.
"During my time, Shiv Sunder Das was very good in close-in cordon. Sadagopan Ramesh normally sleeps a lot but that day he was awake to take a blinder offered by Warne. It gave me a hat-trick. Aakash Chopra was outstanding. Cheteshwar Pujara was very good in South Africa.Then, Rahul Dravid is very special. He has taken 50 catches off me. I hope another 50 will come very soon."
Recalling some of his great deliveries against some of the great batsmen, Harbhajan said: "I remember my first wicket - Greg Blewitt. Then the doosra which got Michael Hussey in Bangalore. He left it outside his off-stump and it came a long way to hit the off-stump. I thought only Murali bowled those kind of balls!"
"Ricky Ponting, I got him many times, but he is a great batsman. Matthew Hayden, Brian Lara, Steve Waugh were all special." "I have seen all the greats - Warne, Murali, Anil bhai and McGrath - become a different bowler when they take a wicket in their first spell. You feel more confident, you feel you can plan differently now that you have a wicket behind you."
Harbhajan said losing his father at an young age was the worst period of his life.
"When I lost my dad, it was the worst period of my life. I didnít want to play cricket thereafter. He dreamt of me playing for the country. I am sure, wherever he is sitting today, he is happy his son has achieved something special," he said. ó IANS