Astro turf
P Khurrana
ARIES: Good vibes abound at home and at work. Teamwork is highlighted and your ability to delegate could get you a gold star with your boss. Honour and respect from your office staff. Women: Exercise dietary control. Love life is thrilling. Tarot Message: Don't waste an opportunity. Lucky Colour: Violet. Magic Number: 61
TAURUS: A profitable business deal could solve a few financial problems at home and put your relationship back on a secure basis. Opposition elements are going to harass you in the afternoon. Sportspersons: be careful. Visit a naturopath. Tarot Message: Don't be bullied. Lucky Colour: Navy Blue. Magic Number: 50
GEMINI: A power packed day full of activities, fun and friends likely. Women: work with caution. Disturbance and unrest for newly weds cannot be ruled out. Money gains are likely from speculation. A hectic day for property dealers/ share brokers. Tarot Message: Frankness is your strength. Lucky Colour: Brown. Magic Number: 43
CANCER: Love, harmony, fun and frivolity are on the cards. Let your hair down and accept party invitations. Atmosphere of incapability prevails at home. Businessmen feel unrest because of over burden of work. Tarot Message: Consolidate your gains.
Lucky Colour: Mauve. Magic Number: 54
LEO: Singles may receive an exciting proposal. You have the talent and skill to get a pet project off the ground. Talk to someone in the know and get the ball rolling. Tarot Message: Infuse your efforts into decisive action and professional achievements. Lucky Colour: Forest Green. Magic Number: 27
VIRGO: Take your time and don't be rushed. You must still honour yourself as much as others. Your mind, body and soul are working in unison. A domestic hassle is settled amicably. Expect a guest or important news. Tarot Message: Do not expect too much from others.
Lucky Colour: Metallic Grey Magic Number: 25
LIBRA: With the "Four of Wands", the card of illusion, expect a certain amount of chaos and misunderstanding to interfere with your plans. Don't take your bad temper to work with you. Teenagers: Expect a favour from superiors/parents. Love stars shine. Tarot Message: Be active to tackle finances. Lucky Colour: Ebony. Magic Number: 45.
SCORPIO:This could be quite a good day for work. Domestic happiness plays hide and seek. A close friend brings pleasure in the evening. Working women: avoid gossip session. Love letters/ emails and sweet nothings ensure romantic bliss. Tarot Message: Have faith in yourself. Lucky Colour: Red Magic Number: 26.
SAGITTARIUS:Beware of unwise expenditures. Risky investments of all kinds should be avoided. Encroachers: expect a notice from the government. Legal matters favoured. Students: check your canteen dues. Beware of stray animals. Tarot Message: Void unpleasant events. Lucky Colour: Royal Blue. Magic Number: 62.
CAPRICORN:There is a strong emphasis on emotional ties with family today. You might get to have a deep and meaningful talk with someone you have been concerned about. Finances are in a frowning mood. Hidden assets may be uncovered. Tarot Message: Take limited risks. Lucky Colour: Saffron. Magic Number: 41.
AQUARIUS: A fun mood will colour the morning and make for practical jokes and party plans but don't get too locked in. Love life settles down after 4 pm but don't make any promises. Tarot Message: Lack of confidence or lack of caution can leave you in losses. Lucky Colour: Black. Magic Number: 59.
PISCES: This is a great time to get outside and start walking or jogging. Get a few like minded friends along to a science spot. Tricky situation works out in your favour. Tarot Message: Listen carefully to words of wisdom even if you do not relish. Lucky Colour: Peach. Magic Number: 49
Stress factor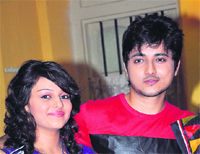 Tense Couple: Bhoomi and Illesh
In the upcoming episodes of Sony's Krishnaben Khakhrawala, Bhoomi will take up a job but Illesh will let her work on the condition that she should manage both work and home.
At first, Bhoomi will agree but later she will realise how difficult it is.
This issue will cause friction between the couple. Will Krishnaben find a solution to this problem? Watch the show to find out.
Hosting plans
Ashmit Patel perhaps has realised that his future as a film star is bleak so post Bigg Boss his focus has mainly been on television. The small screen has give him popularity that the wanted from the silver screen. So he is currently enjoying his stint as host and mentor in Bindass' Super Stud. But he is also planning to launch a television serial. He will, of course, be producing only as his acting will be for the movies.
Name game
As many film stars change the spelling of their names, TV actors can't be far behind. With superstition riding high in the entertainment industry, numerology has always been of great value. Rahul Arora of Star One's Yeh Ishq Haaye will henceforth be called as Devaraaj Singh Arora. Rahul changed his name for various reasons- primarily for numerology, but his mother wanted him to change the name for both personal and professional reasons. Also, as Rahul belongs to a Punjabi family and his father has a typical Sardar name, Rahul's mother wanted him to have a real Punjabi name.
An ode to Rasika
Popularly known as Motiben of Imagine's Bandini, actress Rasika Joshi passed away after a brave fight with cancer. She slipped into a coma and later breathed her last.
She was seen in numerous films and serials both Hindi and Marathi including Bhool Bulaiya, Malamaal Weekly, Ek Haseena Thi and will appear in RGV's next movie based on the Neeraj Grover case.
Finicky or organised?


Mr Perfectionist:Dharmendra
Veteran actor Dharmendra is enjoying being in front of the camera. His enthusiasm for his work hasn't waned over the years. He is still eager to give that perfect shot and checks all shots canned on the monitor too. He is particular about his appearance and dialogue too. Debuting on TV as a judge on Colors' "India Got Talent", We can't decide if he is self conscious about doing a television show or is he being quirky and finicky.
Dancing duo

RIGHT MOVES: Jagya and Anandi
Be prepared for a grand wedding of Simar (Deepika Samson) and Prem (Shoaib Ibrahim) in Colors' Sasural Simar Ka.
With lavish wedding, there are numerous functions and the channel is planning to make the pre wedding functions a celebrity fest.
The biggest attraction will be Jagya and Anandi from Balika Vadhu who will perform at the sangeet.
Harshad Chopra on life after Tere Liye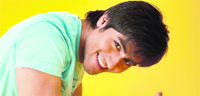 in step: Harshad Chopra
Television actor Harshad Chopra, who was last seen as Anurag in Star Plus hit show Tere Liye, will be seen in Entertainment Ke Liye Kuch Bhi Karega in an upcoming episode wherein he will dance on medley of famous romantic songs of Shah Rukh Khan. The actor talks about his new show, what kept him busy after Tere Liye and more
We heard that you are doing a new show Dharampatni on Imagine TV?
Right now, I really can't comment on anything. I have got an offer to play a character based on the lines of Mahatma Gandhi's life. Let the channel announce it first.
What kept you busy post Tere Liye?
I joined dance classes with acrobats as I find this type of dance very unique. Although, I didn't join immediately after Tere Liye ended. First few weeks, I spent my days in laziness, sleeping and spending time with my family members, especially with my younger sister. I even spent time gorging on food, especially home cooked food. Basically, I let everyone at home pamper me.
What do you miss most about Tere Liye?
I miss everything about the show -right from different locations to lunch sessions with co-stars. Usually when we work with people we jell with and get along, it is obvious to develop a kind of attachment with them, so I guess we are all very connected. I also miss playing the character Anurag which was romantic in a totally different way.
Tell us about your dance sequence in Entertainment Ke Liye Kuch Bhi Karega?
I am performing on the solo hit numbers of Shah Rukh Khan in a medley so it has Tujhe Dekha Toh Yeh Jana Sanam, Kuch Kuch Hota Hai, Kabhi Khushi Kabhi Gham, and Don and "Om Shanti Om's" title tracks. It is wonderful to perform on such hit numbers. Finally, I have a connection with SRK.
Which is your all time favourite romantic song sequence?
I like this song Bheegi Bheegi Raaton Main from the movie Ajnabee the one starring Rajesh Khanna. I really like the whole feel of being romantic and this song. Among the new ones, I enjoy listening to O Bhanvre O Bhanvre from Pyaar Ka Punchnama.
What do you like about Entertainment Ke Liye?
It is a brilliant show which gives a chance to every talented person to show their talent. In our country, so many people follow their passion and this show provides a good platform to them. We can see that people are passionate about dancing, painting and a lot of other cool stuff. After watching them, I feel lucky to follow my passion acting as a profession. It was nice to meet Farah Khan and Anu Malik.
What are your plans for your future? Are you joining films or love and marriage are one the cards?
Oh so many questions!! I don't plan my future as I let things happen. Let's see how things shape up in my life. I feel it's too early to comment on my personal life.
Which shows do you watch during your break?
I have started watching White collar on Star World and I used to love Castle. I am not watching any Hindi television shows as none of my industry friends like Kunal Karan Kapoor & Arjun Bijlani are doing any shows.
The year ahead
Madan Gupta Spatu
If your birthday is July 10...
Your birth on the 10th day of this month gives a sense of independence and extra energy to your Life Path. The number 1 energy suggests more executive ability and leadership qualities.
You are sensitive, but your feelings stay repressed. You have a compelling manner that can be dominating in many situations. All shades of brown, gold, yellow, golden brown are favorable. Business: Getting derailed is pretty much inevitable at the beginning of November. Career: Your strong will power is your forte and you'll have no problem finishing all your tasks.
This will make you feel satisfied and cheerful. Youngsters will finally be able to fulfill their ambitions. Education: Do not let anyone divert you from your chosen path. Family: Demands on your time on the rise but it appears to be happy year.. Finance: Despite all difficulties a marked improvement in financial resources is indicated. Financial gains are imminent through speculation also, provided you are certain about where to put your money.
Friendship: Some older established friendships may need some focused attention. Health: Your health might experience ups and downs. Success in sports and competitions indicated. Love: Logic could be a barrier to love in 2012. Travel: 2011 will be a good year for travel. Some of you may betransferred or could go for business meetings. State of Mind: Eager to help others. Compatible Signs: Sagittarius, Leo. Lucky Colours: Purple, mauve. Lucky Days: Tuesday and Sunday.

Alok Nath You share your date of birth with Alok Nath (July 10, 1956, Delhi). He rose with the role of Haveli Ram in the television serial Buniyaad. He has appeared in some of the biggest hits of Bollywood and usually plays supporting roles as a father or uncle. He also made an appearance in the international award-winning Richard Attenbrough directed film Gandhi. He was also a part of the hit film Vivah. He has also worked in serials like Sapna Babul Ka...Bidaai.