23 lakh saplings to be planted
Karnal, July 9
With the green cover depleting in Karnal due to rapid urbanisation, construction of roads and other non-forestry activities, the district administration has decided to plant 23 lakh saplings this year.
Fresh summons against ex-judge Nirmal Yadav
Chandigarh, July 9
A local court here today issued fresh summons against former Punjab and Haryana High Court judge Nirmal Yadav in connection with a case related to the delivery of cash at the house of a high court judge.
Hearing deferred till July 16
Panchkula, July 9
Hearing in the Chatrapati murder case against Baba Ram Raheem Singh has been deferred till July 16 as a prosecution witness failed to appear in the CBI court today.
Farmers protest against land acquisition
Rewari, July 9
Irate farmers from Kalaka, Konsiwas, Peevra Ki Dhani and several other villages held a demonstration yesterday at the district secretariat in protest against the acquisition of 454 acres of fertile land by HUDA for the establishment of Sectors 20 and 21 here.
Protesters disrupt traffic
Hisar, July 9
The traffic in the city remained completely disrupted for over five hours today as protesters blocked the Camp Chowk and the Fountain Chowk here today in protest against the murder of a juice vendor late last night.
Protest over driver's death in mishap
Nilokheri (Karnal), July 9
Angry relatives and sympathisers of Charan Dass, a driver of a local councillor who was killed in a road accident near Faizabad, today staged a demonstration outside the councillor's house.
Murder accused's house set afire
Hisar, July 9
A house belonging to five accused in a triple murder case was set afire in the Tibba Dana Sher area of the city.
Parents 'assaulted' by school management
Karnal, July 9
The ongoing feud between the management of Pratap Public School and Ekta Manch members, formed by the parents, today took an ugly turn as the management of the school allegedly assaulted the parents, who were distributing leaflets of tomorrow's meeting of the Ekta Manch.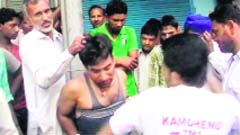 Youth tied to pole, beaten up
Fatehabad, July 9
In an incident that reminds one of medieval justice, a youth was tied to a telephone pole and beaten up badly today in full glare of the police and a large number of people by some traders of the Jakhal vegetable market.
A youth is beaten up after he was tied to a pole at Jakhal in Fatehabad on Saturday. A Tribune photograph
3 booked on rape charge
Sirsa, July 9
Three youths, including two brothers, have been booked on a rape charge in Suchan village of the district.
BJP for forming state human rights panel
Chandigarh, July 9
The state BJP has demanded that a human rights commission should be constituted in the state immediately.