| | |
| --- | --- |
| Fender-bender & the chaos | Two girls in a Swift car hit an Audi car near Leisure Valley in Sector 10, Chandigarh, on Monday afternoon. As they tried to escape in their car, the Audi owner informed the police control room. The girls' car was intercepted by the police at the Matka roundabout. A verbal altercation that followed between the two sides resulted in a traffic jam. A compromise was later reached. Tribune photos: Manoj Mahajan |
Panchkula police conducts course for potbellied cops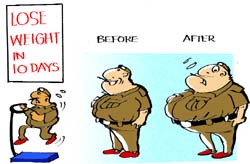 Panchkula, July 11
The local police have completed the first batch of an "anti-obesity course" for overweight cops aimed at bringing down their bulging waistlines to the desired 34 inches. However, at the end of the course, some police officials instead of losing weight gained an extra few kilos with at least three adding on 3 to 4 kg. Interestingly six police officials failed to cope with the exercises and the trainers had to declare them "medically unfit" for the course. After the course was completed last week Panchkula police officials sent a report to Ambala range inspector general KK Sindhu.
BTech student among 2 held for robbery
Chandigarh, July 11
The police arrested two students, both aged 19, suspected to be involved in two robbery cases reported in Sector 38 on Saturday night. The youths, who are reported to be friends who hail from Punjab, took to criminal activities to pay the expenses incurred at a Sector 30 motel where they had been staying for the past ten days.


Poor response to complaints on MC Facebook
Chandigarh, July 11
City resident Param Singh has posted five reminders on the Municipal Corporation (MC) Facebook regarding his grievance about parking reserved for tourist buses being used by the MC contractor for parking of cars at Fun Republic in Mani Majra. But he is waiting for a response from the MC in this regard.
Software engineer crushed to death
Panchkula, July 11
In a yet another accident on national highways in Panchkula district, a 28-year-old software engineer was crushed to death by a speeding truck on National Highway-22 near Saket Hospital, here, today.



Air Marshal Pramod Vasant Athawale, AOC-in-C Maintenance Command, inspects a guard of honour on his arrival at the Chandigarh Air Force Station. He is on a 2-day inspection visit to the No. 3 base repair depot. A Tribune photograph
Train carrying victims arrives
Chandigarh, July 11
Even 33 hours after the tragic accident involving the Kalka Mail at Fatehpur, UP, which left 69 dead and hundreds injured, the railway authorities here remained clueless about the fate of most of the 40 Chandigarh-bound passengers who were on the ill-fated train.
Chandigarh
Mohali
Panchkula
Kalka-Shimla toy train gets new engine
Chandigarh, July 11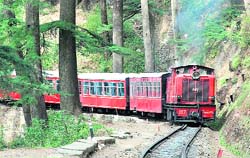 The Kalka-Shimla railway track, which has been fraught with technical difficulties, has got a new locomotive engine to smoothen out the irregularities for passengers, a senior railway official of the Ambala division said here yesterday.


A file photo of the toy train on the Kalka-Shimla section.
CITCO manager who finalised contract to probe wrongdoing!
Chandigarh, July 11
The CITCO authorities have apparently committed a faux pass by directing one of its managers, involved in finalising the tender for preparing staff uniforms, to investigate the allegations of use of substandard material during the preparation of uniforms.
Mohali City Centre set to get facelift
Mohali, July 11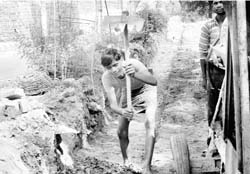 The face of the City Centre, Sector 62 here, which has been planned on the lines of Central Piazza in Sector 17 Chandigarh, is all set to change. After lying in total neglect for the past many years, the Greater Mohali Area Development Authority (GMADA) has started the work to facelift the area.



beautifying Work of a boundary wall in progress at Leisure Valley in Mohali on Monday. Tribune photo: Vicky gharu
4 sectors to have enforcement beat boxes
Chandigarh, July 11
Four main city sectors — 15, 17, 19 and 22 — will now have beat boxes for the enforcement staff, who will be on standing duty there.
Online facility for HUDA allottees
Panchkula, July 11
Allottees of the Haryana Urban Development Authority (HUDA) will now be able to pay their dues from any location through the portal of Punjab National Bank (PNB) as on Monday, 'Payment gateway and Online collection' facility was inaugurated by SS Dhillon, financial commissioner and principal secretary, Town and Country Planning and KR Kamath, chairman and managing director of PNB, at HUDA headquarters in Panchkula.
12 illegal structures removed
Chandigarh, July 11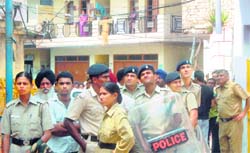 The municipal corporation's enforcement staff demolished 12 cantilevers of six houses, including four having three storeys, extended illegally and removed encroachment from municipal land worth crores of rupees at Kajheri village today. The drive was conducted under the supervision of Additional Commissioner-II Lalit Siwach and was assisted by other officials of the corporation.
A team from the Chandigarh police looks on as municipal corporation's enforcement staff carry out a demolition drive at Kajehri village on Monday. tribune photo: Vinay Malik
UT panel approves 20 cr for GMCH project
Chandigarh, July 11
The standing finance committee of the UT administration has approved a sum of Rs 20 crore for the setting up of Centre of Excellence to be developed alongside Mental Health Institute, here today.
MC issues100 notices to shopkeepers
Mohali, July 11
The Municipal Corporation has issued more than 100 notices and 500 are in the pipeline to shopkeepers for advertising various products on the boards in violation of the Punjab Municipal Corporation Act, 1976.
31 persons were born every minute, says health minister
Mohali, July 11
Controlling the population of India is very important if we wish to see our country prosper, said Satpal Gosain, Health and Family Welfare Minister, Punjab, at a state-level function organised here today in connection with World Population Day.
Complex issue for admn
Chandigarh, July 11
The "paying guest" issue seemed to have become a complex issue for the Chandigarh Administration.
Flute maestro enthrals audience
Chandigarh, July 11
The soulful strains of melody emanated from the flute of an acclaimed flautist, Ravinder Singh at the Pracheen Kala Kendra's 166th baithak programme enthralled audience at the kendra auditorium here today.
Tree plantation drive at Mohali
Mohali, July 11 In a major greenery drive in Mohali, the horticulture wing of GMADA has begun planting 10,000 trees saplings of 13 different species at a cost of around Rs 1 crore. For the first time, a minimum 4 ft tall tree saplings are being planted to ensure a high-survival rate.
Man dies after being hit by train
Zirakpur, July 11
A 32-year-old man died after being hit by the Delux Express coming from Ambala side on the Chandigarh-Ghaggar railway track near Gazipur Jattan village here this afternoon. The deceased was identified as Nirmal Singh, a resident of Nagla village.


Huge rush on Day 1 of college admissions
Chandigarh, July 11
A huge rush was witnessed in city colleges on the first day of admissions today as students thronged both government and private colleges alike.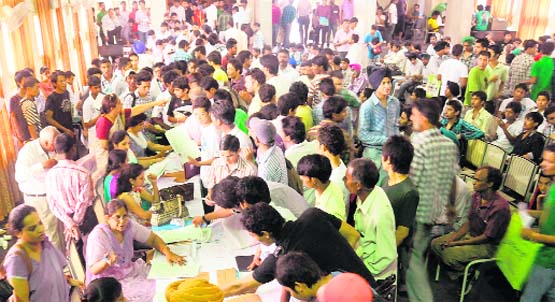 Students throng Government College, Sector 11, Chandigarh, on Monday. Tribune photo: Pradeep Tewari
No 'room' for students in education hub
Chandigarh, July 11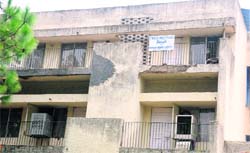 Stringent selection criteria and long waiting lists in both private and government-run hostels located in the city has become a nightmare for students coming to the city each year, particularly in wake of spiralling prices of paying guest and rented accommodations.



A view of YWCA hostel, Sector 11, Chandigarh. Tribune photo: Pradeep Tewari
For students, lodging comes at a price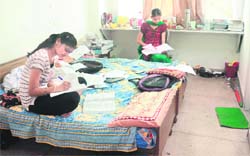 Chandigarh, July 11
With an exponential increase in the number of coaching institutes in the city and similar rise in the number of courses being offered by colleges and Panjab University now, lodging and spiralling rents for the same have become a prime concern of students, who come to the city to study.

A twin sharing room at AIWC hostel, Sector 11, Chandigarh. Tribune photo: Pradeep Tewari
Visually challenged students demand release of result
Chandigarh, July 11
Alleging insensitivity on the part of the Punjab School Education Board (PSEB), about a dozen students of the Institute for the Blind, Sector 26, here are demanding the release of their 10+2 result immediately.