Miraculous escape for bus passengers
Jammu, July 11

About 30 passengers, mainly children, had a miraculous escape when the steering wheel of the bus they were travelling in got jammed on the Katra-Reasi road this afternoonBus driver Sukhdev Singh said the steering wheel was jammed and he lost control over the vehicle.The passengers, mostly residents of villages around Katra town, were on the way to Sulah Park, a picnic spot, near Reasi.

CLOSE SHAVE: A bus perched precariously after its driver lost control over it on the Katra-Reasi road on Monday. Tribune photo: Anand Sharma

Tributes paid to Begum Akbar Jahan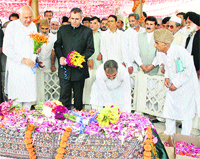 Srinagar, July 11
Tributes were paid to Begum Akbar Jahan, wife of the National Conference (NC) founder, Sheikh Mohammad Abdullah, and mother of Union Minister for New and Renewable Energy Farooq Abdullah, on her 11th death anniversary here today. Wreaths were laid on her grave at Naseem Bagh on the banks of the Dal Lake, near the Hazratbal shrine.

Union Minister for New and Renewable Energy Farooq Abdullah and Chief Minister Omar Abdullah pay floral tributes to Begum Akbar Jahan at her grave in Srinagar on Monday. Photo: Amin War

Bail pleas of govt officials, contractors rejected
Jammu, July 11
Special Judge, Anti-Corruption, Jammu, Pawan Dev Kotwal today rejected the bail applications of the then Director of the Consumer Affairs and Public Distribution Department, Hemant Kumar Sharma, at present serving as Special Secretary, Higher Education, and Saif-ud-Din Giri, Krishan Kumar Sharma and Zaffar Ullah Bhat, all then posted as Assistant Directors in Ramban district, in the foodgrain transport scam for causing a loss of Rs 25,67,106 to the exchequer.
Cleanliness drive in Leh on July 13
Leh, July 11
Residents of three wards of the old Leh town, Skayosgoksum, Stalam and Stayoyokma, have decided to organise a cleanliness drive in the town on July 13.
Medical camp organised
Jammu, July 11
The Jammu Institute of Ayurveda And Research organised a free medical camp at Nai Wala village in Akhnoor today.A team of specialist doctors and pharmacists, including Dr Anil Badhoria, Dr Abhishek Magotra, Dr Rahul Gupta, Dr Komal Bangotra, Dr Sachin Fotra, Dr Roshi and Dr Ritu, examined the patients. Around 150 patients suffering from various diseases were treated at the camp.
LoC traders' delegation calls on Governor
Srinagar, July 11
A delegation of the Chamber of LoC Trade, Jammu and Kashmir, met Governor NN Vohra here today and submitted a memorandum containing their demands to him.
Jammu singer mobilises funds for Faiz Ghar
Jammu, July 11

When a school going girl and budding singer of Jammu, Seema performed before legendary Urdu poet Faiz Ahmed Faiz during one of his visits to Punjab, it got her accolades and a congratulatory note from the poet. The child artist was deeply touched by the encouraging gesture of Faiz Sahab.


Moneeza Hashmi (left), daughter of Faiz Ahmed Faiz, and Seema Anil Sehgal. A file photo

State bus passengers to get computerised tickets soon
Jammu, July 11
The Jammu and Kashmir State Road Transport Corporation will switch over to the electronic ticketing system soon.As a result,passengers travelling by the corporation buses will get computerised tickets.
Pilgrims proceed to the Amarnath cave shrine on Monday. Photo: Amin War
M.Ed students hold farewell party
Jammu, July 11
Students of M.Ed, Ist semester (2010-11) of the Directorate of Distance Education, University of Jammu (JU), organised a farewell party at the Postgraduate College of Education, Canal Road, yesterday.
Reserved category employees hold protest
Jammu, July 11
Charging the state government with violating rules regarding reservation while finalising the seniority list of Kashmir Administrative Services (KAS) officers, a large number of employees under the banner of the All-India Confederation of SC-ST-OBC Organisations held a demonstration here yesterday.The employees said the seniority list was illegal and violative of the Constitutions of India and Jammu and Kashmir as officers belonging to the reserved categories were placed at the bottom.
Summer camp for children
Jammu, July 11
A summer camp being organised by the PowerGrid Employees' Welfare Association concluded at the community centre of PowerGrid here today. It was conducted under the patronage of Executive Director of PowerGrid SC Singh.