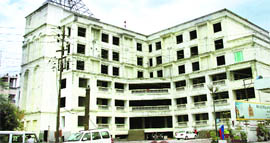 Out of Limbo
With the realty sector back on the rails in Punjab, the construction of several mega projects including shopping malls, hotels and multiplexes that had been put in the cold storage during the slowdown has once again started gaining momentum in Jalandhar.

Construction is in full swing at MBD Neopolis Mall . Photos Malkiat Singh

Tax Tips


No exemption on short-term gain


Save IT records for seven years


Purchase in own name


Buy before August, 2012


No claim


Utilising sale amount


Investing sale proceeds
Green House
FruitFull Effort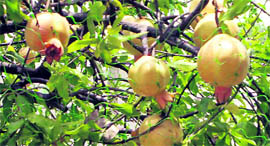 Time to plant fruit tree saplings is approaching fast. It is of utmost importance to keep certain factors in mind before planting a fruit tree. It is not only the city gardeners whom we advise to plant fruit trees in their home gardens but the farmers too

Proper care at the time of planting saplings will result in fruit trees yielding a healthy crop

REALTY BYTES
Tata's new township project
Tata Housing Development Co. Ltd. and Arvind Limited recently floated a 50:50 joint venture to develop an integrated township project spread over 134 acres near Ahmedabad.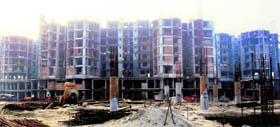 At sea in Shahberi (Noida extension)
Interrupted Home run
Once touted among the most attractive destinations for housing projects in the National Capital Region, uncertainty looms large over Greater Noida after 156 hectares of farmland for realty projects was ordered to be returned to villagers.
Ease your loan load
Sachin is a 32-year-old person working in a IT company. His family includes a wife (homemaker) and a four-year-old daughter, Sachin had taken a home loan of Rs 20 lakh one-and-a-half year back at 7.99 per cent for a period of 20 years with a monthly EMI of Rs 1,800. Apart from repaying the home loan, Sachin's other financial goals include planning for his daughter's education, marriage and saving for his own retirement.
On a weak wicket
Realty stocks may have staged a minor recovery in the past few weeks but the sentiment remains weak due to continuing disputes over land acquisitions, hikes in interest rates and the apex bank's caution on exposures to developers.
REALTY GUIDE
Good investment
Q. I am a small farmer and own about 2.75 acres on a prime location on the Chandigarh-Ludhiana highway. Currently, I am engaged in vegetable farming and want to continue farming. A Gurgaon-based builder has offered to buy my land at a good price. Should I sell the land to the builder? Please advise. — Gurmukh Singh
Guest Column
Strike a dream deal
Buying a house is not a cakewalk and there are several factors that should be considered before finalising a deal to fulfill your dream of owning a place of your own. Here's a quick check list in this regard.
No decline in lendings
Though the Reserve Bank of India has laid out strict due diligence standards for banks while sanctioning loans to real estate companies, industry experts believe lending to the sector will not decline.