ART & LITERATURE

'ART & SOUL
ENTERTAINMENT

TELEVISION

GARDEN LIFE

NATURE

FOOD TALK

CONSUMER, BEWARE!

FASHION

GLOBOSCOPE

BRIDGE

ULTA-PULTA
EARLIER FEATURE

TRAVEL

RELATIONSHIPS

DREAM THEME

TIME OFF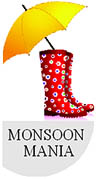 Rain
revelry
This season brings memories of monsoon melodies and more. Jyothi Venkatesh chats up Bollywood movers and shakers on the things that get them nostalgic or naughty in the rains…
Blissful in Bandra
Amrita Rao, actor
THe one song with which I always associate rain is Jo Haal Dil Ka, which was picturised on Aamir Khan and Sonali Bendre in John Mathew Matthan's Sarfarosh. I can still recall the freshness that the score had.
Festivity in the rains
Teej is the queen of several festivals that accompany the rains. Women feast on the choicest of monsoon delicacies like kheer and malpuas, writes Nirupama Dutt
THE woman in a white sari is grinding wheat inside the tall jail walls and staring at the dark clouds gathering in the sky. She breaks out into a song, Ab ke baras bhej bhayia ko babul, sawan mein leejo bulaye re (This year send my brother, O' father. Do call me home this monsoon).
Wet and bold
With the arrival of the rainy season, fashions are breaking all rules, says Nagmani
In the fashion world, every moment is an opportunity. This year designers have made sure that the wet season is not a dampener. If monsoons are the time to cut lose and get wet in the first shower, they are also the time to look stylish and trendy.
Rain magic
The monsoons are a visual treat in India. From Kerala to Goa and from Kinnaur to Shillong, nature breaks out into a dance every season, write Gyan Marwah, Sobita Shivshankar and Subodh Samuel
Mesmerising Kerala
DURING the monsoons, the colours on nature's palette in Kerala are green foliage and the grey overcast skies. Interestingly, unlike Goa, Kerala is not known as a monsoons' destination. But a euphoric surprise awaits tourists, who come for a vacation during the rains.
Splashy numbers
Filmmakers have been using rain as fourth dimension to intensify emotions like romance and rage, says Deepa Karmalkar
THE first showers brought in the pakora platters and adarak chai. And now as monsoon gathers momentum, most of us are filled with a desire to sing and dance in the rains. "I love dancing in the rains and when there isn't any rain — I head for rain dance corner in the resorts," declares Shaina, a collegian.