Omar visits Gurez by road to inaugurate tourism festival


Srinagar, July 24
Chief Minister Omar Abdullah had an extended drive on the 85-km long road from Bandipore to Gurez today. He said the purpose behind his visiting Gurez by road was to assess the condition of the road and get a first-hand appraisal of the development works by interacting with the people at various places.

Omar Abdullah, Chief Minister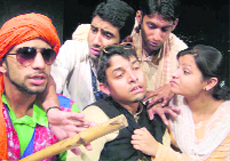 Natrang completes 400 shows
Jammu, July 24
The Natrang theatre group completed 400 shows in its weekly Sunday theatre series by staging Balwant Gargi's popular play, 'Lekhak', under the direction of Neeraj Kant here today.



A scene from a play, 'Lekhak', being staged at Natrang's Sunday Theatre in Jammu. A Tribune photograph

Banks, shopkeepers penalised for power theft
Jammu, July 24
Mendhar town in Poonch district witnessed a shutdown after 2 pm yesterday as the Mobile Magistrate, Electricity, V Parihar, arrived at the Mendhar market along with the officials of the Power Development Department (PDD) for an on-the-spot verification of actual electricity loads of various outlets, government departments and banks.
Amarnath pilgrim count touches 5.5 lakh mark
Jammu, July 24
Amid tight security, 25th batch of pilgrims comprising 1,504 people left for the Amarnath yatra from here today.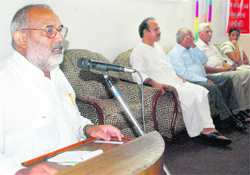 Seminar on 'freedom of expression' held
Jammu, July 24
A seminar on "Challenges to Freedom of Expression" was organised by the Forum for Democratic Rights (FDR), in collaboration with several other students and social organisations in which noted Gandhian activist, Himanshu Kumar was the key speaker.

A speaker at a seminar on "Challenges to freedom of expression" organised by the Forum for Democratic Rights in Jammu on Sunday. A Tribune photograph

Samba Fraud
Five-day police remand for accused
Jammu, July 24
The two accused, a medical practitioner, Arvind Kumar Bhagat of Ramgarh in Samba, and his accomplice Rakesh Edwin from Punjab, who were arrested on July 22 for duping investors of Rs 50 crore, have been sent to a five-day police remand today.
Security beefed up ahead of Independence Day
Srinagar, July 24
Ahead of the Independence Day celebrations in the state, security has been beefed up in the Kashmir valley and surprise security checks are being conducted by the police and other security agencies to foil any attempt by militants to disrupt peace.
Jammu-Srinagar highway to get 9-km-long tunnel
Jammu/Gurez, July 24
The Centre will construct a 9-km-long tunnel on the Jammu-Srinagar National Highway to improve the connectivity of several villages with the only road-link to the Valley.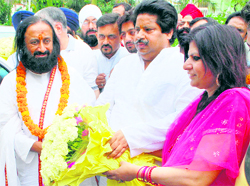 Minister for Revenue, Relief and Rehabilitation Raman Bhalla welcomes Sri Sri Ravi Shankar, founder of the Art of Living, during his visit to Jammu on Sunday. A Tribune photograph

Respond to RTI requests within 30 days, says CIC
Srinagar, July 24
To discuss the status of implementation of the RTI Act, state Chief Information Commissioner (CIC) GR Sofi held a meeting with officials designated as Public Information Officers, Assistant Public Information Officers and first Appellate Authority at Kargil in Ladakh region yesterday.
Rs 103 cr for Anantnag annual plan outlay
Srinagar, July 24
An annual plan outlay of over Rs 103.52 crore for the current financial year, which is about Rs 5.23 crore more than last year's plan allocation of Rs 99.56 crore, has been approved for Anantnag by the District Development Board.
Rs 56 cr approved for Samba
Jammu, July 24
The District Development Board meeting of Samba was held under the chairmanship of Deputy Chief Minister Tara Chand and an annual district plan of Rs 56.85 crore for 2011-2012 was approved.