At last, Fazilka gets dist HQ status
Praful Chander Nagpal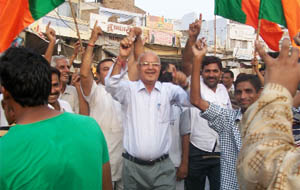 Fazilka residents in a jubilant mood at the Clock Tower crossing.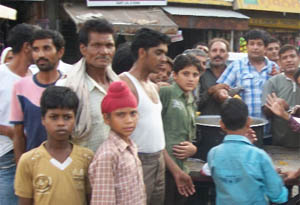 Residents distribute sweets in Fazilka. Tribune photographs
Fazilka, July 27
After the residents of the border town received the news of Fazilka being declared a new district of Punjab, they celebrated the event like a feast. The residents thronged the historic Clock Tower where the months-long agitation was started last year.
Sustained struggle of the people for over two decades and support by Fazilka MLA and Cabinet minister Surjit Kumar Jyani, who had declared to get district headquarters status for Fazilka succeeded at last.
Jyani, who was overjoyed with the decision, said he has fulfilled his promise and duty towards the people of Fazilka, who had shown confidence in him. He thanked the CM Parkash Singh Badal for taking the appropriate decision.
Sanjha Morcha convener Sushil Gumber and member Raj Kishore Kalra, who had been leading the agitation for getting the district headquarter status, said it is a victory of the people of the area.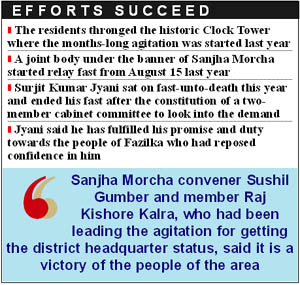 Graduate Welfare Association general secretary Navdeep Asija said the century old historical town, which was one of the oldest sub-divisional headquarters of the state, got its due recognition at last. "The decision would boost the economy of the newly carved out border district and provide more employment avenues to the younger generation," he added.
Beopar Mandal president Ashok Gulbadhar and secretary Satish Dhingra said it is a matter of great satisfaction that the long-pending demand of the traders and entire area residents and people of nearby Jalalabad sub-division has been fulfilled. They said the traders would be benefitted the most. They said now the residents of Abohar, Fazilka and Jalalabad do not need to undertake a tardy journey for official works at district headquarters.
Block Congress Committee Fazilka president Surinder Kalra thanked the Punjab Government for granting district headquarters status to Fazilka. He said the Congress party had been supporting the demand during the agitation.
All Employees Coordination Committee senior vice-president Shashi Kant hailed the decision. Notably, the demand was raised consecutively by all the socio-political and traders organisations. A joint body under the banner of Sanjha Morcha started a relay fast from August 15, last year. Surjit Kumar Jyani sat on fast-unto-death on January 5, this year and ended his fast after the constitution of a two-member cabinet committee to look into the demand.
The committee comprised Deputy CM Sukhbir Singh Badal and then local government minister Manoranjan Kalia. After the exit of Kalia from the cabinet, Tikshan Sud was nominated as member.
It was Tikshan Sud, who was instrumental on behalf of the government to persuade Jyani to end his fast. He had then assured of a favourable decision which ultimately came true with the report by him and Sukhbir to create a new district.