Cross-LoC traders want more items on trade list
Jammu, July 29
The cross-LoC trade, the biggest ever confidence-building measure between India and Pakistan, continues to remain on a life-support system. It is all due to the slackness on the part of the state government to redress the grievances of over 600 cross-LoC traders in the state.
In GMCH, a toilet serves as laboratory too
Jammu, July 29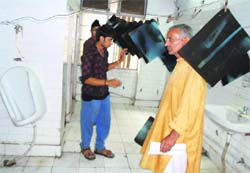 A toilet in the Radio Diagnosis and Imaging Department of the Government Medical College and Hospital (GMCH), which daily caters to thousands of patients from all the 10 districts of the Jammu region, is being used for laboratory work. The patients and their attendants, who come to the department for X-rays, are given the X-ray films at the toilet.

Patients and their attendants wait in a toilet at the GMCH in Jammu on Friday to collect the X-ray films. Photo by writer
Pandit bodies protest separatists' meeting with Hina Rabbani
Jammu, July 29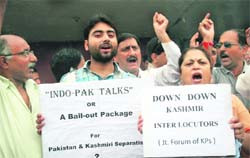 A joint forum of the Kashmiri Pandit organisations today protested against Pakistan Foreign Minister Hina Rabbani Khar's meeting with the separatists in New Delhi recently.



Members of the joint forum of Kashmiri Pandit organisations protest against the meeting of the Hurriyat leaders with Pakistan Foreign Minister Hina Rabbani Khar in Jammu on Friday. Tribune photo: Inderjeet Singh
Mirwaiz resents Centre's objection to meeting
Srinagar, July 29

The chairman of the moderate faction of the Hurriyat Conference, Mirwaiz Umar Farooq, has expressed concern over the Centre's objection to the Hurriyat leader's meeting with the visiting Pakistan Foreign Minister, Hina Rabbani Khar, in New Delhi recently.


Hurriyat leader Syed Ali Geelani talks to mediapersons after a meeting with Pakistan Foreign Minister Hina Rabbani Khar in New Delhi on Tuesday. — PTI
3 IEDs detected in Anantnag
Srinagar, July 29
A major tragedy was averted today with the timely detection of three IEDs planted by militants in a local bus near Lower Munda toll post on the Srinagar-Jammu National Highway in Anantnag district.
"Hand over Mubarak Mandi complex to ASI"
Jammu, July 29
The Mubarak Mandi Bachao Andolan today demanded that the historical complex be handed over to the Archaeological Survey of India (ASI) for preservation.
Army holds equine training course for vet interns
Jammu, July 29
An equine training course for veterinary interns was conducted recently in which 51 bachelors of veterinary science and animal husbandry interns of the Sher-e-Kashmir University of Agricultural Sciences and Technology, Jammu, were trained in the finer aspects of equine medicine, surgery and management.
Removal order of probationer constable quashed
Jammu, July 29 A Division Bench of the Jammu and Kashmir High Court comprising Justice Virender Singh and Justice Hasnain Masoodi yesterday quashed the order dated October 12, 2000, of the SSP, Jammu, whereby, the petitioner, a probationer constable, was dismissed from the service.
One killed as minibus overturns
Jammu, July 29
One person was killed and four others were injured when the minibus they were travelling in skidded off the road and overturned in the Satwari area of the city today. The speeding vehicle overturned while negotiating a curve at the main chowk at Satwari in the morning when there was little traffic on the road. The deceased has been identified as the minibus conductor, Gulam Nabi, a resident of Purmandal.



A minibus, which met with an accident at Satwari Chowk in Jammu on Friday. Tribune photo: Inderjeet Singh