Browne takes over as Air Force chief
Ajay Banerjee
Tribune News Service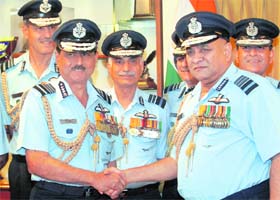 Air Chief Marshal NAK Browne (L) with outgoing Air Chief PV Naik in New Delhi. Tribune photo: Manas Ranjan Bhui
New Delhi, July 31
Ace fighter pilot Air Marshal Norman Anil Kumar Browne today took over as the 23rd chief of the Indian Air Force (IAF) from Air Chief Marshal Pradeep Vasant Naik, who retired after putting in 42 years of service, at a brief ceremony at Vayu Bhavan, the air headquarters here.
Born in Allahabad on December 15, 1951, Browne was commissioned into the fighter stream of the IAF on June 24, 1972. He has the wide-ranging experience of flying Soviet-era MiG 21s to the very latest Sukhoi-30 besides Jaguars and Hunters, logging about 3,100 hours of flying.
He is a recipient of the Param Vishist Seva Medal (PVSM), Ati Vishist Seva Medal (AVSM), Vayu Sena Medal (VM) and was appointed one of the Honorary ADCs to the President of India.
He started off with an assuring message saying that "the IAF is poised on the path of transforming itself into a potent strategic force".
In his address to the Air Force, the ACM today outlined his vision statement 'People first, mission always' saying our people must receive our highest attention.
Some four years ago, the new chief was part of the core team that planned the modernisation of the IAF's next generation of warplanes, new attack choppers and a series of radars and air-defence mechanisms. He was then the Deputy Chief of Air Staff (DCAS) at the air headquarters.
He was a member of the initial core team which trained on the Jaguar aircraft in the United Kingdom and went on to command a premier Jaguar strike squadron subsequently. He is a fighter combat leader and a graduate of the Air Command and Staff College, Alabama, USA. He has had instructional tenures at the Tactics and Air Combat Development Establishment (TACDE) and the tri-services Defence Services Staff College (DSSC), Wellington.
During his 39-year career, he has held various operational and staff positions.