M A I N N E W S
Adarsh Housing scam
CBI records Maharashtra ex-CM Shinde's statement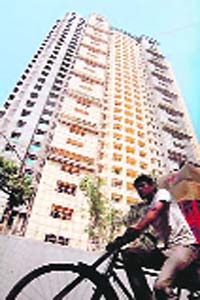 New Delhi, July 31
The CBI today recorded the statement of Union Power Minister Sushil Kumar Shinde in the Adarsh housing case as he had accepted a proposal recommending 40 per cent allotment of flats to civilians in the Mumbai society meant for Kargil victims when he was Chief Minister.
With the CBI trying to wind up the probe in the multi-crore scam, which had stirred a political storm in Maharashtra leading to the resignation of Ashok Chavan as Chief Minister, an agency team arrived here from Mumbai and quizzed him on the reasons for clearing the file sent by Chavan, who was state Revenue Minister between 2003 and 2004.
When contacted, Shinde refused to divulge the details of his examination by the CBI. "It was only a recording of statement and it won't be proper to divulge details as the matter is under probe," Shinde said.
While the CBI maintained silence on the investigation, political circles attach significance to the fact that the development comes on the eve of the monsoon session of Parliament during which questions could be raised as to why he has not been questioned by the CBI.
Shinde, as the Chief Minister of Maharashtra, had accepted the proposal sent by Chavan as Revenue Minister, recommending that 40 per cent of flats in the proposed society be allotted to non-Army members. The society was originally meant for the kin of Kargil war martyrs.
After Shinde, the CBI may now record the statement of another Union minister Vilasrao Deshmukh, who too had dealt with Adarsh files when he was the Chief Minister.
In January, the CBI had registered a case against 14 persons, including some retired Army officers, government officials and Chavan, who had succeeded Deshmukh as Chief Minister but had to resign when the Adarsh scandal broke out, on charges of criminal conspiracy, fraud and misuse of official power.
In May, the CBI had told the Bombay High Court that there was no prima facie evidence linking Deshmukh and Shinde to the scam. A PIL had sought a probe against the two ministers.
Shinde, during whose tenure several clearances were granted for housing, had said earlier that the plot in Colaba on which the controversial Adarsh Cooperative Housing Society building has been erected, was "not reserved" for defence personnel and Kargil war heroes.
Filing an affidavit before a two-member panel probing the Adarsh scam, Shinde had said, "The plot where Adarsh stands is owned by the State of Maharashtra."
"The Letter of Intent dated January 18, 2003, made it clear that the land was allotted according to Government Resolution (GR) of July 1999 which did not provide reservation to war heroes," the Union Minister had said in his affidavit.
He had said no complaints on Adarsh allotment were received by him during his tenure as Maharashtra Chief Minister. — PTI
Probe Trail
The development comes on the eve of the monsoon session of Parliament during which questions could be raised as to why he has not been questioned by the CBI
Next, the CBI may record the statement of another former Chief Minister Vilasrao Deshmukh