Old is gold

There are vintage cars and then there are vintage numbers too. Those of you who are not aware these numbers are the smaller digit numbers that catch your eye on the road. When sky is the limit when it comes to owning the most sought after car numbers on the road, there are those who are not waiting for the next series to claim the numbers of their dreams.

owner's pride: Khushdeep Mann believes the number on his SUV is as attractive as the mean machine

Backstage boys
The auditorium comes alive just as the curtains go up and the lights focus on the main actor.
Kareena is a sweetheart: Deepika


She came into the spotlight with her very first film, Om Shanti Om. It was no longer only SRK's or Farah's film, but became Deepika Padukone's as well. She was noticed for her talent, looks and jhatkas. With every passing year, this newcomer has grown, and has become the queen bee of Bollywood. With experience on her side, she is a tough competitor for her contemporaries. Her latest film, Aarakshan, is all set to release.

QUEEN BEE: Deepika Padukone

Emraan's image makeover
Emraan Hashmi has finally achieved the success that he deserved all along. He has done films with the likes of the Bhatts, and has also delivered hits such as Once Upon a Time in Mumbai outside of the camp. Murder 2, in which he was the solo male lead, has been declared a blockbuster.


Graffiti Aradhika & Sesh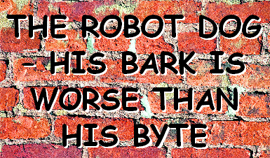 James Franco to turn art teacher
Hollywood actor James Franco is set to add yet another feather to his hat - he is turning art teacher for a special one-off seminar The 33-year-old star has directed a short film, is a keen artist and photographer and is also studying several courses at two separate revered US universities.
I grew up on Clint Eastwood's Westerns: Daniel Craig
His latest role of a cowboy fighting aliens is a far cry from the sophisticated and cool "Mr Bond" but Daniel Craig, a Clint Eastwood fan, enjoyed getting dirty in his new film Cowboys And Aliens.
Paltrow desperate for Coldplay
Hollywood actress Gwyneth Paltrow is desperate to get a preview copy of the new Coldplay album.The 38-year-old star, who is married to the band's frontman Chris Martin, says she is unable to possess the new LP, despite her close connection with the group.
David Beckham wants one more kid!
Ace footballer David Beckham, who recently became the proud father of a daughter, says he is keen to have one more child as that would complete his family.David and wife Victoria Beckham have three sons — Brooklyn, Romeo and Cruz, and a two-week-old daughter Harper Seven.
Refreshing break
Beyonce has revealed that she took a year off from making music so that she can refresh her mind. Beyonce, 29, revealed what led her to take the sabbatical and what she did during that time."It was beginning to get fuzzy - I couldn't even tell which day or which city I was at," she shared."I would sit there at ceremonies and they would give me an award and I was just thinking about the next performance.


TIME OFF: Beyonce
My baby 'smells amazing': Orlando Bloom
Orlando Bloom says that one of his favourite things about his baby son Flynn is his "amazing smell".The 34-year-old English actor became a father for the first time when his model wife Miranda Kerr gave birth to their son Flynn six months ago and he says that he can't get enough of fatherhood, especially his boy's intoxicating scent.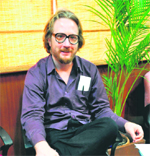 Past perfect
Jesse Knutson, a Sanskrit scholar from the US, finds it interesting to rediscover lost meanings
Living in Fremont, California, among all prevailing Indian community made Jesse Knutson, a visiting scholar in the University of California, Berkeley, interested in all things Indian. He chose to study Sanskrit language.


code-decode: Jesse Knutson
Wooded passion
"Whenever I would look at a tree and tell my wife that the bark looks like a dog, she would laugh at me," says Maj Gen CS Bewali. Today, the same image of a dog has found place as part of an exhibition at Punjab Kala Bhawan, Chandigarh.
GET PHYSICAL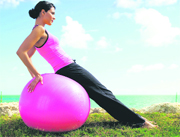 Go intense
Interval training has been the basis for exercise routines for years. But recently there's been a lot of buzz about it. Interval Training is nothing more than a way to vary your exercise routine to boost your workout efficiency and progress. Athletes regularly engage in interval training exercises to raise their performance levels. Fortunately, you don't have to be a sophisticated athlete to enjoy the benefits of interval training.
Grapes are not sour!
Here's something that would interest all the sun burnt, sun dried and sun damaged people! A study by researchers from the University of Barcelona and the CSIC (Spanish National Research Council) has indicated that some compounds found in grapes help protect skin cells from the sun's ultraviolet radiation.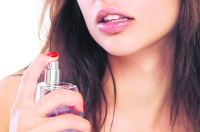 The scent of a woman
A new survey has revealed the top 20 tricks women employ to make themselves feel seductive. A simple spray of favourite perfume comes top of the list for helping women feel sexy.A new hairdo and a happy smile also rank highly.Women also hailed settling down into a warm bath, showing off their well-maintained legs and wearing a push-up bra as quick fixes for achieving the "it" factor.
Mark Wahlberg wants Entourage film
Hollywood actor Mark Wahlberg wants to take his hit TV series Entourage to the big screen. The 40-year-old star is an executive producer on the popular comedy drama, which is loosely based on his own early experiences in Hollywood.
Astro turf
Chatter box
The year ahead
Trendsetter
Boyish charm
Every person has a sense of style in his or her own right. Yet there are only few who'd attract a second glance, who have the power to make a camera go zoom on them. The magic could lie in tousled hair, or it could lie in torn jeans. This week's face in the crowd Tarandeep Singh Bawa, an MBA student, may not make us fall in love with his style in the first glance but his conviction makes him deserve a definite second chance.
Your sense of style is…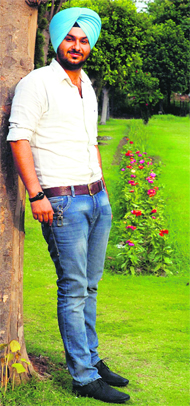 I believe style is all about personal comfort. It's also something that elevates your personality in your social circle and attracts the attention of your companions. And if one believes in his sense of style, it further gives you the confidence to interact.
Latest addition in the wardrobe…
Many. Since life is full of so many different occasions, there's one for each. A crisp white kurta pyjama, a pair of jeans by Guess and a tee by Gantt…
Brand freak or street smart?
For me clothing is always for personal comfort, be it branded or picked from the streets. Mainly the fabric, texture and cut play a vital role while selecting any garment.
Choose one: Sporty, Glamorous or Chic
Sporty.
Favourite style icon?
Amitabh Bachchan. The man knows how to dress up, carry himself…
Who's the worst-dressed celebrity around?
Govinda for his loud sense of dressing.
One fashion trend you don't understand…
FTV-Creations. I think they are wild, weird and not wearable at all.
Your take on accessories
They should be limited and have that exclusive and individualistic touch.
What boosts your confidence
A sense of belief in whatever you are wearing. I guess compliments can make anyone's day.
(As told to Manpriya Khurana)
If you think you too fit in the profile, get in touch with us at lifestyletribune@gmail.com. We'll sift the best from the rest