Poll Mood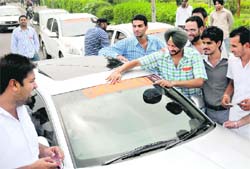 POLL MODE: Members of PUSU paste party posters on their vehicles at Panjab University in Chandigarh. Tribune photo: Manoj Mahajan
More paper work for existing registered owners
Chandigarh, August 4
The change of software for the registration of vehicles by the Registration and Licensing Authority (RLA) early this year is set to spell hardship for owners of vehicles registered before 2010. Those in possession of a registration certificate issued in 2010 and earlier (green RC), have to submit additional documents for procuring a high-security registration plate (HSRP) in the absence of synchronisation of the old and new softwares. The RLA had switched to Vahan software, nationally centralised software for preserving and updating records of registered vehicles this year.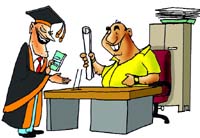 Fake degrees used to seek jobs abroad
Chandigarh, August 4
In response to details sought under the Right to Information Act, Panjab University has confirmed at least 262 cases in which bogus PU academic degrees were misused in applying for admission in colleges or seeking employment abroad during the past two years.
Class X student injured in clash
Chandigarh, August 4
After a period of lull, violence seems to be back in city schools. A 17-year-old class X boy, Vishwajeet Singh, was injured in a clash held outside the gates of Government Model Senior Secondary School, Sector 16, today.
Vendors getting bulk orders
Chandigarh, August 4
With only two authorised vendors operating in the city for supplying the HSRPs, increased workload and heavy rush is resulting in a long waiting list of vehicle owners. The vendors are burdened with bulk orders and are asking customers to wait for more than a week for the plates. Celex Technology Limited, operating from the Sector 17 ISBT, has received over 100 orders for the HSRP in the last three days and is asking customers to wait till August 12 for the plates. The company is yet to set up its own manufacturing unit in the city.
Don't summon married daughter, plead parents
Panchkula, August 4
In an unusual request, parents of a Kalka gangrape rape victim today requested the court not to summon their daughter since she was now married and her husband and in-laws were not aware of her traumatic past.
DC orders ban on fruit sellers on national highways
Zirakpur, August 4
For ensuring free flow of traffic on the stretch between Zirakpur-Ambala and the Balongi-Kharar national highways, the Mohali Deputy Commissioner has ordered that vendors and rehriwalas would not be allowed to function along the roadside.



Vendors sell fruits on the roadside at Kharar (left) and the Zirakpur border. Tribune photos: Vicky Gharu and Nitin Mittal
Roads cry for repairs, but MC & GMADA turn a deaf ear to residents
Mohali, August 4
Development of the town has failed to touch the lives of Mohali residents. Battered and potholed patches on roads make driving a nightmarish experience for commuters everyday.



A stretch of the road separating Phases 1 and 2 of Industrial Area (left) and another near the Forest Complex at Sector 68 of Mohali. Tribune photos: Vicky Gharu
Four kids rescued
Panchkula, August 4
The District Child and Social Welfare Department today come forward for the rescue of four minor children, who were shown the door by one of their relatives in Majri Chowk area in Panchkula.
Advocate surrenders
Panchkula, August 4
A local advocate surrendered at the district courts here yesterday in connection with a case of forging property documents. The accused, Brig PS Ghumman (retd), had been booked after two brothers, Kingston Gill and Upinder Singh, alleged that their sister Amrita attempted to usurp their house at Sector 6 here.
Lone BSP, 3 BJP councillors to lose their wards
Chandigarh, August 4
In a development that may bring cheer to the ruling Congress, five sitting councillors of the Municipal Corporation of Chandigarh (MCC), including three of Bharatiya Janata Party (BJP) and the lone Bahujan Samaj Party (BSP) councillor, will lose their wards in the forthcoming civic body polls.
Upload list of faculty members on website: MCI
Chandigarh, August 4
The Medical Council of India (MCI) is likely to make it mandatory for all medical colleges to upload the list of their faculty members, with relevant details and photographs, on its website in order to curb the practice of 'dummy professors' being showcased by unscrupulous institutes for gaining recognition for new courses.
Contractors making money off CITCO's laxity
Chandigarh, August 4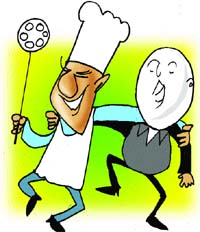 Certain private contractors supplying poultry and fish to the Chandigarh Industrial and Tourism Development Corporation (CITCO) for consumption at its hotels could not have asked for more. The state-run enterprise is suffering losses running into lakhs of rupees as it has been paying much more than the retail market price to buy items like eggs and fish, benefiting contractors. By rough estimates, CITCO is paying around Rs 2 lakh more per month to procure poultry and fish. Sources reveal that the corporation finalised the tender for the whole year to procure the poultry products, but the rate variation to buy the same products in summer and winter was not taken into consideration. The rates of the products in summer are always less.
e-filing of IT returns clicks
Chandigarh, August 4
Electronic filing of income tax returns by the salaried class seems to have taken off in a big way as the number of returns received by the Aaykar Seva Kendra (ASK) this year till July 31 has declined almost 30-40 per cent compared to the previous year.
Cyber cell files chargesheet
Chandigarh, August 4 The cyber crime cell of the Chandigarh Police today filed a detailed chargesheet against IA Quadri, accused of stealing confidential data of his employer's company, Metro Exporter Private Ltd, along with two others.
57 CTU conductors recalled to duty
Chandigarh, August 4 As many as 57 Chandigarh Transport Undertaking bus conductors who were put off duty and assigned other tasks have been requisitioned back on buses following a report that was published in these columns on July 25.
P'kula MC to spend Rs 3 cr on streetlights
Panchkula, August 4
The town is set to don a new look at nights with sodium electrical lights as the Municipal Council is to take up the issue to install such lights in the streets at a cost of Rs 3 crore. Over 50 per cent of the streetlights in the sectors are lying out of order.

A tale about rejection
Chandigarh, August 4
The Adakar Manch, Mohali, gave a new dimension to the ongoing festival of Rabindranath Tagore' s works by staging a Punjabi play "Baat Suhe Phullan Di" at the Tagore Theatre today.



Artistes stage the play 'Baat Suhe Phullan Di' at Tagore Theatre, Sector 18, Chandigarh, on Thursday. Tribune photo: Pradeep Tewari



PEC shows 4 students the door, detains 20
Chandigarh, August 4
abbing a seat in region's prestigious engineering college-PEC University of Technology may be tough, but once admitted, "proving" that one has an aptitude to be an engineer is trickier!
Detention not acceptable, say students
Chandigarh, August 4
Students for Society (SFS), a group comprising students of PEC University of Technology, today held a press conference on the issue of detention of first year students.
Orientation programme
Candigarh: Virasat, the heritage society of Post-Graduate Government College for Girls, Sector 11, held an orientation programme today. Students were acquainted with various hues of Indian heritage. Society coordinator Dr Neena Goyal spoke on the importance of the relation between history and heritage. Around 500 members were enrolled in the society.
Case registered against managers of printing press
Mohali, August 4
A month after the Punjab School Education Board authorities lodged a complaint with the police in an alleged Rs 65 lakh textbook printing scam, a case of cheating, forgery and hatching criminal conspiracy has been registered against Rakesh Kumar and Suresh Kumar, managers of New Bharat Offset Printers, Noida, MB Printing Press, Noida, and employees of the publication branch of the board. The complainant is former vice-chairman of the board Ranjit Singh Bajwa.
Last date extended
andigarh, August 4
The department of women's studies and development has extended its last day of submitting applications of masters degree till August 13.
Crusade against corruption
Chandigarh, August 4
Representatives of the Akhil Bharatiya Vidyarthi Parishad (ABVP) today launched a campaign "Bhrastachariyo Gaddi Chhodo" against corruption at Shaurya Bhawan, DAV College, Sector 10, today.