Kidnapping, murder charges framed against three accused
Chandigarh, August 6


A local court today framed murder and kidnapping charges against three accused in the in the sensational Khushpreet murder case. Additional District and Sessions Judge VP Sirohi framed charges against prime accused Sukhdev Singh, his brother Gurvinder Singh and labourer Nand Kishore. The court framed charges under Sections 302 (murder), 364-A (kidnapping for ransom) and 201 (causing disappearance of evidence of offence) of the IPC. All the accused were present in the courtroom when the judge framed charges.
Khushpreet
Alert PGI doc spots fake medicine bill
Chandigarh, August 6
In a bizarre case that could eventually lead to the unraveling of a well-oiled scam involving fraudulent medicine bills, an accident victim admitted at PGI on Saturday tried to obtain the signatures of a senior resident of the neurosurgery department on a fake bill of Rs 2.26 lakh generated at the Nehru Hospital's authorized chemist shop, Super Medico Centre.
CHANDIGARH

MOHALI

PANCHKULA
Posh area of P'kula in state of neglect
Panchkula, August 6
The Panchkula Municipal Council has turned a blind eye to the dilapidated condition of civic amenities. Many roads of posh Sector 4 in Mansa Devi Complex present a picture of neglect.
Roads in a dilapidated condition at Mansa Devi Complex, Sector 4, Panchkula. Tribune photos: Nitin Mittal
BKU leader's claim backfires
Panchkula, August 6
Bhartiya Kisan Union leader Guni Prakash is in soup over allegedly staging a murderous attack on himself at Barwala on July 31. Guni, along with three of his accomplices, had conspired to implicate Ashok, Soni, Randeep, all residents of Pharal village in Kaithal district, and his political opponent Ratanmaan, a resident of Karnal, in a criminal case, alleged the police.
GMADA proposes three new bus routes
Mohali, August 6
Three major routes and 10 to 20 minutes service of local buses have been proposed by the Greater Mohali Area Development Authority (GMADA), which would cover main parts of Mohali and would also connect the town with Kharar, Landran, Banur and Zirakpur.


A call landed at the Police Control Room at 11.55 pm on Friday after a man walking his dog (encircled) suffered an electric shock while crossing a damp patch beside an electricity pole (encircled). A police team arrived at the scene soon after and found leakage of current from the pole. As it approached the official (left) handling the electricity department helpline, after he failed to answer repeated calls made by local residents, the latter dilly-dallied on the matter and refused to give the telephone number of the junior engineer concerned. He contended that streetlights fell in the jurisdiction of the municipal corporation and not the electricity department. After a delay of three hours, the fault was finally rectified at 2.55 am.
Tribune photos: Vinay Malik
Dogra Scouts to scale Mt Kamet
Chandigarh, August 6
The Dogra Scouts is undertaking an expedition to Mt Kamet, the third highest peak in India. The 33-member team includes two soldiers who have scaled Mt Everest and three others who have scaled peaks above 8,000 metres. The team was flagged-off from Chandi Mandir by the General Officer Commanding-in-Chief, Western Command, Lt Gen SR Ghosh, today. It will commence its trek from the road-head camp on August 10 and subsequently set up five camps en route to the summit. The team will make its first summit bid on September 8. The team members are drawn from a specialised battalion of Army that has carved a niche for itself in the field of mountaineering.
Talent unlimited despite disability
Chandigarh, August 6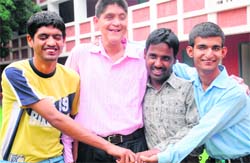 Disability is surely not an impediment for talent to blossom. Nearly eight visually impaired students, including two exceptionally talented singers and musicians, have been enrolled in bachelors of arts at Postgraduate Government College, Sector 11. After grabbing a seat in one of the oldest boys' colleges in the city, it is amazing to see these students being helped out by their seniors in discovering new places on the campus.
Visually impaired students of BA (I) strike a pose at Postgraduate Government College, Sector 11, Chandigarh. Tribune photo: Pradeep Tewari
Conflict between ideas, thoughts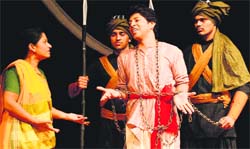 Chandigarh, August 6
Punjabi version of Gurudev RN Tagore's play " Laal Kaner" was staged by the Suchetak Rang Manch at the Tagore Theatre here today. The play "Laal Kaner" directed by Anita Sabdeesh revolves around more than 20 characters, compromising professors, religious leaders trying to misguide people in order to shield the king as the common people try to break away from the repression.
Artistes stage a play, 'Laal Kaner', at Tagore Theatre, Chandigarh, on Saturday. Tribune photo: Nitin Mittal
7 bakers suffer burn injuries
Panchkula, August 6
Seven workers had a narrow escape with minor burn injuries when edible oil at Bakers Oven in Sector 9 caught fire late last night. The injured, Raj, Karan, Avdhesh, Rajaram, Brijesh and Amit, were discharged from the hospital after the first aid while another injured Vijay was referred to GMCH 32, Chandigarh.


3 injured as members of HSA, SOPU clash
Panchkula, August 6
A few activists of the Hindustan Students Association (HSA) attacked three members of the Students Organisation of Panjab University (SOPU) in Sector 4 here today.