More trouble for Yeddyurappa
Lokayukta Special Court orders former Karnataka CM, 14 others to appear before it on August 27
Bangalore, August 8
Former chief ministers BS Yeddyurappa and HD Kumaraswamy were today issued summons by a court to appear before it in connection with alleged land and mining scams, the first time in Karnataka's history.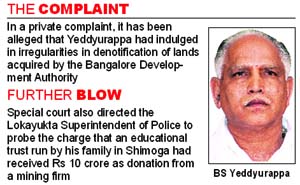 Spelling more trouble for Yeddyurappa who was forced to quit as chief minister last week following his indictment in a Lokayukta report on illegal mining, the Lokayukta Special Court ordered him and 14 others to appear before it on August 27.
The court order came on a private complaint filed by an advocate Sirajin Basha who had alleged that Yeddyurappa had indulged in irregularities in denotification of lands acquired by the Bangalore Development Authority (BDA).
Dealing yet another blow to Yeddyurappa, the special court also directed the Lokayukta Superintendent of Police to probe the charge that an educational trust run by his family in Shimoga had received Rs 10 crore as donation from a mining firm.
The same court also issued summons to JDS leader H D Kumaraswamy, his wife Anita and a mining firm on a private complaint accusing him of recommending renewal of a mining lease within two hours to Jentakal Mining Company and also allotting land to a private housing cooperative society for "personal gains".
Kumaraswamy, who was the chief minister from February 2006 to October 2007, and two others have been asked to appear before the court on August 30.
In another case in the special Lokayukta court, the court rejected the bail pleas of former minister Katta Subramanya Naidu, his son and another accused in connection with Karnataka Industrial Area Development Board land scam and irregularities in securing compensation for those whose lands were acquired.
The court remanded the accused--Naidu, his Bangalore city corporator son Jagadish and the ITASKA Software company MD Srinivas, in judicial custody till August 22.
In the complaint filed against Yeddyurappa, Basha had alleged that he denotified 2.5 acres in Arakere village, 1.7 acres in Devarachikkanahalli in Bangalore South taluk and 1.21 acres in Gedalahalli village in Bangalore East taluk violating rules.
In another development, a Division Bench of the Karnataka High Court comprising justices K L Manjunath and Kempanna directed Yeddyurappa to produce a copy of the Lokayukta report on illegal mining on his petition seeking to quash the findings that had indicted him.
The court adjourned the hearing to August 10. — PTI